Chipotle Mexican Grill (NYSE: CMG) was a "hot story" stock that people chased all the way up to over $700 per share. I remember in October 2014, I was interested in trying the restaurant, but the lineup was out the door at its Plattsburgh, NY location. This was before the story of E. coli contamination and multiple food poisonings sent the stock for a more than 50% dive from its all-time high in the past year. It's currently 41% off that high after the market reacted positively to the Q2 2016 earnings results announced last Thursday.
This is one of those pivotal times in a company's history where it overcomes adversity and emerges stronger, spins into a death spiral, or something in between. One thing is for sure: the events of the past year totally derailed the narrative that the stock rode all the way up.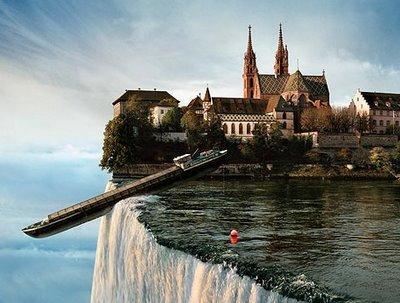 Chipotle: Full recovery or off a cliff?
The popular chain, priding itself on fresh ingredients, healthy choices and enticing menu items, was suddenly starting to be mentioned as a competitor breathing down McDonald's neck (probably because of its perceived "millennial cred"). But it lost so much of the goodwill and reputation that accumulated in the brand almost overnight.
The 1-year chart is a textbook example of the perils of chasing hype and succumbing to "FOMO."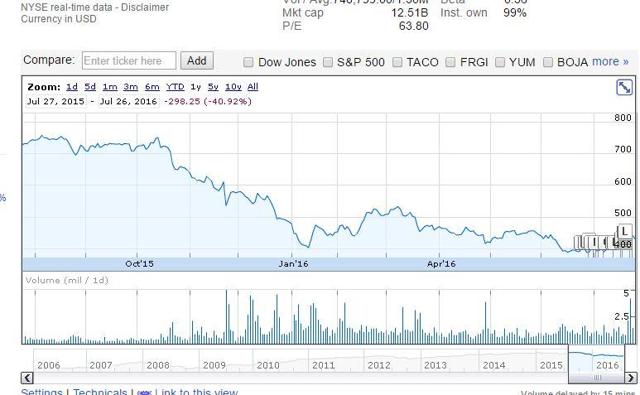 (Source: googlefinance.com)
The stock still has been good to long-term investors, posting an almost 900% total return since the February 2006 IPO (which was ironically when the company divorced itself from McDonald's, whose early stake greatly aided the company's rapid expansion plans at the beginning). It debuted at $42 and was trading at $440 by 2012 - making it a ten-bagger. It was volatile back then too, but someone who bought the October 2012 bottom ($243) would have been sitting on a triple by August 14, 2015 - the day whose close remains the current all-time high ($743).
The scandal was well publicized and does not need rehashing. But rather than being a "stock market noise" event, this was a corporate disaster that did indeed drive away consumers in droves and created a huge dent in the real bottom line. Net income declined by over 50% between Q3 and Q4 2015, from $236M to $105M, before swinging to a net loss of $46M (for the first time since being public) in the last quarter.
The Q2 results provided some relief to investors as the company swung back to profitability, eking out a $25M after-tax profit. Total revenue was back up to $998M, $165M or 19.7% above where it was the last losing quarter, and ever so, slightly above the figure for Q4 2015 ($997.5M). If we take the longer view, year-over-year revenue growth still reflects the steadily rising trajectory of the stock (until last August) and the company was growing aggressively, doubling revenues and increasing its store count by 57%, from 1,350 in 2012 to 2,124 today. Highlights in the most recent quarter, besides the stabilizing of revenues, include 58 new restaurant openings and the introduction of a new loyalty program, Chiptopia, which the CEO indicated was already looking like a positive contributor to the bottom line: "While it has only been a few weeks since Chiptopia launched, we are pleased to see that July sales comp trends have already improved by 200 to 300 basis points, and transaction comp trends have improved by an even greater amount," (July 21 earnings release)
Although the company still has no debt, it only has $183M of cash on the balance sheet - a drop of $200M from the good ol' days of 2014. Bulls like to point this balance sheet health out, as well as the YoY sales growth picture which looks nice and masks the last 3 quarters of total ugliness.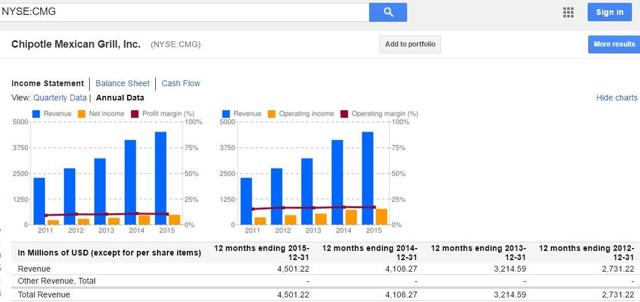 (Source: googlefinance.com)
For investors, everything I have discussed is behind us and we need to look for clues as to where this stock might go in the future. Sometimes, the market punishes companies with rock-solid earnings for whatever reason, and they end up having very low P/E ratios. That is not the case with Chipotle. It is reasonable to believe the market would have rewarded investors with high multiples as long as the party was going, because multiples have remained high even amidst the scandal. This is partially due to declining revenues, of course, but the takeaway is that this is still being priced as a growth stock and the market is not writing its potential off.
Two metrics I always like to look at to assess risk are beta and performance during periods of market declines. CMG currently has a beta of 0.53, at the lower end of its historical range of 0.27-1.04 and beneath its historical average of 0.73. It is not a super volatile stock, the volatility that now surrounds its earnings announcements notwithstanding. Finally, we will look at CMG's performance during the last 5 S&P 500 market declines.

It is worth noting that CMG outperformed SPY during 4/4 previous declines, only underperforming by twice as much during the most recent downturn because the market was digesting the scandal at the same time it was enduring a broader correction. If this scandal was a blip and the market gets used to rising sales and the turnaround story again, then CMG may not be punished as harshly as SPY during a broader market downturn.
At $430 per share, however, you are paying $43,000 for 100 shares. As the stock does not pay a dividend, I would not tie up that much capital hoping for anything, no matter how much I like its burritos (disclosure - I've never tried one, since I refused to stand in line in Plattsburgh that day). Without going into too much detail, I have done the calculations, and as of today, the option market is pricing in a $44 move either way from the current price as 1 standard deviation (covering 68% of the time) between now and September 16 (38 trading days). I will also tell you that the volatility in the options (what gives them a large part of their value) was fairly high going into earnings, and since those are done, has come down a lot, and currently in the 26th percentile. This means that these options are relatively cheap.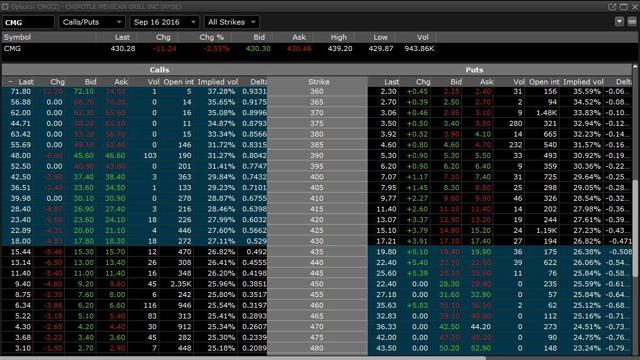 This graphic is to show that for the price of one or two shares, you could buy an option at about 25-30 delta or about $35-40 out of the money, which would increase considerably if the stock moves there. We know this, because you see how much the close to the money options cost. However, a less risky strategy for your capital would be to buy a more expensive one and sell a further out of the money one. For example, buying the $420 put and selling the $390 put would cost about $800, but would have a maximum gain of $3200. That would be of course if you were bearish.
Personally, I would expect that it will take anywhere from 2-3 more quarters to two years, but that this stock will eventually turn around. The original founder is still running the company, and management is not standing still on the issue of food safety, which is what kneecapped this company more than anything else. Absent any other negative developments, I think more recovery could be on the way toward the next earnings, because the market has always priced and continues to price this stock like a growth stock.
Disclosure: I/we have no positions in any stocks mentioned, but may initiate a long position in CMG over the next 72 hours.
I wrote this article myself, and it expresses my own opinions. I am not receiving compensation for it (other than from Seeking Alpha). I have no business relationship with any company whose stock is mentioned in this article.