If you want to get a better understanding about the health of the global economy, follow Caterpillar (NYSE:CAT) and read its earnings reports. Not only will it provide insights about the conditions of a variety of end markets, it will also help you form a picture of where things might be headed. CAT's latest results confirmed that the global economy is still sluggish. Sales declined 16.1%, driven mainly by lower volumes as customers continued to slash budgets. While volumes were lower in both new equipment and aftermarket parts, equipment sales saw the biggest drop, which suggests that end-market users don't anticipate a recovery any time soon. Revenues fell in each business segment, and were down in each region as well. CAT's headcount reduction was perhaps the most worrying indicator. The company cut its workforce by 10%, and expects more layoffs later in the year. We will go through each segment and explain the factors responsible for CAT's poor performance, so you can form a better idea of where things are headed and when they may turn around.
Construction Industries:
This segment sells loaders, excavators, and other machines for infrastructure and building construction applications, and mining and quarry end markets. Sales declined 8% year-over-year, with North America down 13%, Latin America down 32%, EAME flat, and Asia Pacific up 12%. Despite a relatively strong housing market and high residential construction activity in the US, there is an excess supply of construction equipment left over from the oil and gas industry. This unused inventory reduced the demand for new equipment, and we expect that continued weakness in the oil sector will be a problem here going forward. Latin America saw the biggest decrease, largely due to a recession in Brazil, a country that counts for a significant portion of CAT's volumes in the region. The government has cut back on infrastructure spending as a result of rising fiscal pressures, and the issues plaguing Brazil will not disappear overnight. Inflation is high, the budget deficit is expanding, and the country's debts are now more difficult to pay off as recent downgrades have pushed borrowing costs higher. As long as fiscal pressures persist, government spending on infrastructure will remain weak. In the Asia-Pacific, sales actually increased. We think that China was responsible for the bulk of the growth, as the government continues to binge on debt and prop up its economy. China's spending spree boosted construction and housing activity in the second quarter, but this model of relying on debt and government spending to drive growth is not sustainable. China demand will eventually fall as a result of too much leverage.
Resource Industries:
This segment mainly serves customers in the mining and quarrying industries. Sales declined 29%, with North America down 36%, Latin America down 21%, EAME down 25%, and Asia Pacific down 24%. Commodity prices have recovered a little bit in the second quarter (Figure 2), but this was not because of strong end-market demand, which is what ultimately drives sales for CAT. Rather, it reflected production cutbacks and a weaker dollar (Figure 3). Prices are still not high enough to encourage investment, so customers are focused on lowering spending and improving productivity, positioning themselves for a recovery in commodity prices. We don't see this happening anytime soon. China was responsible for the last commodity boom, but its economy is shifting from an industrial-driven model to one based on consumption. As a result, China will not have the same need for commodities as it did in the past. There are some major secular headwinds that we think will keep global industrial activity muted for years to come, including ageing populations, rising government debt burdens, and declining productivity. Absent a collapse in the dollar that would cause commodities to skyrocket, investors should not expect this segment to return to growth anytime soon.
Figure 2: iShares Commodity-Indexed Fund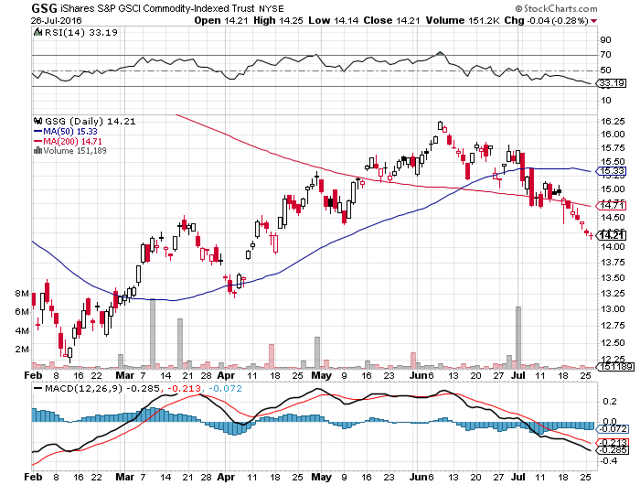 Source: stockcharts.com
Figure 3: Dollar Index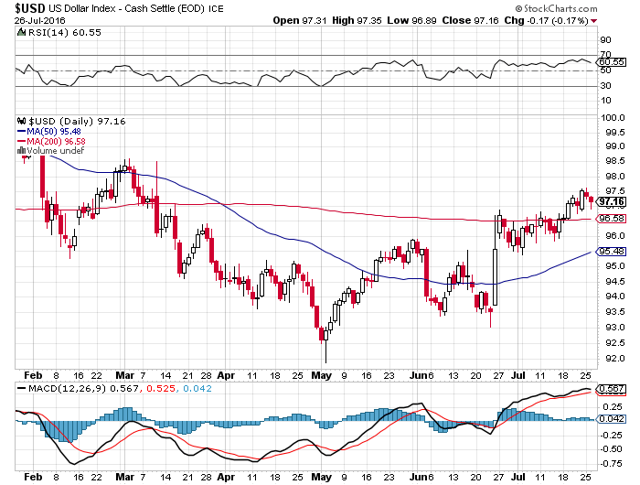 Source: stockcharts.com
Energy & Transportation:
This segment sells drilling equipment, engines, turbines, and other power generation products, as well as locomotives, for customers in the electric power, industrial, oil and gas, and rail industries. Sales declined 20%, with North America down 11%, Latin America down 38%, EAME down 22%, and Asia Pacific down 30%. Oil and gas and transportation sectors were responsible for 80% of the decline. Like other commodities, oil and gas prices have recovered somewhat, but the price increase reflects production cuts and prices are still too low to incentivize investment on a large scale. Production in the US has increased in recent months, but refined product inventories, which are at records highs as a result of cheap crude inputs but weak demand for refined products, will prevent oil prices from rising much higher (if at all) in the next twelve months, in our opinion. Demand from oil and gas customers will remain weak. Transportation segments are struggling due to widespread economic malaise and a fall in global trade activity. The need to carry goods to and from export and import terminals is not as strong, and as long as excess capacity in the shipping market persists, we think transportation volumes will continue to struggle.
Conclusion:
The global macroeconomic picture is dour, and investors should expect CAT to continue reporting weak results. The issues impacting the firm's end markets can persist for long periods of time because they are so intertwined. For example, low commodity prices damage the fiscal balances of commodity exporting countries, which leads to lower infrastructure spending, which hampers productivity growth, which reduces industrial production levels. If CAT returns to growth anytime soon it will be because demand could not fall any further, rather than a sign of strong end-market conditions.
Disclosure: I/we have no positions in any stocks mentioned, and no plans to initiate any positions within the next 72 hours.
I wrote this article myself, and it expresses my own opinions. I am not receiving compensation for it (other than from Seeking Alpha). I have no business relationship with any company whose stock is mentioned in this article.