Do you strive to put together an efficient portfolio? Me too! High reward and low risk are the objectives of any investor regardless of his or her risk aversion.
The airline industry has underperformed the S&P 500 over the last year despite most airlines posting record profits due to lower jet fuel expenses. Previously, I discussed the strengths of Southwest Airlines and Alaska Airlines based on a DuPont ROE analysis. It seems that Southwest Airlines is on the right track with respect to increasing ROE mostly due to improving profit margin. Growth is also increasing resulting from increasing plowback ratio. Alaska Airlines, on the other hand, seems to be playing a different strategy. Its ROE declined due to declining financial leverage and growth declined due to lower plowback ratio.
In this article, I have performed a mean-variance optimization among the major airlines Delta Airlines (NYSE: DAL), Southwest Airlines (NYSE: LUV), United Continental Holdings (NYSE: UAL), Alaska Air Group (NYSE: ALK), Spirit Airlines (NYSE: SAVE) and Hawaiian Airlines (NYSE: HA) using matrix algebra. To build the variance-covariance matrix, I compiled the monthly returns of the since January 1st, 2011 until July 1st, 2016. To calculate the risk premium for the Sharpe ratios, I discounted the average monthly return by the monthly average yield of the 10-year Treasury bond. Since the Treasury yields are very low, the monthly EAR and monthly ARP yield the same results. Furthermore, since most investors cannot short or do not want to short a stock, I have constrained all portfolio weights to be positive.
Table 1 illustrates the average monthly returns, standard deviations, and Sharpe ratios for the airlines.
Individual Assets

Asset

Average

Monthly

Return

Std. Dev

Sharpe Ratio

LUV

2.27%

8.13%

0.26

DAL

2.70%

9.54%

0.28

UAL

1.66%

10.56%

0.16

ALK

2.61%

8.72%

0.30

SAVE

2.62%

10.01%

0.26

HA

3.91%

12.54%

0.31
Table 1
For the Risk Averse Investor
If you seek to maximize the expected return with the smallest standard deviation (8.13% from LUV), the positions include 17.4% in ALK, 32.3% in SAVE and 50.2% in HA. This portfolio return will be 3.27%, compared to the return of 2.27% from LUV alone while maintaining the same standard deviation. The Sharpe ratio of this portfolio is 0.381, much higher than any stock.
For the Risk Lover Investor
If you only seek return regardless of the volatility, your best bet is to invest in HA. Currently, there is no other way to obtain a higher average monthly return than 3.91% with a standard deviation less than 12.54%.
The Perfect Portfolio
Regardless of your risk appetite, you should always aim to have the portfolio with the highest Sharpe ratio. Using the six airlines, having a long position in LUV of 9.8%, ALK 26.1%, SAVE 33.1%, and HA 31.0%, you can have the efficient portfolio. This portfolio will have a monthly expected return of 2.98% and a standard deviation of 7.16% yielding a Sharpe Ratio of 0.393.
Table 2 and Figure 1 illustrate the possible portfolios.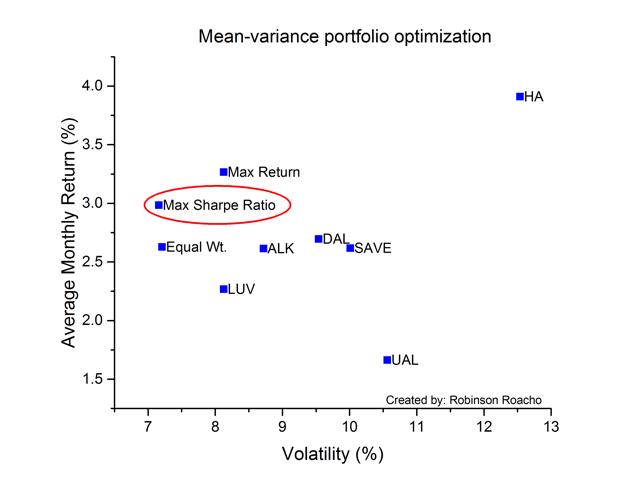 Figure 1
Portfolios

Equal Wt.

Max Return

Min Std. Dev

Max Sharpe Ratio

Containing Variable

None

σ <=

E[r] >=

None

Value of constrain

None

8.13%

3.91%

None

Portfolio Weights

LUV

16.7%

0.0%

0.0%

9.8%

DAL

16.7%

0.0%

0.0%

0.0%

UAL

16.7%

0.0%

0.0%

0.0%

ALK

16.7%

17.4%

0.0%

26.1%

SAVE

16.7%

32.3%

0.0%

33.1%

HA

16.7%

50.2%

100.0%

31.0%

Portfolio

100.0%

100.0%

100.0%

100.0%

E[r]

2.63%

3.27%

3.91%

2.98%

Std Dev

7.21%

8.13%

12.54%

7.16%

Sharpe Ratio

0.341

0.381

0.299

0.393
Table 2
According to these results, DAL and UAL do not provide any diversification benefits and should not be used.
In brief
This study described the perfect portfolios for the most risk-averse and risk-lover investors and the efficient portfolio using these six airlines. Please let me know which airlines you like the best and if you have any questions regarding the calculations, please post it on the comments. Best of luck in your investments.
Supporting Documents
Disclosure: I/we have no positions in any stocks mentioned, and no plans to initiate any positions within the next 72 hours.
I wrote this article myself, and it expresses my own opinions. I am not receiving compensation for it (other than from Seeking Alpha). I have no business relationship with any company whose stock is mentioned in this article.