Recovery for equity investors in Linn Energy LLC (OTCPK: LINEQ) and LinnCo LLC (OTCPK: OTCPK:LNCOQ) under a reorganization plan is very unlikely even with the recent U.S. Trustee's objection to the pay incentive plan for key employees.
This is the first time that I have written an article rebutting another Seeking Alpha article. I often just leave a comment on the article. There was an article by The Traveling Investor titled, "Hope For Linn Energy Shareholders: Trustee Objects To Incentive Plan" that I feel needs to be discussed so that a larger group of Linn investors can read the information instead of just posting a statement in the comment area of that article.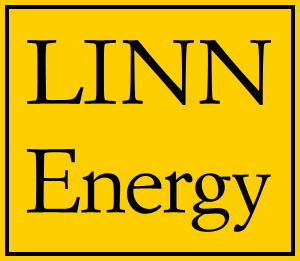 The U. S. Trustee on July 15, filed an objection (docket 582) to Linn's executive incentive plan. The Debtor's (Linn Energy) reply (docket 672) was filed July 25. I do not think that the author, The Traveling Investor, is aware that U.S. Trustees often file objections to these types of incentive plans. That is a key reason why there are U.S. Trustees.
For example, a U.S. Trustee filed an objection to Alpha Natural Resources' (OTCPK: OTCPK:ANRZQ) incentive plan last fall. The same trustee filed an opposition to appointing an official equity committee. Yet again, that same U.S. Trustee filed an objection to a disclosure statement by an advisor to Alpha and also to Alpha's reorganization plan, which was confirmed anyway. (BTW - Alpha shareholders are getting nothing.) They often file various objections.
For The Traveling Investor to suggest that this could lengthen the bankruptcy time period is an unreasonable suggestion. There are many other activities that continue to occur as this issue is resolved. It does not stop or even slow down the process. The Debtors' reply and suggested modifications has already been filed. To suggest that this issue adds value to Linn holders as an option gives a false sense of hope to an already upset group of investors.
The Traveling Investor's second point:
The management also may want to side with equity holders if they could no longer get lucrative payouts for simply doing their duties. For example, the CEO still holds around half a million of Linn Energy shares, which could potentially be worth tens of millions of dollars if the management team can figure out a way to preserve equity value for shareholders.
Management cannot "side" with equity holders. There are strict laws and case law that govern the Ch. 11 bankruptcy process. True, management is often granted an exclusive period of time to create a reorganization plan, but this plan must be in accordance with laws and must be approved by impaired parties (note: not all impaired parties, but this is beyond the scope of this article.) and the court. A Restructuring Support Agreement has already been negotiated and has support of over 2/3 of debt holders.
Under Bankruptcy law, there are different priority classes - often 9 to 11 classes. The priority ranking determines who and how much is paid to each class. Equity is the lowest class. Under "cramdown," classes with the highest priority claim get paid first then down to the next lower class and so on.
For The Traveling Investor to suggest that 500k "shares" could be worth tens of millions of dollars is, in my opinion, very irresponsible. He is implying that they would be worth more than $20 versus the current $.08. That would imply that Linn is worth $17 billion (adding value of equity plus their debt). Remember, the debt has to have full recovery before equity gets anything under cramdown, unless there is "gifting: from a higher class. Given the current monthly report (docket 444), $17 billion is an extremely unlikely value.
Under the terms of the new proposed incentive plan:
* change the lease operating expenses metric ("LOE") from an absolute dollar target to an LOE per Mcfe of production metric,
* remove severance costs from the G&A expenses calculations, and
* modify the threshold, target, and maximum payout levels for all three Performance Metrics for the third and fourth quarters of the 2016 calendar year.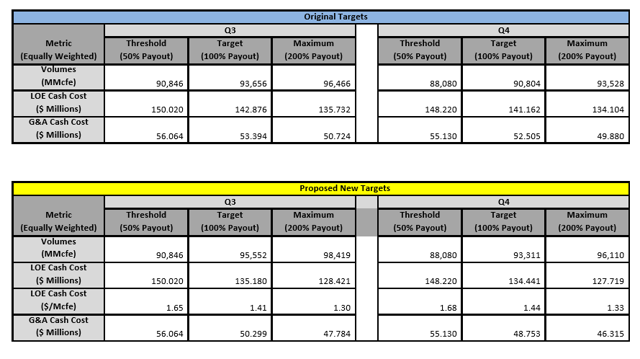 The Debtors and the committee are asserting that these new amendments to the plan will add $40 million in value for Linn if the modified targets are hit.
The problem with the original plan is that it was more of "pay to stay" type of a plan just to pay to keep management, which is not allowed under Section 503(c)(1). It must truly be a "pay for value" incentive plan with "difficult targets to reach" according to Dana Corp., 358 B.R. 567, 576-577 (Bankr. S.D.N.Y. 2007). In my opinion, the new plan has a much better chance to be approved by the court. It will be interesting to see if the U.S. Trustee files an objection.
Conclusion
Often investors learn about various court filings and their hopes are raised. It is important that investors understand these various filings and not just jump to some false sense of hope. I still consider the likelihood of any recovery for equity holders of either LINEQ or LNCOQ to be extremely remote. I recommend to sell both. (Note: If any important filings happen, I will post in the comment area below. I am expecting the next monthly income report soon.)
Disclosure: I/we have no positions in any stocks mentioned, and no plans to initiate any positions within the next 72 hours.
I wrote this article myself, and it expresses my own opinions. I am not receiving compensation for it (other than from Seeking Alpha). I have no business relationship with any company whose stock is mentioned in this article.
Editor's Note: This article covers one or more stocks trading at less than $1 per share and/or with less than a $100 million market cap. Please be aware of the risks associated with these stocks.