Finally, there are some confirmation now as to the impact of the Niger Delta Avengers (NDA). The Nigerian National Petroleum Corporation (NNPC) confirmed that the recent attacks by the NDA has reduced Nigeria's oil production from 2.2 million b/d to 1.5 million b/d.
Reuters was kind enough to break down the current outages across Nigeria.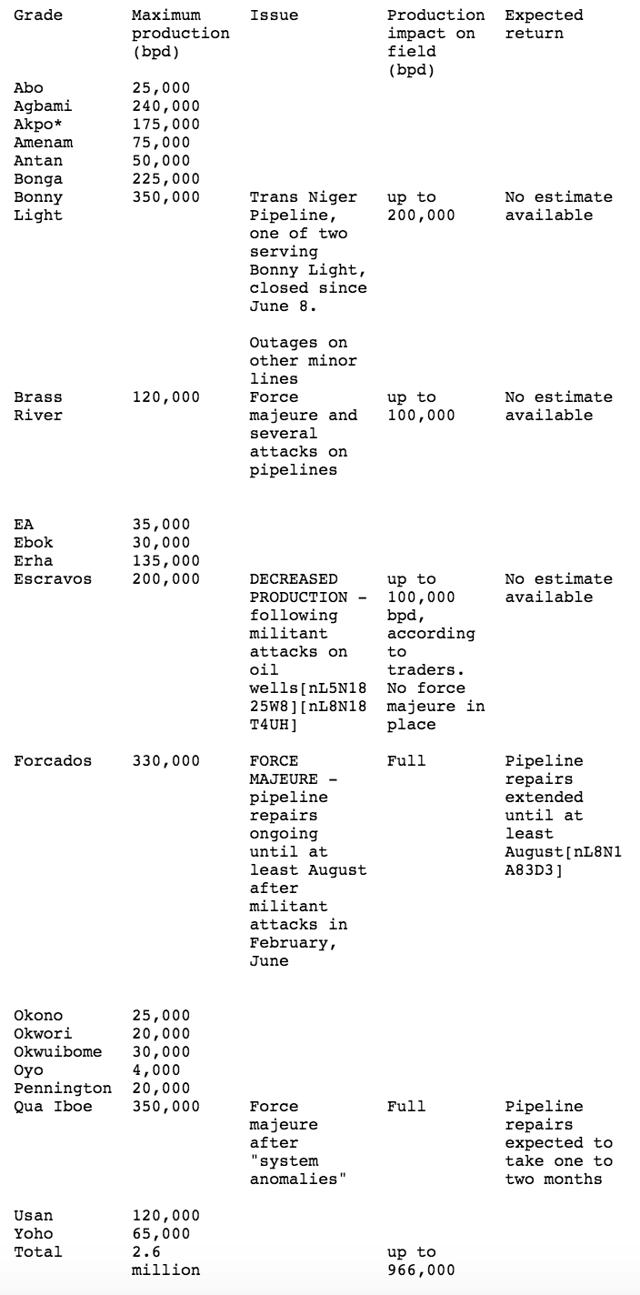 This somewhat officially pins Nigeria's oil production at 1.5 million b/d, but we are still seeing differences across the traders we've spoken to. Current estimates point to Nigeria's oil production actually around 1.3 million b/d versus the 1.5 million b/d NNPC said. The traders we talk to look at storage data and export volumes to back in production figures, so while this could move widely on a day-to-day basis, they think the lower storage points to Nigeria depleting storage to keep export volumes high.
The question for oil (NYSEARCA:USO) watchers is if the issue with NDA will be more structural than temporary. Looking at the situation, it might be easy to dismiss this as temporary, but looking at the way the Nigerian government is currently handling the issue, we think otherwise. Here's a recent statement issued by the NDA on its website.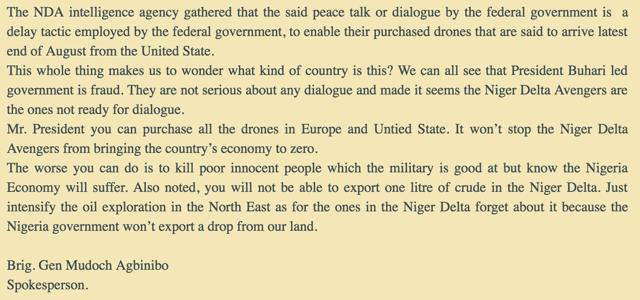 If it's true that the Nigerian government is delaying any peace talk to resort to drone attacks to solve the NDA issue, then we think the issues in Niger Delta could further escalate. So far, NDA has resorted to minor operations taking out pipelines and disrupting daily production, but no serious damage has been done that could force shut-ins for a prolonged duration. As one oil terminal comes back online, another goes down, leaving overall production still resilient. If NDA does go all out, it could put some real pressure on Nigeria's fragile oil infrastructure. Foreign oil companies might begin feeling the heat, and stall any repairs until the issues are solved.
Obviously, any delay in Nigeria oil production would be bullish for the oil markets. Facing near-term headwinds from the gasoline glut, any help in reducing crude surplus would greatly help. We are likely already seeing a balanced oil market, so long as we can get through the upcoming refinery maintenance season, crude prices should rally back up to $50.
What do you think will happen to NDA going forward? Will they be more aggressive in their attacks? Let us know in the comment section below!
Thank you for reading our Oil Markets Daily. If you want to read more of our articles, please be sure to hit the "Follow" button above. We also write a weekly HFI portfolio update for premium subscribers. You can read a sample weekly update here and view our delayed one-month portfolio update here. We hope you can join the HFI community.
Disclosure: I/we have no positions in any stocks mentioned, and no plans to initiate any positions within the next 72 hours.
I wrote this article myself, and it expresses my own opinions. I am not receiving compensation for it (other than from Seeking Alpha). I have no business relationship with any company whose stock is mentioned in this article.