Skechers' (NYSE:SKX) stock took a 22% dive following their weakest growth quarter over the last 4 years. I am flat out saying that investors overreacted to Skechers earnings report due to the fact that Skechers was already priced at a discount prior to earnings. Here are 3 reasons investors should load up on Skechers:
Pristine Balance Sheet
One of the first things that should calm investors nerves is a glance at Skechers balance sheet. Stockholders' equity for Q2 increased 11% from the quarter prior to $1.59 billion. This represents a 30% increase from Q2 of 2015. The company carries only a tiny amount of debt on their balance sheet while maintaining a very strong cash position. Skechers has strong liquidity with $629 million in cash and cash equivalents, which is greater than all of their current liabilities.
To compare, Under Armour (NYSE:UA) has a similar 3-year growth rate to Skechers and has a much weaker balance sheet. They have a cash ratio of 0.17 and stockholders' equity of $1.74 billion, which puts their valuation at over 10 times their book value compared to Skechers which trades at about 2.5 times their book value. And needless to say, their ROA and ROE both trail that of Skechers. But Under Armour's declining liquidity position signals that more debt may be on the horizon in order for them to meet their working capital needs - something Skechers does not have to worry about.
Growth Is Still There
Skechers has a 26.3% 3-year revenue growth rate, which resembles Under Armour's 29.3% growth rate, however Skechers' Q2 made investors rethink whether Skechers is still a growth play or not. For Q2, Skechers hit $878 million in sales, which represents a 9.7% increase from the same quarter of the year prior. Now I agree that Skechers isn't a growth play like that of Under Armour, however as long as the athleisure trend continues to grow then there will be opportunity for Skechers to continue to grow. And Skechers is making it happen overseas, with 45% of their total sales for the first 6 months of 2016 coming from their international wholesale and retail business. However, it was their domestic wholesale which declined 5.4% due to shipments pulled forward from April into March. Nevertheless, Skechers' domestic wholesale business is up 3.2% for the first half of 2016.
Wall Street revenue estimates for Skechers' Q2 were about $878 million, which means they pretty much delivered on target across the topline. On EPS Skechers missed by $0.03 coming in at $0.48 compared to estimates of $0.51. Looking at the numbers head on it seems that investors were more troubled by Skechers margins rather than their growth, causing the selloff. Skechers is not panicking about slowing growth across their topline and remain optimistic, projecting that international growth will help push sales for Q3 to $950-$975 million; which represents an increase of 10.7-13.6%.
They Are Undervalued
Skechers' 3-year growth rate is 3.33 times the Footwear and Accessories industry average and yet they are trading at a PE ratio 40% lower than the industry average at just 13.9. Clearly, Skechers is not valued as a growth play even though they have shown significant growth. Their price to book ratio is less than half of the industry average along with their price to sales ratio. And while Skechers is pushing forward with their growth and expansion plan, which consisted of opening 133 new stores in the second quarter, they have shown the ability to produce consistent and substantial increases across their bottom line. Their 3-year net income growth rate is 190% and I believe they are on track to finish 2016 with a 23% increase across in their net income from 2015. As you can see from the chart below, Skechers growth in revenue and operating margin have exceeded its PE value growth.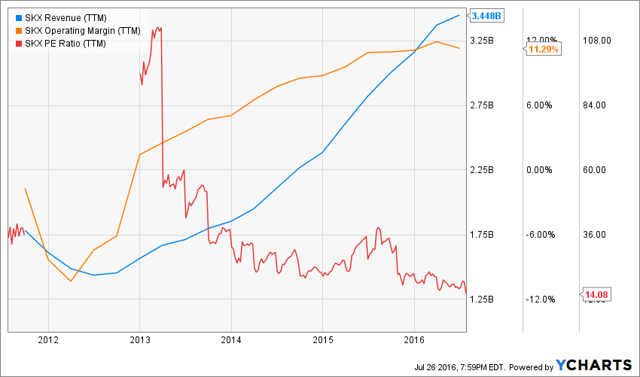 Source: YCharts
Conclusion
Skechers just can't gain the traction among investors their its competitors Nike (NYSE:NKE), Under Armour, and Lululemon (NASDAQ:LULU) do. Personally, I'd rather pay a discount price for a company like Skechers with strong growth, a clean balance sheet, and improving margins rather than paying a premium for the "sexier" brands that need to maintain extraordinary growth to fit into their market caps.
Disclosure: I/we have no positions in any stocks mentioned, and no plans to initiate any positions within the next 72 hours.
I wrote this article myself, and it expresses my own opinions. I am not receiving compensation for it (other than from Seeking Alpha). I have no business relationship with any company whose stock is mentioned in this article.