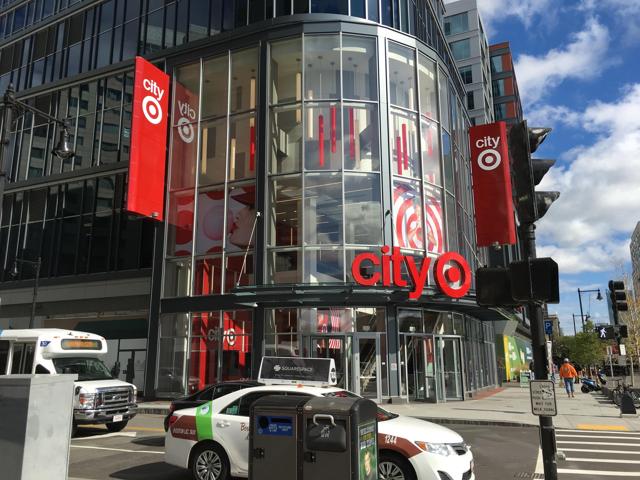 Credit card hacks. Failed Canadian expansion. A bathroom policy. These are just some of the headlines that were going to lead to the downfall of Target Corporation (NYSE:TGT) over the last few years. But you know what? Target still hit all-time highs for sales last year. Not bad for a company that's been written off several times over the last few years.
In the time that I've owned shares of Target Corporation, the dividend payment has increased 67%. That sounds good to me for a company that's had as many problems as it has while I've owned it. This Dividend Champion has increased dividends for 49 consecutive years.
One of the things I like to do at least once a year with my holdings is update my analysis and valuation of the company. This process lets me get reacquainted with the company, its issues, its growth initiatives and most importantly, the value of the company.
Read on to see what makes Target Corporation a quality company and why it's trading at a discount to fair value.
How about that dividend?
Target has been rewarding investors with pay raises each and every year for 49 years. Many times, these streaks become a number and the magnitude is lost. Target's streak began in 1967. For some perspective, the Vietnam War was in full swing and that was also the year of Super Bowl I. You read that right, the first Super Bowl.
There are only 19 companies in the entire U.S. stock market that have managed to amass a longer dividend growth streak.
The following chart shows the annual dividend payment from Target Corporation since 2001 as well as the rolling year-over-year, 3-year and 5-year dividend growth rates.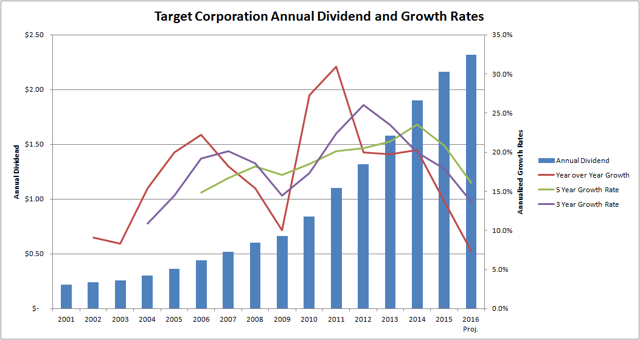 Target has a solid streak of growing the dividend, but even impressive is the excellent dividend growth rate it has achieved. Dividend growth has routinely been above 10% each year. Target announced a 7% increase in June of this year which was the lowest increase since 2001.

Dividend growth has clearly been excellent for Target although the free cash flow payout ratio has been quite choppy since 2006. However, the dividend is still well covered by free cash flow and only ate up 31% of the free cash flow from the most recent fiscal year.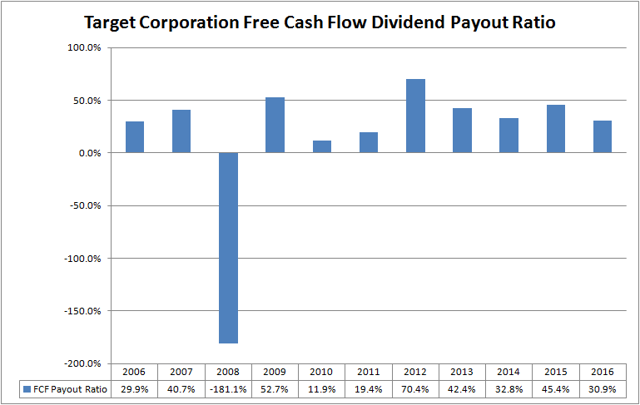 Historic Metrics
As we saw above, Target has grown the dividend for quite a long time; however, that wouldn't be possible without growing the underlying company. The fuel for that growth has been a growing store count and selling more goods to increase revenues which increases operating cash flow, which increases free cash flow. That's how you successfully grow a company.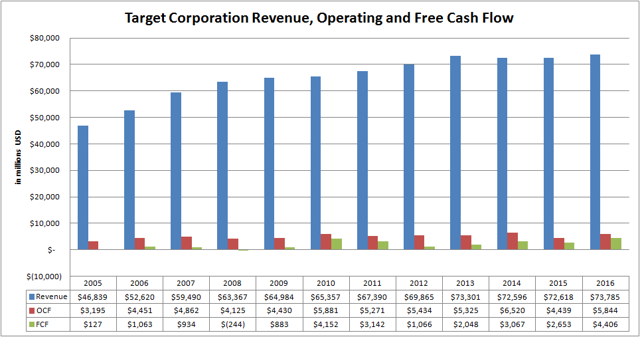 Top line growth has slowed recently, but continues to inch forward. I prefer to look at rolling 3-year growth rates to get a better feel for the trend in each metric. This smoothes out the growth, helps negative one-off events and allows for managements' plans to gain traction.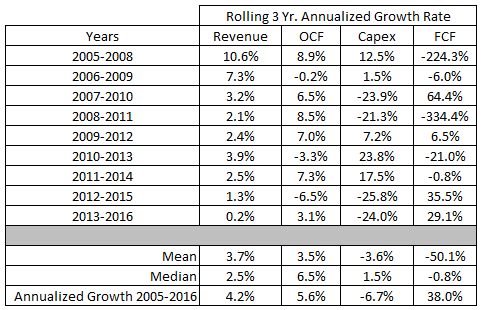 Revenue growth has clearly slowed down since the first 3-year period, and has just been inching forward since 2007. Although the bright spot of this table is that operating and free cash flow has been climbing much faster than revenue. As we'll see later, that means that Target's cash flow margins have made significant strides.
Target's capital expenditures have seen a significant reduction over time as well, which is largely attributable to much lower store count growth.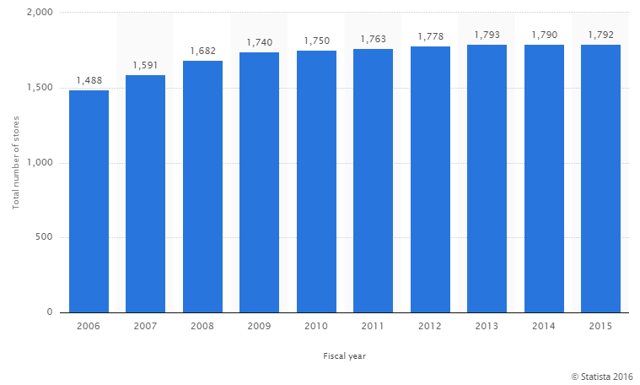 Target's operating cash flow margin fluctuates year to year, but has stayed in a relatively tight band of 6-9%. Where Target has really shined though is its free cash flow margin, which was only 0.3% in 2005, but increased to 6% for the last fiscal year.

Since Target operates in the discount retail space where margins are tight, you wouldn't exactly consider it a cash cow. Its free cash flow generation rarely tops 5%, which is the typical cutoff for a cash cow business. However, its cash returns on equity and capital have improved significantly.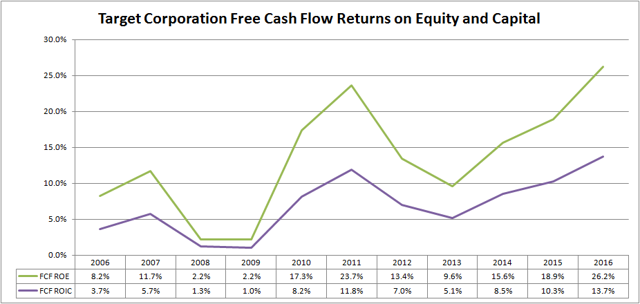 Efficiency has been the name of the game for Target, and it's paid off in spades with big gains in cash returns on equity and capital. The reason to look at both return calculations is to see how debt can affect the return values.
A higher debt load will increase the returns on equity, all else being equal, while reducing the return on invested capital. Target has been blessed with the double whammy of increasing free cash flow and an improving debt to capitalization ratio.
Cash flow is the life blood for a company, especially free cash flow. That's why I like to look at 3 variations of free cash flow to see how much cash management has at its disposal at various steps in the capital allocation process.
Free Cash Flow, FCF - The traditional calculation for free cash flow of operating cash flow less capital expenditures.
Free Cash Flow after Dividend, FCFaD - FCF less the total amount of cash paid to shareholders via dividends.
Free Cash Flow after Dividend and Buybacks, FCFaDB - FCFaD less the net cash used on share buybacks.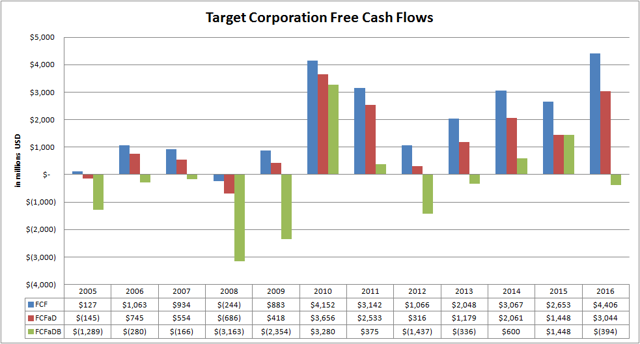 If a company has positive FCFaDB in this chart, then they are able to self-fund the share buyback program, and still have excess cash left over. That excess cash can be used for higher dividends, reducing debt or explore other growth initiatives.
Target's free cash flows have improved significantly over time although they still fluctuate a lot from year to year.
How much should you pay for Target Corporation shares?
Target has shown a consistent ability to improve every metric, both on a nominal and per share value year after year. However, that just speaks to the historical quality that Target has developed, and ignores the fact that we invest for the future.
In a discounted cash flow analysis, a company is worth the sum of all of its future cash flows discounted to the present. Before we get started with the analysis, let's define some common information and assumptions.
The current share price is $76.22
Analysts expect revenue to decrease 4.5% per year for the current fiscal year before increasing 2.7% the following year.
Assume revenue will grow 2.5% annually from 2019 through 2027 and at 2.0% in perpetuity.
Assume capital expenditures will grow 1.0% annually for the same years off a Year 1 base capital expenditures of $1,700M.
A discount rate or required rate of return of 10% will be used to discount the future cash flows to the present.
Diluted shares outstanding the end of the most recent quarter are 604M.
Case 1 - Minimum Operating Cash Flow Margin from the 3-year, 5-year and 10-year averages as previously shown. This gives an operating cash flow margin of 7.6%.
Case 2 - Maximum Operating Cash Flow Margin from the 3-year, 5-year and 10-year averages as previously shown. This gives an operating cash flow margin of 7.7%.
Case 3 - Minimum Operating Cash Flow Margin since 2005 assumed going forward. This gives an operating cash flow margin of 6.1% from 2014.
Case 1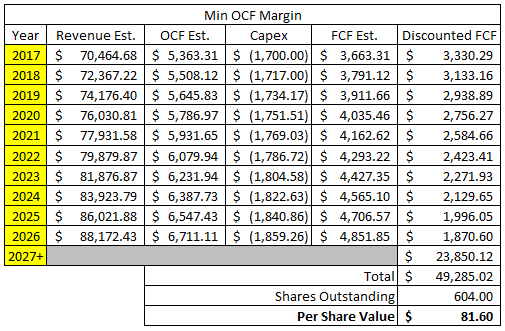 Case 2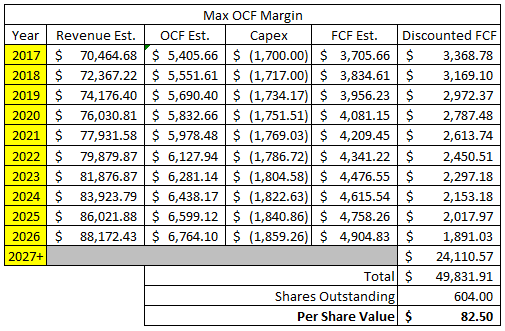 Case 3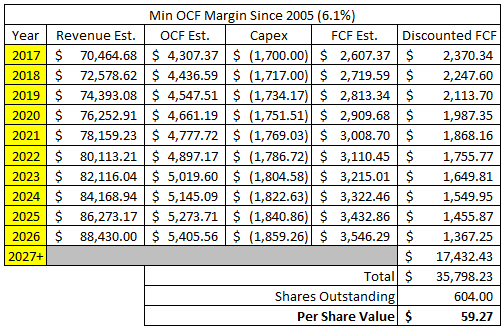 The market is currently valuing Target for a slight discount to the present value of the future cash flows as calculated in this analysis. Based on Case 3, shares of Target are overvalued by nearly 30%; however, I consider that to be more of a base case scenario that Target should be able to exceed.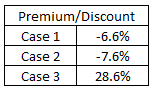 Issues with the models
Oftentimes, when I read or listen to analysts or other financial authors, they speak in absolutes, when valuing a company is anything but. Even in this simplified discounted cash flow analysis, there's still multiple assumptions that each have their own effect on the final outcome. In the aim of being open and honest, I like to point out potential issues with the models to know the items to keep an eye on as new information presents itself.
Issue #1
The model is very dependent on both future revenue growth and operating cash flow margins. If both variables surprise to the upside, then Target's value will be higher. Likewise, if both variables come in lower than the assumed values here, then the value of Target will be lower than calculated here.
For example, if revenue growth comes in at 3.5% per year for the first 10 years, then there would be an additional $6 per share of value. However, if revenue growth comes in at just 1.5%, then Case 1's value would decline by nearly $6 per share.
Issue #2
The model is also dependent on forecast capital expenditures. Capital expenditures were assumed to be $1,700M for 2017; however, they've varied wildly since 2005. From 2005 to present, capital expenses have ranged from $1,438M to $4,369M.
Capital expenses could remain low since the store count for Target has been slowly moving forward. Since 2009, Target's store count has only increased 3.0%. If the market cannot support more Target stores, then capital expenses will remain lower, but that could make revenue growth difficult.
Issue #3
Until now, I haven't addressed Target's debt and other capital obligations. The following table shows the projected total cash dividend payments, long-term debt and other contractual obligations, and the free cash flow less both dividends and debt. If the free cash flow value is still positive, then Target will have excess cash to invest in the company, increase dividends further, or increase share repurchases.

Target would be free cash flow negative in both Case 1 & 2 for the first 3 years; however, with its current cash position of $4,036M, there's plenty of buffer to ride out the first 3 years. Both Case 1 & 2 are self-supporting free cash flow wise over the next 5 years though.
Conclusion
It's hard to argue with a nearly 50-year streak of rising dividends. Target clearly has been a wonderful investment... in the past. The problem is that we invest for the future. As such, determining whether you should invest in a company, we need to analyze the future prospects of that company.
A strict value investor might not be interested in Target just yet and require a larger margin of safety. Target appears to be a decent investment at the current price levels. Shares are currently trading for a slight discount to the expected value as calculated using the discounted cash flow models. That's especially good to see since the models are based off 10% required rates of return.
Target's cash flow should remain strong over the coming years, especially if online sales ramp up which require less overhead. This cash could be used to further reduce debt, grow dividends at a faster rate, self-fund a solid share repurchase program, or invest in further growth initiatives.
Since Target is already one of the larger positions in my portfolio, I would require a larger discount to fair value prior to investing more capital in the shares. Although in a frothy market, Target is a rare exception that's trading at a discount to the underlying value with 10% return expectations. It's at a level where investors could initiate a position and add on dips.
Disclosure: I am/we are long TGT.
I wrote this article myself, and it expresses my own opinions. I am not receiving compensation for it (other than from Seeking Alpha). I have no business relationship with any company whose stock is mentioned in this article.
Additional disclosure: I am not a financial professional. Please consult an investment advisor and do your own due diligence prior to investing. Investing involves risks. All thoughts/ideas presented in this article are the opinions of the author and should not be taken as investment advice. Information from this article was sourced from Yahoo Finance and Target Corporation's SEC filings. All chart/images presented in this article were created by the author unless otherwise noted.