Overview
AT&T's (NYSE:T) 25% rise in 2016 can be predominantly attributed to showing investors that it can continually expand the margins of many segments of its business, while still expanding its top line by a projected 24% over two years ago. AT&T's competitive environment in the U.S. remains generally favorable due to its premier standing in an oligopolistic market structure, and the company has proven this with margin expansion in practically every domestic business segment.
The company's heavy investment in Mexico through the acquisition of two wireless providers (GSF Telecom and Nextel Mexico) will not bring much in the way of revenue initially, but represents a "developing markets" investment that is very likely to pay off in time as smartphone/wireless usage continues to expand. América Móvil (NYSE:AMX) still controls a significant fraction of Mexico's telecommunications networks, but makes for a strong opportunity for market penetration due to the effective presence of only two other providers. By contrast, in the U.S., 94% of the population resides in an area with at least four mobile phone operators.
With the market structure of the telecommunications industry, AT&T is among the very few capable of reliably providing the quality of a large-scale communications network. The DirecTV acquisition has also integrated faster, in terms of cost synergies, than management's expectations. Net additions have been close to one million subscribers thus far. The acquisition also provides the opportunity to scale with video streaming entertainment services, projected to be available in late 2016. Video programming has been normally purchased through third-party service providers at above-inflation costs, pressuring margins downward.
AT&T had a Q2 earnings report largely in line with expectations, and looks set to meet revenue expectations for the year. With $81 billion in combined revenue for Q1 and Q2, meeting $41 billion and $42 billion for Q3 and Q4, respectively, would place $164 billion for the year as a safe target. EBITDA margins came in at 31.9% in 2015, compared to 28.2% for the collective 2011-2015 period. The company's EBITDA margin has a chance of breaking the 32% plateau for 2016.
Capital Structure
Based on its financial position, AT&T deserves no criticism for its nearly $130 billion in debt. Roughly one-third of its capital structure is comprised of debt, but I would argue that the company could actually be optimally levered with more than that amount.
Based on an estimation of T's synthetic debt rating using interest coverage ratios (EBIT / interest expense), and estimating cost of debt based on the historical spreads of these ratings relative to U.S. Treasuries, we can plot out a representative curve to determine the optimal point at which AT&T could lever.
Using this curve, we can determine that T's optimal debt ratio would likely be at approximately 60% of its capital structure, up from its current ~33%. With that said, based on the weighted average cost of capital ("WACC") versus D/(D+E) curve, we can observe that as we move along from the mid-30s percentages up to 60%, the drop in the company's cost of capital is marginal, at just 40-50 basis points.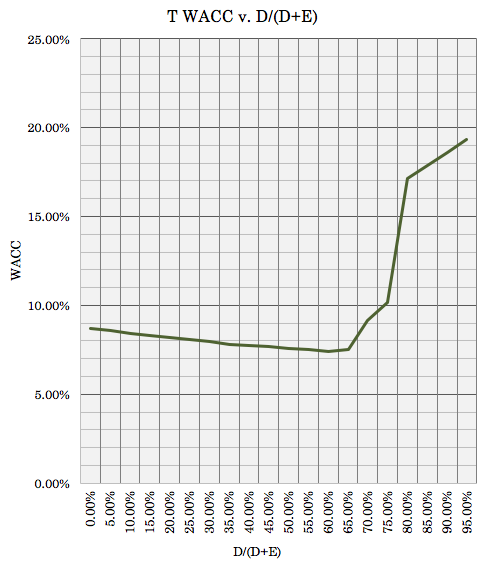 (Image source: author)
While taking on this additional debt could be up to 10% accretive to AT&T's share price, the additional pressure on the company in the event of a downturn in its financials may not be an attractive risk. Moreover, its interest coverage ratio is currently at just 6x-7x at the moment as a result of the interest currently paid, given the rates at the time many of these bonds were originally issued. As is naturally the case, it is always much better to be under-leveraged as opposed to over-leveraged, to buffer against unexpected financial deterioration. The ascent to the point of optimization is usually very gradual, but very steep on the decline past this point.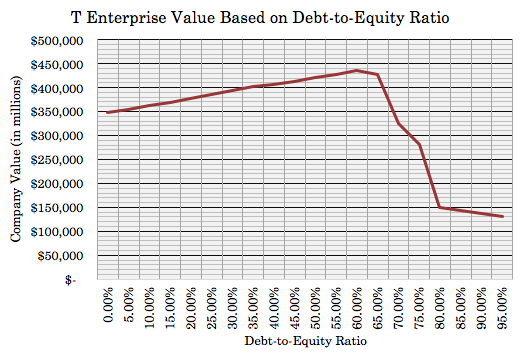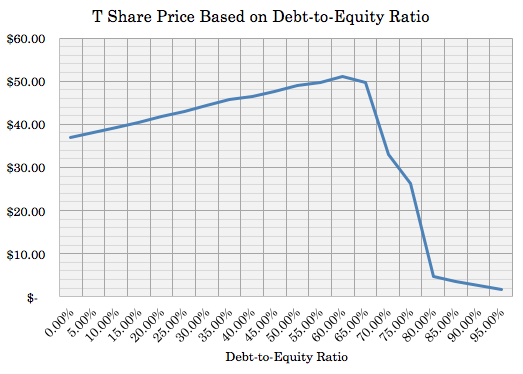 (Image source: author)
Accretive debt issuance is nonetheless very likely not in the cards. Management has stated its goal to use its cash flow after dividends to pay off an amount of its debt in order to return to historical norms.
Valuation
I use the following assumptions:
2016 revenue of $164 billion, with 3% year-over-year growth.
EBITDA margins of 30% (in the mid-range of the company's recent performance).
Depreciation and capex at 14.8% of sales. Management placed capital investment guidance at $22 billion for 2016, which includes vendor financing payments to the company's Mexico network. Based on historical patterns and management's expectations, capital spending should not exceed 15% of revenue.
Cash flow from operations growth equal to the assumed perpetual growth rate of the economy (2%).
Effective tax rate of 34%.
Cost of debt is set at 4.05% and cost of equity at 10%, for a WACC of 7.56%. The cost of equity is at 10%, not because of a special formula, but because of personal preference.
Using sensitivity adjustments of +/- 50 bps for the WACC, this provides a valuation range of $41-53 per share. If one were to also sensitize the results to the perpetual growth rate, g, by +/- 50 bps, the valuation range would expand to $38-58 per share. The median sits at $46 per share.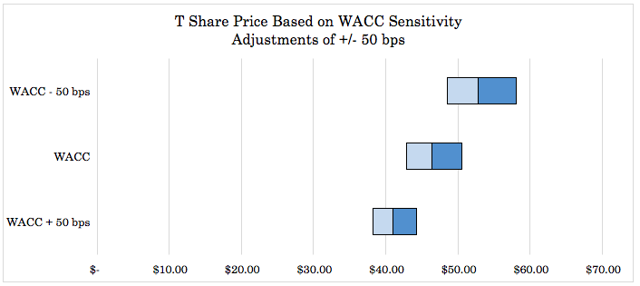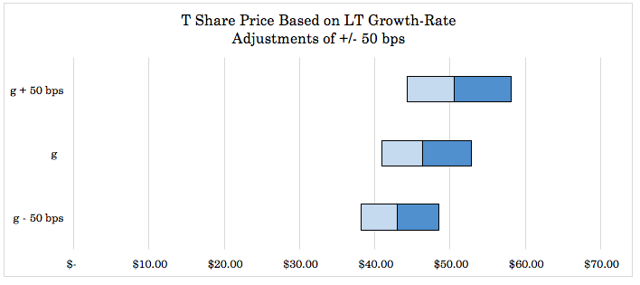 (Image source: author)
These projections assume very little change in the company's EBITDA multiple over the long run.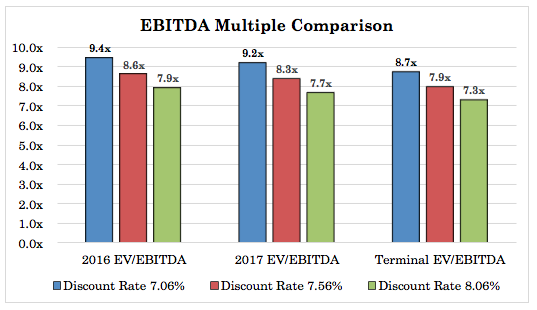 (Image source: author)
We can also sensitize share price on the basis of EBITDA margin considerations (i.e., an EBITDA margin assumed as constantly achieved throughout the projection period), ranging from 28% to 32%. These projections place share prices in a $39-54 per share range, ranging from 8% downside to 27% upside, with 9.4% upside at the median. As aforementioned, the company has been trending toward the higher end of that margin range, suggesting that further upside may be the more likely scenario.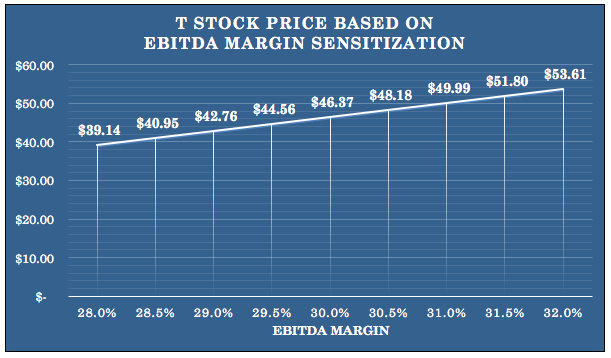 (Image source: author)
Conclusion
In AT&T, you have one of the market-leading companies in an industry with inherently high barriers to entry trading at what may still be a discount to intrinsic value at conservative valuation metrics. The company conservatively projects to generate approximately $20 billion in unlevered free cash flow for 2016, or approximately 12% of overall sales. Further catalysts outlined include margin expansion from domestic business segments, uptake of international market share, and continued earnings growth.
The primary competitive risk to the traditional telecommunications model remains alternate service providers that rely on alternative technologies and business models (e.g., advertising) that are under less regulatory pressure. These companies, therefore, may have the upper hand in controlling cost structure through potential technical advantages, non-unionized workforces, fewer pension plan liabilities as a result of being younger companies, and the ability to target select customer bases.
All things considered, I believe T is more likely than not to be trading at somewhat of a discount to intrinsic value and likely to see future upside to its share price.
Disclosure: I am/we are long T.
I wrote this article myself, and it expresses my own opinions. I am not receiving compensation for it (other than from Seeking Alpha). I have no business relationship with any company whose stock is mentioned in this article.