A modified version of this article was first made available to subscribers of the Cambridge Income Laboratory 45 days ago.
Investor panic reached a crescendo in Feb. 2016, with the VIX "fear gauge" peeking above 30, but then spent the rest of 2016 in "risk-on" mode (except for a brief Brexit-induced blip). High-yield bonds have been major beneficiaries of this rally - the U.S. High yield Master II Option-Adjusted Spread narrowed from over 8.5% in February to under 5.5% in July, its lowest value this year. The chart below shows that the high-yield spread has been quite closely correlated with the VIX this year.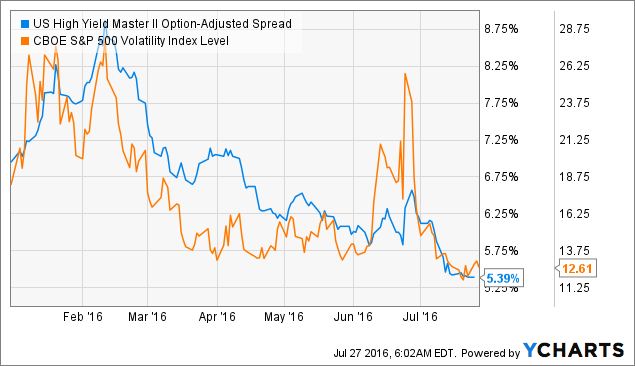 During risk-on rallies, one might expect the junkiest of junk bonds to outperform. What follows then might be a surprise: the VanEck Vectors Fallen Angel High Yield Bond ETF (NYSEARCA:ANGL) (formerly the Market Vectors Fallen Angel Bond ETF), which invests in high yield bonds that were investment grade when issued, has completely demolished its peers in terms of YTD performance (+19.31%), such as the SPDR Barclays Capital High Yield Bond ETF (NYSEARCA:JNK) (+9.81%), the iShares iBoxx $ High Yield Corporate Bond ETF (NYSEARCA:HYG) (+9.13%), and the actively managed AdvisorShares Peritus High Yield ETF (NYSEARCA:HYLD) (+9.92%). ANGL has also outperformed investment grade corporate bonds, as represented by the iShares iBoxx $ Investment Grade Corporate Bond ETF (NYSEARCA:LQD) (+9.86%).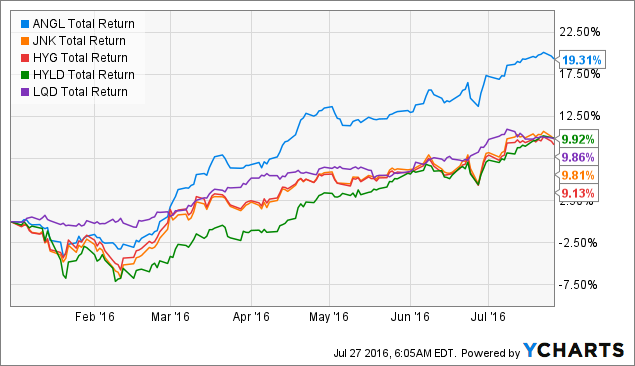 ANGL Total Return Price data by YCharts
Adjusting the start date forwards to the recent February trough does not change things, with ANGL still coming out far ahead.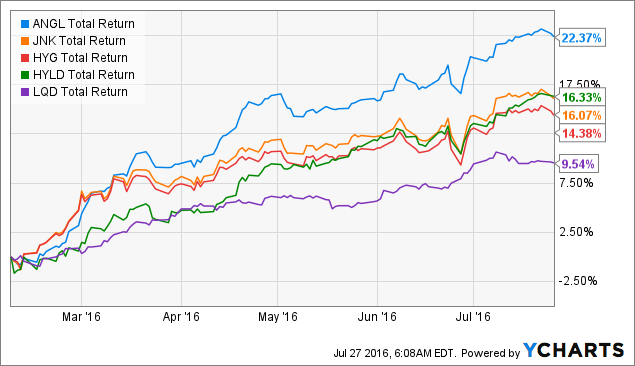 ANGL Total Return Price data by YCharts
Significantly, ANGL has done better than both riskier high-yield ETFs such as JNK and HYG (which contain fewer BB bonds and more B or lower bonds than ANGL), as well as the safer corporate bond ETF LQD. It seems that fallen angels do hit the "sweet spot"!
Basic statistics
Relevant statistics for ANGL, JNK, HYG and HYLD are shown below (Morningstar).
| | | | | |
| --- | --- | --- | --- | --- |
| | ANGL | JNK | HYG | HYLD |
| Yield [ttm] | 5.14% | 6.30% | 5.70% | 9.28% |
| Expense ratio | 0.35% | 0.40% | 0.50% | 1.23% |
| Inception | Apr. 2012 | Nov. 2007 | Apr. 2007 | Nov. 2010 |
| Assets | $269M | $12.5B | $17.4B | $206M |
| Avg Vol. | 81K | 12.4M | 12.5M | 56K |
| No. holdings | 249 | 806 | 1026 | 96 |
| Annual turnover | 39% | 34% | 11% | 88% |
| Morningstar star rating | ***** | ** | *** | * |
Note that VanEck recently (Jun. 20th) cut the expense ratio of ANGL from 0.40% to 0.35%, which could be a response to the launch (Jun. 14th) of the iShares Fallen Angels USD Bond ETF (NASDAQ:FALN), which was incepted with a 0.35% expense ratio. This makes ANGL even cheaper than the other more popular high yield ETFs!
Credit profile
The following table and graph show the credit profile for the four funds.
| | | | | |
| --- | --- | --- | --- | --- |
| | ANGL | JNK | HYG | HYLD |
| BBB or higher | 6.78 | 0.90 | 0.70 | 1.80 |
| BB | 75.08 | 42.34 | 49.56 | 13.48 |
| B | 9.2 | 41.78 | 37.63 | 65.56 |
| CCC or lower | 6.66 | 14.98 | 12.12 | 18.16 |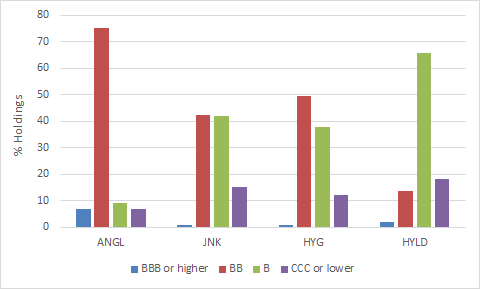 We can see that ANGL has by far the higher amount of assets in BB rated debt, at 75% of holdings. JNK and HYG hold about an equal amount of BB and B rated debt, whereas HYLD has the largest weighting in B rated debt.
Why do fallen angels outperform?
Fallen angel bonds outperform for a number of reasons. First, since the bonds were once investment grade, issuers tend to be larger, more established companies. Secondly, fallen angel debt generally exhibit higher average credit rating than the broader high yield market, which could give an additional element of stability in times of stress. Third, indiscriminate selling pressure on debt that is downgraded to junk status may cause the bonds to be oversold, which could present a good buying opportunity. Fourth, since many bonds are BB-rated, if they do regain investment grade status, this could provide a catalyst for outperformance as bond managers buy back in.
Summary
Regular followers know that I have been banging (Jun. 15, 2015) the drum (Dec. 31, 2015) on ANGL for a while now, and this fund is a core position in the Cambridge Income Laboratory. I am glad to see that ANGL's popularity on Seeking Alpha has increased from 76 followers on my last article to 613 today. However, this is still much less than the >2k followers of HYLD and >10k for JNK and HYG. Moreover, since my first article one year ago, ANGL's assets under management has increased from $36.7M to $267, a 7-fold increase. I'd like to think that my articles have had some small part to play in this! (VanEck should thank/pay me...)
While ANGL's 12-month trailing yield of about 5% isn't as high as what you'd get with many high-yield CEFs or ETNs, its simple investment strategy and validated historical outperformance allows me to sleep better at night (relatively speaking of course, this is still a junk bond ETF after all).
If you have enjoyed my article, please consider clicking the "Follow" button next to my name to be alerted to my new content!
Author's note
If you have found my articles useful in the past, please consider subscribing to the Cambridge Income Laboratory to receive my best trade ideas in advance, view my personal ETF/CEF income portfolio, request ETF/CEF analysis, and be alerted to possible fund misbehavior.
Disclosure: I am/we are long ANGL.
I wrote this article myself, and it expresses my own opinions. I am not receiving compensation for it (other than from Seeking Alpha). I have no business relationship with any company whose stock is mentioned in this article.