I recommend that readers unfamiliar with Support.com (NASDAQ:SPRT) read my two earlier Seeking Alpha articles on the company that can be found here and here.
There has been very little news out of Support since the activist investor VIEX Group won 5 out of the 6 total board seats on June 24th. I believe that the lack of press releases from the company in the last month makes it very likely that there will be significant announcements when second quarter earnings are announced today (Wednesday, July 27th) after the market close.
In this article, I am going to walk through some of the announcements I think are likely to be made, and what they mean for the company as it moves forward with its newly revamped board of directors. In doing so, I will hew closely to the presentation the VIEX Group released in early June as part of the proxy battle, as it is the most detailed publicly available guide to their intentions. The VIEX presentation can be found here.
New CEO
I expect Dr. Elizabth Cholawsky to resign as CEO and would not be surprised if her resignation is effective immediately. She clearly does not have the backing of the new board, members of which are on record as calling her tenure a "failure" and accusing her of "not having the requisite experience to be a public company CEO." The new board will lose credibility with investors if they don't replace Cholawsky after making such strongly worded statements.
I expect new board member Richard Bloom to take over as interim CEO as the VIEX Group has already signaled that he "is prepared to be interim CEO if necessary." Bloom has a background in investment banking and extensive management experience, having served as CEO, President, and Executive Chairman of various public traded and privately held companies.
A Wharton summa cum laude graduate, Bloom possesses the financial sophistication and capital allocation skill sets that Support has seemed to lack over the past several years. As a significant shareholder in the company, he will be well aligned with outside shareholders.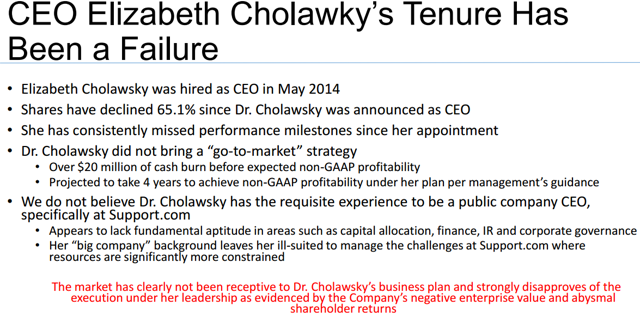 A Share Repurchase Authorization
As I mentioned in my last article on Support, the VIEX group has outlined a plan to repurchase "up to 9.9% of [the company's] outstanding shares." With the company still trading well under net current asset value (NCAV), I believe they will follow through on this plan. While new share repurchase authorizations often serve as positive catalysts for a company's stock price, in the case of a company trading at less than NCAV they are effectively supercharged, serving to immediately increase the net current assets per outstanding share. At Support's current share price, stock repurchases would be the equivalent of buying its own current assets at a nearly 25% discount.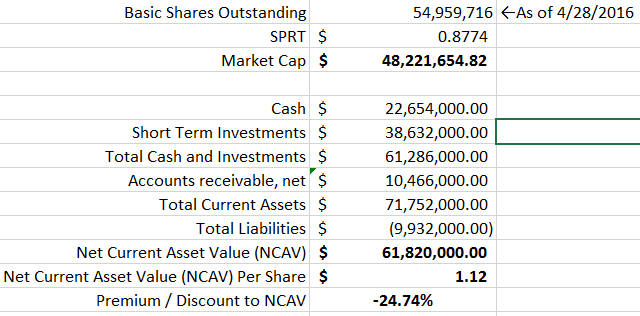 Cost Cutting
One of the biggest dangers in investing in a stock trading at less than NCAV is that operating losses will whittle down the net current assets of the company. Some investors refer to these types of situations as "value traps." Support has a dismal history of operating losses. The possibility that these losses continue is the largest risk to an investment in the company's stock.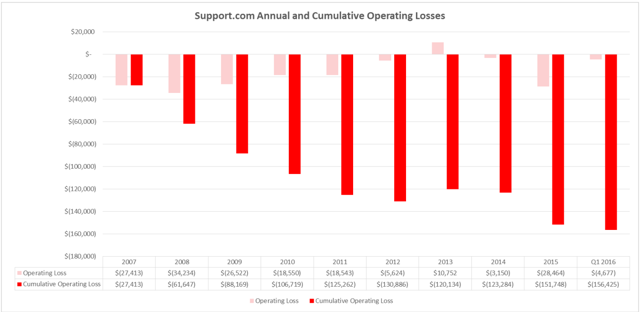 As it owns ~14.9% of Support's outstanding shares, the VIEX group is very incentivized to prevent the company from suffering this fate. One of the ways they intend to do this is by rightsizing the company's staffing levels and expense structure. In pursuit of its Nexus cloud software as a service ((SaaS)) strategy, Support's management allowed some expenses to grow even as revenues were declining. A simple example of this phenomenon in action is the increase in general and administrative (G&A) costs.
In Q1 of 2013, a quarter where Support generated operating profits, G&A costs were $2.763 million. In Q1 of 2016, they were $3.248 million, a 17.5% increase during a three-year period in which revenues continually declined. As much as it pains me to write about anyone losing their job (and it does), Support had 202 corporate level employees at the end of last year. This number seems prima facie excessive and I wouldn't be surprised to see the specter of downsizing mentioned in the earnings press release.

A Strategic Review with the Help of an Outside Advisor
The last major announcement I expect to see in the press release is that Support has retained the services of a financial advisor to aid in exploring a sale of part or all of the business. With just over $77 million in low margin revenue last year, Support is sub scale to be a standalone publicly traded company.
The fact that its revenue and expenses are divided between its legacy customer support services and its new SaaS strategy makes the situation even more clear. Recognizing this, VIEX has expressed plans to bring in outside assistance to assist with a strategic review. One possibility is that the Nexus SaaS software is divested, but I believe that the entire company will be sold.

The wide array of possible announcements from Support makes the current situation one of high uncertainty, but I believe the low valuation the market is giving the company means there is much less risk than one might expect in a money-losing nano cap stock. I continue to see upside for Support and remain long. My short-term price target is $1.12, the company's first quarter NCAV.
Disclosure: I am/we are long SPRT.
I wrote this article myself, and it expresses my own opinions. I am not receiving compensation for it (other than from Seeking Alpha). I have no business relationship with any company whose stock is mentioned in this article.
Editor's Note: This article covers one or more stocks trading at less than $1 per share and/or with less than a $100 million market cap. Please be aware of the risks associated with these stocks.