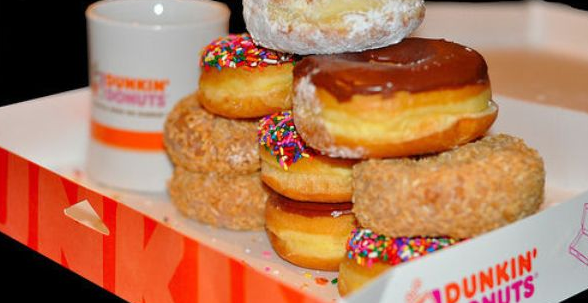 Dunkin' Brands (NASDAQ:DNKN) stock has struggled in the past couple of quarters as it has been facing some pretty intense competition in the breakfast segment. I have been bullish on DNKN in the past in the low $40s and again after Q1 at $46 but since that time, the stock hasn't done much of anything. The growth I thought was coming for DNKN hasn't materialized yet and the tepid Q2 earnings report has done little to assuage investors' fear that DNKN is incapable of meaningful growth from here.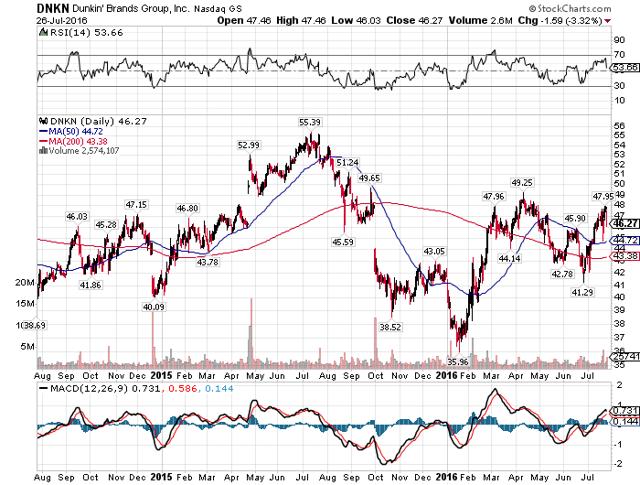 DNKN's formerly terrific top line growth has given way to rather pedestrian numbers and in Q2, that was the case once more with low single digit growth. Comp sales accounted for only a fraction of the 3.8% gain in the top line as both DD International and BR International were very solidly negative. This has been the case for some time and while those two businesses continue to struggle, they are small in magnitude; the US businesses carry the weight of DNKN's results. Unfortunately, DD US and BR US only managed comps of +50bps and +60bps, respectively, so they weren't a great deal of help. Those comps are well off of what DNKN did last year as we saw DD US hit 2.8% and BR US hit 4.1%. Very obviously, growth has decelerated and that requires a revaluation of the stock.
On the bright side, DNKN's asset-light model produces absolutely enormous operating margins and the adjusted number rose from 48.7% last year to 51.5% in this year's Q2. This is a big reason why I was initially drawn to DNKN because operating margins like that are difficult to find anywhere and in particular, in the food business. DNKN's initiative to sell most of its remaining company-owned stores will hurt revenue but should continue to grow operating margins and with strong gains still accruing, I'm excited to see how high DNKN can go. And given that revenue growth has leveled off, DNKN needs all the margin growth it can get.
So why is DNKN disappointing investors? McDonald's all-day breakfast initiative has been wildly successful and is certainly taking share from seemingly everyone. In addition, Taco Bell has become very aggressive with its $1 menu that lets consumers access a very cheap option for breakfast for those that are more price sensitive. That is right where DNKN competes with its core donut offerings and additional competition in the space is hurting DNKN's top line. Those pressures aren't going to go away anytime soon and if anything, may worsen. Thus, I'm more pessimistic on DNKN's future than I was a couple of quarters ago simply because there is so much competition from worthy adversaries for the breakfast category and I'm not sure DNKN has enough to take back lost share.
DNKN mostly reiterated its guidance for the rest of the year but that is hardly something to celebrate. Revenue was revised down slightly due to some company-owned outlets going on the sales block but profits were reaffirmed at 8% to 10% growth in terms of operating income. DNKN is masterful at squeezing margin from its revenue and as I said, that is really the only thing DNKN has going for it right now because its revenue outlook is tremendously weak.
The potential problem is that DNKN is still going for 19 times next year's earnings despite the fact that its revenue outlook is weak. Why is it still trading at such a valuation? It has other ways to grow EPS including its margin expansion and buybacks. DNKN has shrunk the float by almost 5% in the past year and I expect it will do the same over the next four quarters. In addition, constant margin expansion is tremendously positive for EPS and that is why DNKN's estimates are as high as they are. But, to be fair, getting to the forecast 10% EPS expansion for next year will take some execution from DNKN.
Revenue growth is expected to be 3% next year, a number that I can get behind. That would assume steady store growth as well as a flat or slightly positive comp number. That seems reasonable to me so I'll use that. The other 7% would then need to come from a combination of buybacks and margin growth and if we assume DNKN will buy back shares on par with what it has done recently, we can assume 4% to be safe. That would leave 3% EPS expansion that would need to come from margin growth, and with Q2 hitting 5.7% operating margin growth, that is certainly in the realm of possibility. Of course, these things require a bit of faith but given the relatively modest nature of these estimates, I think DNKN has more than a fair chance at hitting them. Still, even if it does, it is already trading for 19 times next year's earnings so you have to weigh whether or not you think there is some upside from there.
There is no doubt that DNKN has underperformed my expectations I set last year and it is because of the intense pressure from competitors that I didn't see coming. DNKN has proven an inability to compete with the initiatives from competitors at least with its marginal customers that can be swayed via a promotion or new menu item elsewhere. And that's the difference with DNKN's comp sales; those marginal customers leave and comps go from a very respectable 3% or 4% to 1% or less. Can DNKN get those customers back? It doesn't appear so right now but anything is possible. The good news is that the stock reflects the reality that DNKN isn't competing all that well with the Taco Bell's and MCD's of the world so if there is a bias to its estimates, I think it is to the upside. DNKN's yield is still very nice and will continue to grow so if you want to be patient and wait for sales to pick up, you will be rewarded. For me, I don't see a lot of upside from here so I'm going to wait it out on the sidelines for now. As strange as it seems, DNKN has become an income stock that I don't expect to go very far in either direction anytime soon.
Disclosure: I/we have no positions in any stocks mentioned, and no plans to initiate any positions within the next 72 hours.
I wrote this article myself, and it expresses my own opinions. I am not receiving compensation for it (other than from Seeking Alpha). I have no business relationship with any company whose stock is mentioned in this article.