Liberty SiriusXM (LMCA) and (LMCK) and (OTC:LMCB) have seen their respective valuations increase substantially since these trackers were created just three months ago. The value of these trackers back in April was about $10 billion. Today these same trackers are now worth $11.5 billion. The "true value" of the Liberty stake when you apply the price of SiriusXM (NASDAQ:SIRI) shares to the shares Liberty holds has risen from about $12.2 billion to about $13.8 billion. The delta between the actual trading and the "true value" is a typical discount assigned to tracking stocks as well as some debt and cash attributable to the stake.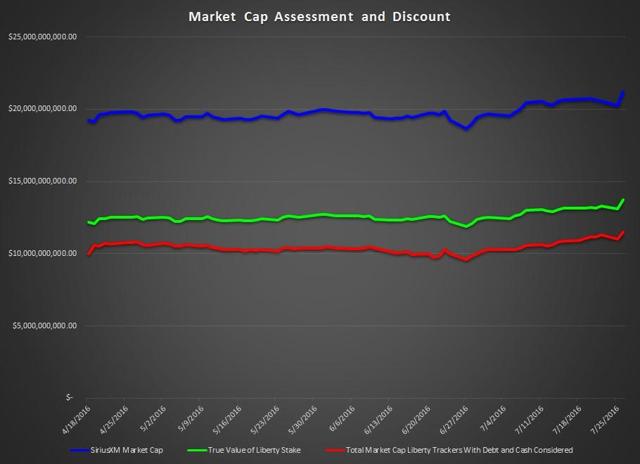 Chart Source - Spencer Osborne
Liberty SiriusXM and SiriusXM stock have pretty much traded in tandem ever since the creation of the trackers. This is to be expected. What can sometimes be surprising is that the trackers can sometimes narrow the gap substantially and even trade at a premium to the underlying stock. The biggest valuation adjustments seem to transpire when we see the latest information surrounding the share buyback program. That is when it is suddenly confirmed that the Liberty ownership percentage has increased by another point or more.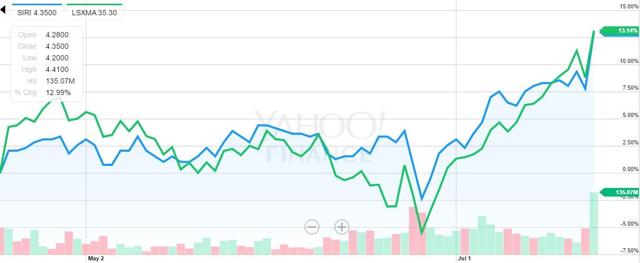 Chart Source - Yahoo Finance
There is a typical ratio that investors can see and track. The lower the ratio is, the bigger the gap between SiriusXM and Liberty SiriusXM. If you are a Liberty SiriusXM holder you like to see this ratio as high as possible because it essentially means that the tracker is trading better than normal vs. the underlying SiriusXM stock. With the close on July 26th, the blended ratio was 8.04. In the past week, leading into SiriusXM's quarterly call, the ratio had gotten to its highest point since the creation of the trackers.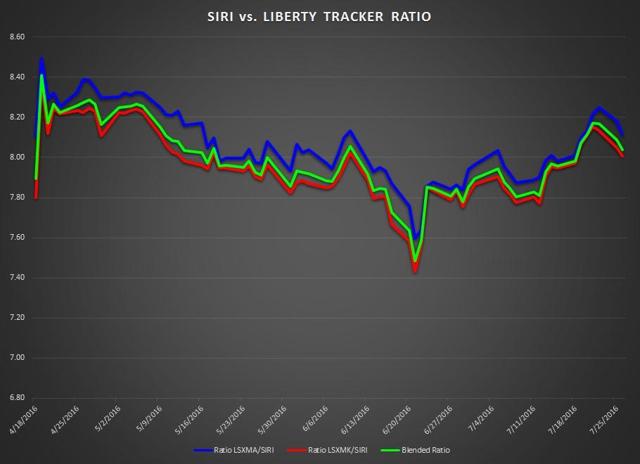 Chart Source - Spencer Osborne
Liberty Media has been active. The company has expressed a desire to gain full control over SiriusXM, and has also floated out a bid to take control of the music streaming service Pandora (NYSE:P). Longtime holders of Liberty Media stock that key in on the satellite radio play have oft discussed possible synergies that Liberty could bring to bear. Many see a combination of Live Nation (NYSE:LYV) and SiriusXM as a possible powerhouse company. Liberty controls a big percentages of Live Nation stock that was not spun off in the Liberty tracker spins back in April. Adding Pandora to the mix would be interesting. Personally, it would seem to be a question of how much value a Pandora subscriber (most subscribe for free) is worth.
The bottom line is that investing in Liberty SiriusXM means keeping your finger on the pulse of both SiriusXM proper as well as Liberty media proper. Liberty seems to be in a deal-making mood, and its currency may well be its SiriusXM stake. Stay Tuned!
Disclosure: I am/we are long LSXMA, LSXMB, LMCA, SIRI, LYV.
I wrote this article myself, and it expresses my own opinions. I am not receiving compensation for it (other than from Seeking Alpha). I have no business relationship with any company whose stock is mentioned in this article.
Additional disclosure: I have no position in Pandora