Canadian National Railway (NYSE:CNI) finds itself in an interesting position in the eyes of investors, as it offers one-stop shopping for investors looking to invest in the overall economy. Given the nature of railways which transport goods across the continent the ebbs and flows of the market can have an influence, both positive and negative. The railways also acts as the primary mover of goods both in Canada and across the border, this gives companies such as CN Rail a steady revenue stream.
This steady revenue stream, and a steady reliance on CN Rail to move goods vast distances has led CN Rail to become the number one railway in Canada and has become a favorite stock option among dividend focused investors, myself included. Given its market share and its access to the North American market.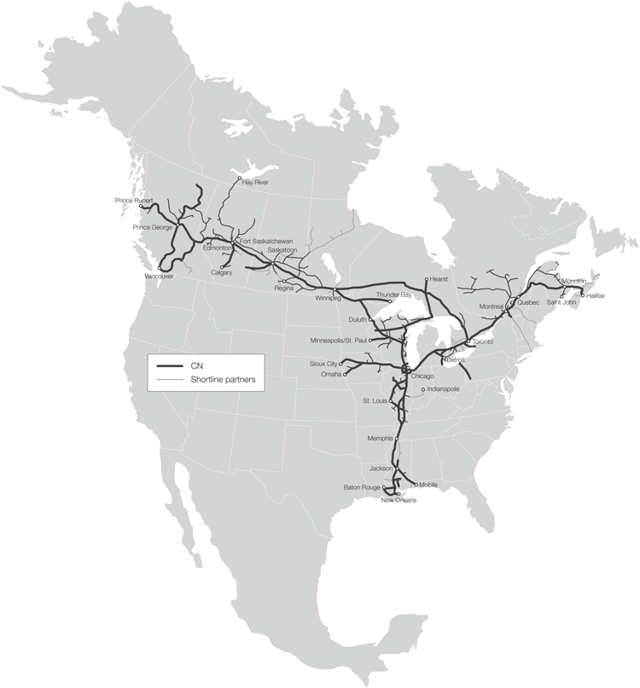 Second quarter results
When it comes to CN Rail's past quarter its CEO Luc Jobin painted a very blunt picture calling the past few months a "very challenging volume environment". CN Rail saw freight volumes decline in every sector except forestry, due to the prolonged energy price drought and less than expected export volumes. Which we can see clearly when we look at the breakdown of goods moved in the last quarter.


Source Q2 2016 report
In all, freight volumes fell by 12% and brought down total revenues in Q2 2016 to C$2.84 billion. This is down by 9% from C$3.12 billion in Q2 2015, and fell below analysts expectations of C$2.91 billion. These lower revenues in turn led to a lower net income of C$858 million, down from C$886 million during the same period last year. Diluted earnings per share remained flat at C$1.10 but it did beat analyst expectations of C$1.06.
While revenues and net income were down in the quarter there was some light at the end of the tunnel as EBITDA rose to C$6.56 billion from C$6.12 billion and a large portion of the drop in net earnings was attributed to lower operating income and higher interest expense (net of related income taxes). Despite CN Rail's year to date share repurchase program reaching C$1.05 billion it still has managed to retain C$1.16 billion in free cash year to date.
Finally, CN Rail's operating ratio which is the most watched and contested financial metric in the railway industry, has fallen to 54.5% from 56.4%, and has fallen year to date to 56.8% from 61%. This is an excellent achievement given that CN Rail hasn't had to resort to the same questionable or gimmicky tactics that Canadian Pacific Railway (NYSE:CP) has done to get its operating ratio to 62% in its Q2 2016 report. In my mind this is one of the biggest differences between the two rail companies, as CN Rail has managed to reign in costs with out risking its ability to operate and compete, unlike CP Rail.
Getting back to the Q2 2016 report, the belief from management is that the worst is over for 2016, and that the company will be able to finish strong for the year. On the back of another projected bumper crop which could see shipments begin a month earlier. This has led CN Rail to maintain its year end EPS guidance of C$4.44 which would be inline with last years results.
Working the dividend line
Even if EPS for 2016 remains flat that will still be a huge accomplishment given the overall state of the Canadian economy and will help the company protect and perhaps make a modest increase to its dividend. CN Rail has quite the track record of boosting its dividend program to reward investors. In January 2015 CN Rail announced a record setting 25% dividend increase, and followed that up in January 2016 with another increase of 20%. Currently CN Rail's dividend has an annualized payout of C$1.80 per share (yield of 1.80% TSX and 1.86% NYSE), back in 2011 the annualized dividend was only at C$0.65.
This demonstrates the biggest opportunity for investors, because CN Rail is so dependent on the overall health of the economy its stock price can be influenced without much effort.
| | | | | |
| --- | --- | --- | --- | --- |
| | Price | 52 Week Low | 52 Week High | Fwd P/E |
| TSX | C$83.20 | C$66.62 | C$85.43 | 18.82 |
| NYSE | $63.29 | $46.23 | $66.22 | 14.26 |
Understanding these issues with the share price CN Rail becomes an excellent very-long hold stock option. As one can ride out the market fluctuations and pick up added shares while prices are suppressed as they were back in February while collecting a stable dividend in the process. Given the current prices compared to the average price targets of C$78.80 on the TSX and $72.70 on the NYSE these current prices may be a little rich to make a larger initial investment but investors should be paying very close attention to this stock for the long-term.
Author's note: If you enjoyed this article and found it helpful, please "Follow" me on Seeking Alpha to receive notification whenever I publish a new article.
You may also be interested in other recent articles I have written for Seeking Alpha with my Canadian point of view that focus on stocks and stories that I have found compelling. You can also find my previous articles here for further study.
Disclosure: I am/we are long CNI.
I wrote this article myself, and it expresses my own opinions. I am not receiving compensation for it (other than from Seeking Alpha). I have no business relationship with any company whose stock is mentioned in this article.