How the mighty have fallen. Gilead's (NASDAQ:GILD) second quarter earnings tanked the stock to $81 a share which means it presently is trading with an earnings multiple of less than 7. I wrote in recent articles that this down move was very much on the cards. The market is stating that there is no near-term fix for the company's hepatitis C sales and the stock sold off aggressively as a result.
Whatever way you look at this (whether you are bullish or bearish), we are now left with a company with a market cap of $110 billion and a cash rich balance sheet. Furthermore the company is expected to bring in $30 billion in top line sales this year (even with guidance being cut) and $11.80 in earnings per share. I hear analysts and investors alike stating that Gilead has become a value trap and I just feel it's nonsense.
Yes, in the near term, hepatitis C sales don't look like they are going to turn around any time soon but that doesn't mean things are going to stay permanently this way. And even if they do in the near term, is the market going to continually tank the stock to the same degree if earnings don't come anywhere near projected numbers?
At the moment, we are dealing with a scenario in the hepatitis C market where Gilead still remains the dominant company despite big losses in Sovaldi and Harvoni. Cheaper alternatives and weaker demand has resulted in deteriorating sales but I do not think hepatitis C drug sales are going to continue to slide from here. Here is where one needs to back the company once more.
Management actually stated that screening volumes were increasing, and even though patient starts are predicted to continue to decline, there are millions of people who have yet to be diagnosed. It's all about being one step ahead of the game in this sector. Gilead's recently approved drug "Epclusa" has the potential to mix things up in this space as it will be the first to treat adults with all genotypes (1-6) with HCV.
Furthermore, it is cheaper than its Harvoni and Sovaldi counterparts which could mean that doctors could have been holding off in prescribing the drug for the past few months. Furthermore, the treatment of children is an area where drug companies can definitely make inroads as the FDA still has not approved modern drugs to be used on them.
However, continued declines in this sector should be expected in the near term. Gilead only poured $1 billion into its share buyback program in the second quarter which means it could be hoarding cash for an imminent acquisition. Since HCV sales make up the bulk of this company's earnings, many analysts feel that an acquisition is the only way forward for Gilead and this may be so. It definitely has the balance sheet to do it, boasting over $24 billion currently in cash on its balance sheet.
The other side of the company is going very well. HIV sales rose to $3.1 billion with Genvoya being the star of the show. The company's ploy of raising prices on older meds in order to switch customers onto new cheaper meds definitely seems to be working. Furthermore, if Phase 3 trials go well with its integrase inhibitor option, Gilead will be able to better compete with Glaxo's more simple Tivicay option which allegedly has softer side effects than Gilead's Truvada.
Glaxo which has just reported an earnings beat and raised guidance in the process again had strong sales from its Tivicay and Triumeq drugs. This is where I see Gilead getting more market share going forward. It may be availing of "switchers" from its old meds at present but when it can properly go up against Glaxo's offerings, then more revenue will start piling into this division.
Technically, we have strong resistance at the $80 level so we should stay above this level for the time being. Furthermore, the biotech ETF (NASDAQ:IBB) has been rallying aggressively lately which means Gilead is not only getting cheaper from a valuation perspective but also compared to its peers in this sector. Another dovish move by the Fed today could make stocks spike once more. We are going to go long today by buying 100 shares for the Elevation portfolio.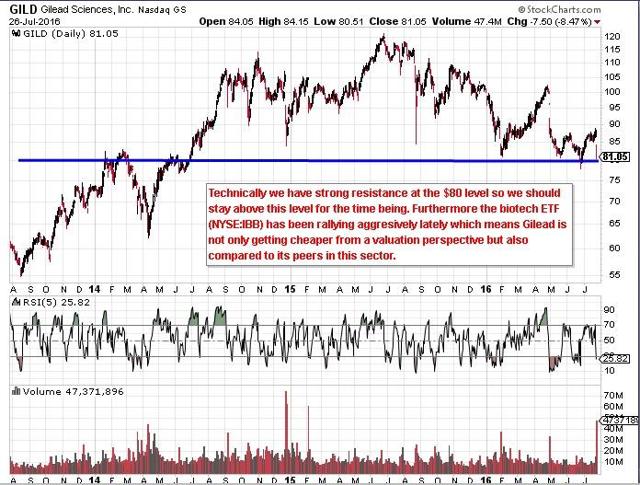 To sum up, I'm going to be adding a few good dividend and growth stocks to the Elevation Portfolio over the next several weeks when I see value. In order to ensure that income is brought in every month, it's imperative that they are not correlated and all don't have similar valuations. You can follow along by pressing the"Follow" button above. Action: Buy 100 shares of GILD.
Disclosure: I am/we are long GILD.
I wrote this article myself, and it expresses my own opinions. I am not receiving compensation for it (other than from Seeking Alpha). I have no business relationship with any company whose stock is mentioned in this article.