Regulators in the US recently approved Anheuser-Busch Inbev's (NYSE:BUD) mega-merger with rival SABMiller (OTCPK:SBMRY). China's authorities, and shareholders on both sides still need to approve the acquisition, but the deal is expected to go through. This week, BUD upped its cash offer in response to concerns about the depreciation of the pound, and most investors continue to focus on the bid price - and whether BUD is a paying a fair amount. The BUD-SAB deal will create a dominant beer company and there is plenty for investors to be excited about. However the merger will bring new leverage and liquidity risks on top of the issues that BUD already has. We discuss some of the things we think investors should be aware of.
BUD's liquidity ratios are very low, and they have worsened. According to Morningstar, the current ratio was 0.64 (down from 1.01 in 2012), and the quick ratio (adjusted for inventory) was just 0.41 (compared to 0.84 in 2012). Weaker cash flows are the main reason for the deteriorating liquidity. In each of the past two years, BUD reported net cash outflows, which drove down cash on the balance sheet from 11.3% of assets in 2012, to 5.1% of assets in the latest quarter. Short-term debt (4.4% of assets) and accounts payable (13.8%) account for the bulk of the firm's current liabilities. Unlike unearned revenues or other types of liabilities, these obligations require cash outflows, and BUD's weaker liquidity position is a concern. We think management might be stretching payables (delaying payments to suppliers) to help ease the pressure. Turnover is down, and payables as a percentage of assets have increased (13.7% in the latest quarter, versus 10.8% last year and 9.2% in 2012).
Financial leverage is another area of concern. Leverage ratios are high and increasing. Debt-to-equity and financial leverage stood at 1.03 and 3.20 respectively in the latest quarter, up from 2.9 and 0.87 in 2014. Long term debt as a percentage of assets increased from 30.5% to 32.3% during this period. The combination of lower cash from operations and rising capital expenditures has forced BUD to increase leverage in order to maintain the dividend. The company has kept acquisitions to a minimum in recent years, but BUD will have to borrow significantly to help fund the SAB merger, valued at $107 billion (BUD has approximately $7 billion in cash on its books). The increased leverage will leave BUD much more exposed to an economic slowdown that would pressure margins and cash flows and make the debt burden more difficult to service. Global macroeconomic conditions remain weak, beer volumes are sluggish, and we don't anticipate much improvement anytime soon.
Cash flows (Figure 1) have worsened for a number of reasons, some more worrying than others. One big reason is currency. BUD reports its results in US dollars, but conducts the vast majority of its business outside the US. The US dollar has appreciated against virtually every major currency over the past two years, leading to translation losses. The company has also become less efficient. Receivables turnover and inventory turnover metrics have gotten steadily worse (Figures 2 and 3), and BUD has an increasing amount of cash tied up in working capital. We think this has pressured management into delaying its payables (something the firm has considerable leverage to do given its massive scale and bargaining power over suppliers). The turnover ratios are more worrying when you consider the impact of currency. BUD uses the "current rate" translation method for consolidating the results of subsidiaries. Without getting into the accounting rules, this method overstates turnover ratios when the reporting currency of the parent appreciates (because the numerator falls less than the denominator). In other words, BUD's turnover ratios appear better than they really are.
Figure 1: OCF Growth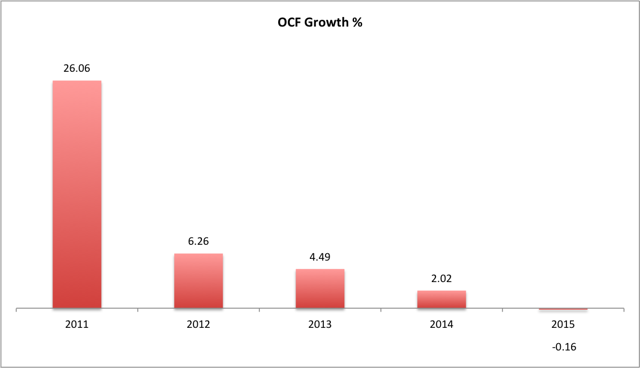 Source: Morningstar
Figure 2: Receivables Turnover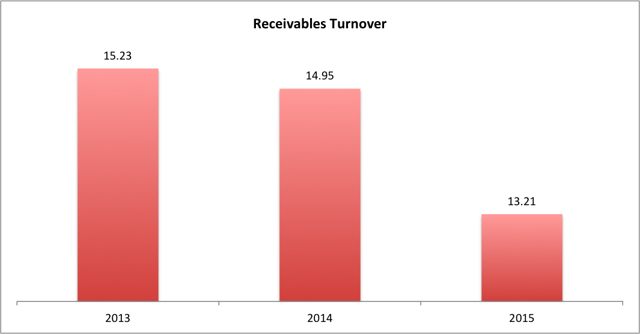 Source: Morningstar
Figure 3: Inventory Turnover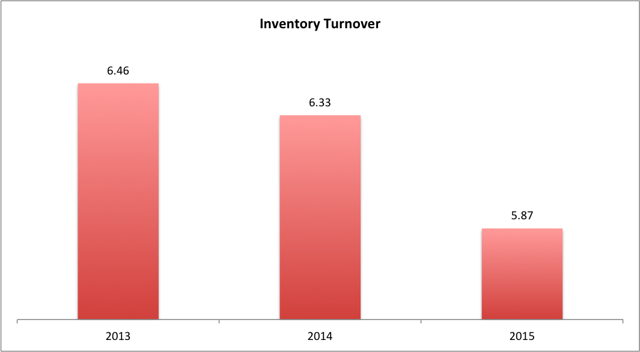 Source: Morningstar
Conclusion:
Eventually, BUD should be able to realize considerable synergies from its merger with SAB through greater scale. But BUD is about to load up on debt at a time when it's converting a lower portion of sales into cash flow. BUD is not the cash cow that it was a few years ago, and the company will need to start growing cash from operations again in order to meet its obligations. This will be harder to do so long as the global economy remains tepid and income growth stagnates.
Disclosure: I/we have no positions in any stocks mentioned, and no plans to initiate any positions within the next 72 hours.
I wrote this article myself, and it expresses my own opinions. I am not receiving compensation for it (other than from Seeking Alpha). I have no business relationship with any company whose stock is mentioned in this article.
Editor's Note: This article discusses one or more securities that do not trade on a major U.S. exchange. Please be aware of the risks associated with these stocks.