While investors cheered EXACT Sciences Corporation's (NASDAQ:EXAS) second-quarter results, sending shares up over 30% during the session following earnings, I hesitated to share the enthusiasm. I completely understand investors' excitement following the second quarter results, as the results were pretty impressive. I also fully understand the desire to continue plowing money into a business that is growing as rapidly as Exact Sciences is, but the second quarter results made me pause. This analysis will offer up why I have pause with investing in Exact Sciences today.

Second-Quarter Results Review
I will keep this short as any investor in the company should know these numbers already. The company reported revenue of $21.2 million for the second quarter of 2016, which are a 161% year-over-year increase and 43% sequential increase. Just as impressive, the company grew test volumes from about 21,000 to 54,000 year over year, a 160% increase. As expected, the gross profit more than tripled from $3.025 million in 2015 to $11.088 million in 2016.
Exact Sciences received additional positive news on June 21st when the US Preventative Services Task Force Recommendation Statement assigned an A grade to Cologuard. As the chart shows below, grade A is a recommended service and suggests providers offer this service. As Exact Sciences CEO, Kevin Conroy suggests, recommendations usually result in insurance coverage. While this is not new with the second quarter results, I believe this will continue driving higher volume.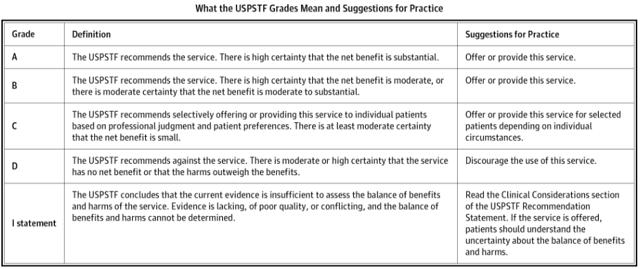 Source: Journal of American Medical Association
While the revenue growth, sample volume growth and USPSTF recommendation are all great news, I am concerned with the second quarter net loss growing from a loss of $39.1 million in 2015 to a loss of $44.8 million in 2016. With a 161% jump in revenue and an even larger increase in gross profit, I was a little surprised to see the loss widen. As I read through this report for the quarter, I could not help but think I have seen this same patter in another small diagnostic company I follow very closely, Sequenom, Inc. (NASDAQ:SQNM). The big difference being Sequenom is on year 5, where Exact Sciences is in year two of the story. Now before this idea is simply brushed aside, let's look at the similarities and differences.
Test Menu - Similar
Sequenom and Exact Sciences are very similar in the size of the test menu, as in they are both very small. Sequenom currently offers seven different tests, with the majority of the test volume coming from a single test family, Non-Invasive Pre-Natal Testing (NIPT). Exact Sciences offers one test, Cologuard, which is a Non-Invasive Colon Cancer screening tool. Both tests offer a major benefit when compared to the previous technologies.
The reason the size of the test menu is relevant is related to the efficient use of the sales force. Larger labs such as Quest Diagnostics Inc (NYSE:DGX) or Laboratory Corp. of America Holdings (NYSE:LH) have a huge test menu the sales force can sell from, while Exact Sciences and Sequenom have a very limited menu. Having a large book of business is appealing for their customers as the potential exists for a one stop shop for testing as well as smaller agreements for only a portion of their test menu. With Exact Sciences and Sequenom, it is either all or nothing.
Competition - Similar/Different
In 2011, when Sequenom launched their test, they were first to market and appeared to have patents that would prevent/limit competition. Over time, the primary patent was invalidated and competition closed in rapidly. As the chart clearly shows, the volume ramp up in the beginning was impressive; however, it leveled off between years 3 and 4 and in year 5 has begun to decrease as a result of competition.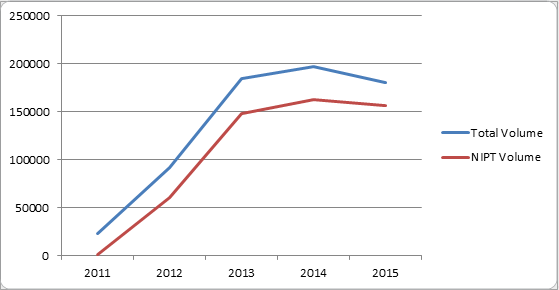 Source: Data gathered from Sequenom Annual reports, chart created by author
Exact Sciences finds themselves in a similar, but different predicament. Exact Sciences has plenty of competition already, ranging from Colonoscopy to FIT testing, but Exact Sciences has the new test offering high detection with a non-invasive platform. Exact Sciences has plenty of competition on the horizon in the non-invasive space with the promise of liquid biopsy. Liquid biopsy is the latest buzz word in the world of cancer monitoring and cancer screening. I have done several write ups on liquid biopsy companies in the past, offering my thoughts on the topic, with one of the more interesting analyses being VolitionRx, Ltd. (NYSEMKT:VNRX) as they are taking a different approach compared to the masses in the space. While I believe Exact Sciences has the best non-invasive cancer screening test on the market right now, the non-invasive competition is coming. I worry the same dramatic ramp and level off in volume will happen with Exact Sciences, similar to what occurred with Sequenom in the next 1-2 years.
Addressable Market - Similar/Different
Exact Sciences total addressable market is quite large when considering everyone in the United States that is at average risk of colon cancer between the ages of 50 and 75. The market is somewhere in the neighborhood of 100 million people. As the original market for NIPT testing was directed at high risk pregnancies and the current market includes all pregnancies, the market for Sequenom in the United States is somewhere around 4 million annually. While both these numbers are quite large, Exact Sciences has a 25x larger addressable market.
In my opinion Sequenom made a huge mistake, trying to take on the full market alone. Sequenom's initial strategy was to rely on their patent to prevent competition versus licensing out their IP and introducing a second revenue stream of royalties. As investors know, royalties can be very lucrative and offer basically pure profit for companies. In December 2014, Sequenom created a patent pool with Illumina, Inc. (NASDAQ:ILMN) and began licensing the IP to others interested in joining the NIPT testing space.
Exact Sciences is walking the same path Sequenom did by trying squeeze as much as they can from the addressable market versus selling their FDA approved kit to others and collecting royalties/reagent sales revenue. Exact Sciences would benefit two-fold through selling their kit, first, they would have a new high margin revenue stream coming in as well as reaching new patients through additional laboratories selling their test. With this methodology Exact Sciences could have their cake and eat it too. What I mean by this is they could continue running their laboratory operations as well as generate additional revenue/profit. They could also work out agreements with the new partners as a lab that could handle any overflow if the lab gets overwhelmed with sample volume.
Financials - Similar
Exact Sciences reported impressive revenue and sample volume growth during the second quarter of 2016, while reporting, in my opinion, a not very exciting net loss. Sequenom's early days of running NIPT looked exactly as Exact Sciences early days are looking. Sequenom continued to report impressive revenue growth, while the profit never seemed to materialize. This revenue growth story continues into 2016, and the company now expects to reach profitability in 2017. With the impressive jump in revenue and sample volume associated with the increase in net loss, I worry that Exact Sciences could fall into the same pattern.
Take Home
Exact Sciences reported some very impressive revenue and sample volume growth, but the profit number did not come along. While it is still very early in the game and a lot can happen over the next couple of years, the early indications for Exact Sciences appear to be following a very similar path navigated by Sequenom over the last 5 years. As Sequenom investors have seen the value of the company drop from about $8/share in 2011 to $0.85 as of the writing of this analysis, this pattern should cause some concern for holders of Exact Sciences.
As you will see in my disclosures, I am currently long Sequenom and the reasoning is related to my belief that at current prices the stock has just dropped too far.
Disclaimer: This analysis offers up opinions of the author and are not recommendations to either buy or sell any security. Please remember to do your own research prior to making any investment decisions.
Disclosure: I am/we are long SQNM.
I wrote this article myself, and it expresses my own opinions. I am not receiving compensation for it (other than from Seeking Alpha). I have no business relationship with any company whose stock is mentioned in this article.