As oil industry deals with rising crude oil inventory and rising gasoline glut, oil prices continue to fall with WTI (WTI) and Brent trading at $42.77 and $44.73 at the time of writing this article. Because a weak global product demand, it is almost certain that refiners will cut their production runs and this will again increase the crude oil stocks and put downward pressure on oil. However, there are few market factors that can support oil prices in the coming time.
Nigerian Avengers
In last few months, Nigerian militant group Niger Delta Avengers has carried out several attacks on pipeline infrastructure belonging to oil majors such as Chevron (NYSE:CVX), Shell (NYSE:RDS.A) and Eni. With these attacks, Nigerian oil production fell by almost 1 million barrels a day in June and this has substantially reduced the country's oil export revenues. Although Nigerian government claims that its oil production increased to 1.9 million barrels a day by June end, OPEC's July- oil market report claims that Nigerian oil production stood at around 1.5 million barrels a day in June. It is true that Nigerian oil production is increasing again, but its future looks extremely uncertain as militants belonging to NDA have refused to negotiate with the government. In fact, Niger Delta Avengers have blown up a gas pipeline belonging to Nigerian National Petroleum Corporation (NNPC) on Sunday. As any chance of cease fire between NDA and Nigerian government remain slim, possibility of more attacks on Nigerian oil infrastructure cannot be ruled out.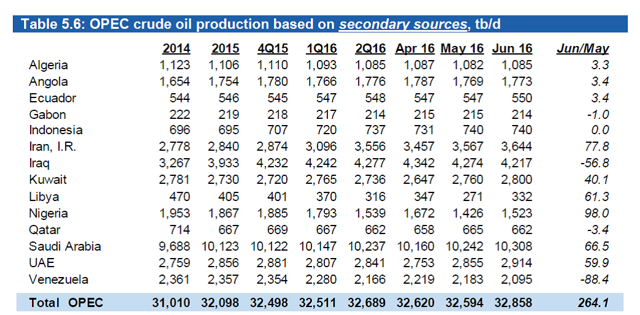 U.S Oil Production
The International Energy Agency (IEA) recently reported that global oil production will continue to fall in the second quarter of 2016. Supporting this sentiment, EIA came out with a report that the U.S oil production declined by 222,000 barrels per day in last six weeks. Does this mean that U.S is now accelerating the supply- demand rebalancing of crude oil? As per another report published by Morgan Stanley, U.S crude oil production must increase by 0.8-1.1 million barrels a day per year in order to balance the oil markets. This prediction is based on IEA's forecast that oil demand will grow by 1.2 million barrels a day per year. However, it can be seen that the U.S oil production has decreased by around 0.76 million barrels per day between April 2015 and April 2016 . This clearly shows that a falling U.S oil production will support oil prices in the coming time.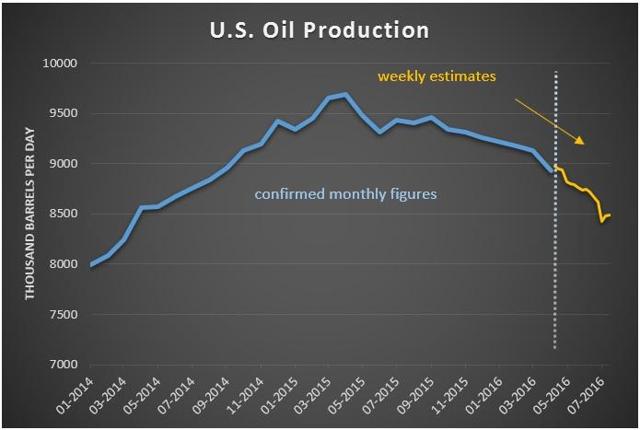 Source : Oilprice.com
Supply decline from other key oil producing countries
As per OPEC's latest oil market report, Venezuelan oil production stood at 2.1 million barrels per day in June. This was the country's lowest oil production level in the last 13 years and was the result of a growing political, economic and social crisis. As international oil companies like Schlumberger (NYSE:SLB) and Halliburton (NYSE:HAL) have already reduced their operations in Venezuela due to rising payment issues; there is little hope for an oil production increase (at least in the near future). Even China's crude oil production dropped by 4.6% to stand at 101.59 million metric tons in the first six months of 2016, mainly because of rising financial and environmental pressure. Even Morgan Stanley has reported that oil supplies from 9 key oil producers - Azerbaijan, Angola, Colombia, China, Mexico, Nigeria , Venezuela, UK and Norway can fall by almost 3.1 million barrels a day in the next four years. Although, this prediction made by Morgan Stanly is for long term, I believe that any immediate supply declines from these countries will definitely support oil prices in the coming time.
Demand from India and China
India is one of the very few countries whose demand for gasoline and diesel has increased by 21% and 15% respectively when compared to previous year. With growing oil imports, India is now planning to increase its Strategic Petroleum Reserve (SPR) levels from the existing 13 days of oil import coverage to 90 days of oil import coverage. In order to achieve this, India needs to increase its oil purchases in the coming time. Even China's economic data reveals that its oil demand is set to increase further in the second half of 2016.
Takeaway
Although I agree that the current oil price slump is because of rising global product glut, it needs to be noted that oil (NYSEARCA:USO) will be largely driven by the supply-demand fundamentals in the longer run. Looking at the above supply- demand factors, I believe that people who have invested in ETFs such as USO (and who are looking for long term gains) must wait at least one year, for oil prices to increase substantially.
Disclosure: I/we have no positions in any stocks mentioned, and no plans to initiate any positions within the next 72 hours.
I wrote this article myself, and it expresses my own opinions. I am not receiving compensation for it (other than from Seeking Alpha). I have no business relationship with any company whose stock is mentioned in this article.