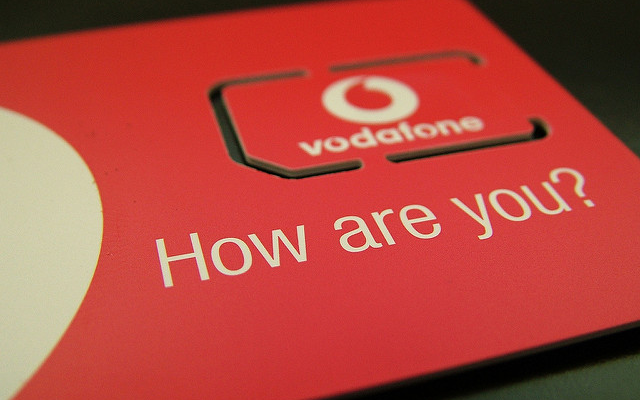 Author's Note: Here I will be dealing entirely in GBP. Since the start of FY2017 (begun in April 2016) Vodafone now declares in EUR.
Vodafone (NASDAQ:VOD) has appealed to me for some time. On several occasions over the last few years I have hovered over the "buy" button on my broker account. But every time I have stopped myself.
Fundamentally I find the business highly attractive. For a start it has a compelling level of diversification across Europe as well as Africa, the Middle East and Asia Pacific: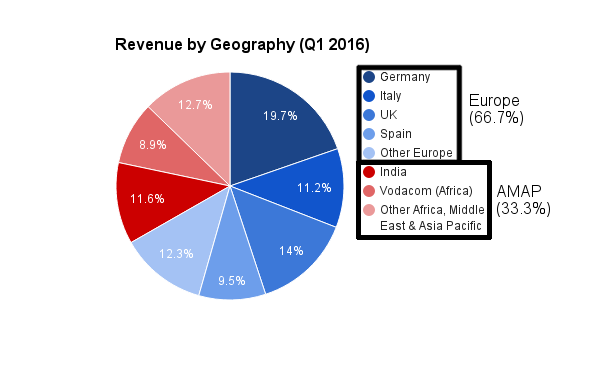 This is an attractive mix of slow-growth, mature markets and fast-growth, developing markets. The mature European markets, although composing about two-thirds of revenue at present, has been decreasing as the faster growing AMAP regions accelerate: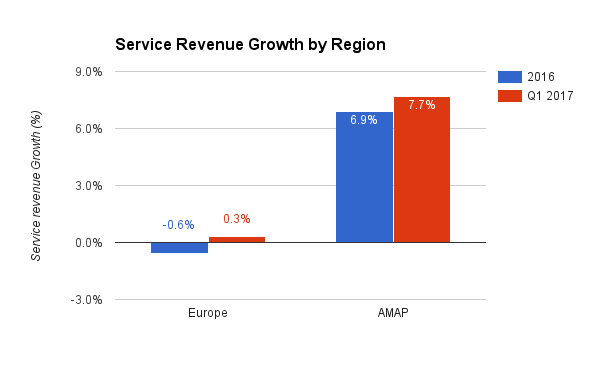 Encouragingly, as the above chart points out, Vodafone's core European market has started to pick up after a prolonged period of weakness with service revenue growth (finally) returning. What is more, there is little reason to think that many AMAP countries will not continue to see rapid growth for mobile groups like Vodafone.
Many such countries, having missed out on the period when fixed line infrastructure and services were developed, are heading straight to wireless delivery of data. Consequently, across Europe and their AMAP regions Vodafone's services are increasingly become more and more a core, utility-esque requirement of every day life. As a company, therefore, it remains a compelling investment.
Dividend Weakness
As an investor the appeal has gone even further, especially if you're looking for yield. Indeed, Vodafone comes with a nearly 5% yield which remains tantalizing.
So why do I keep stepping back from an investment? Well, put simply it was due to the lack of coverage for that dividend. In recent years this has chiefly been due to their hefty investment program named "Project Spring." In September 2013 they announced "Project Spring" alongside the announcement of the sale of their stake in the joint venture with Verizon (NYSE:VZ), Verizon Wireless. In announcing this they explained that:
Vodafone intends to implement a new organic investment programme, Project Spring, to establish further network and service leadership through additional investments of £6 billion over the next three financial years.
In fact, the figure has been considerably higher than this. Needless to say, this kind of leap in investment has caused FCF to drop precipitously since FY2012 (the last full-year pre-"Project Spring"):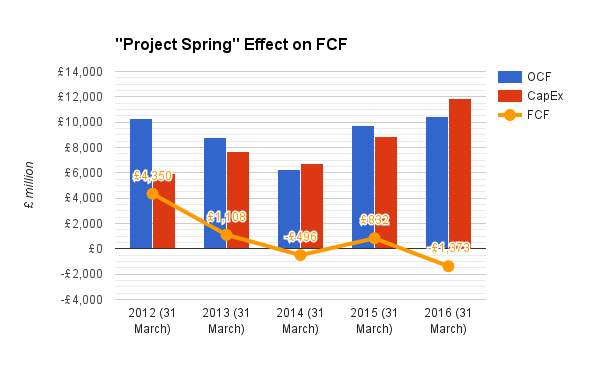 Indeed, it has struggled to keep its head above water on the FCF front for the last few years. From the dividend perspective the situation has been particularly weak. Dividend distributions have easily exceeded FCF in the last few years: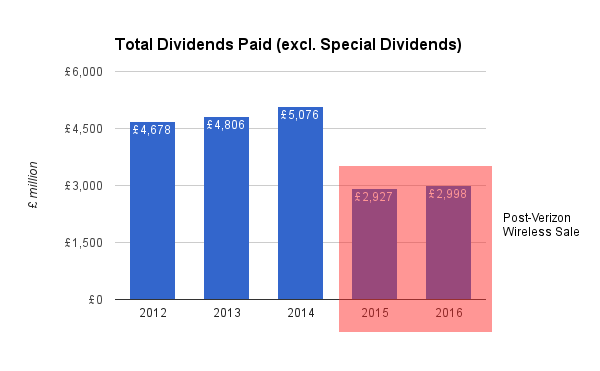 The post-Verizon Wireless sale dividends were not dividend reductions. In fact, Vodafone continued to grow their dividend. Instead it was due to major share buybacks using proceeds from the deal which reduced their dividend liabilities in subsequent years.
Nonetheless, it does not take a lot of mathematical skill to see that Vodafone has not seen its dividend covered by FCF at least since FY2012. Indeed, digging deeper, suggests that the last time Vodafone had a dividend covered by FCF was in FY2010. That is quite a long time to be paying a dividend from what seems thin air.
So what we really want to know is whether it is likely the dividend will be covered in the future. Vodafone itself has seemed confident, they have continued to lift the dividend despite this lack of coverage. And with "Project Spring" now having largely come to its conclusion we may well see justification for investor confidence to follow. So is this confidence justified?
Historic Guidance
Let's take a look at Vodafone past performance cash flow wise. Prior to "Project Spring" Vodafone generally converted about 28% of their revenue into OCF (operating cash flow):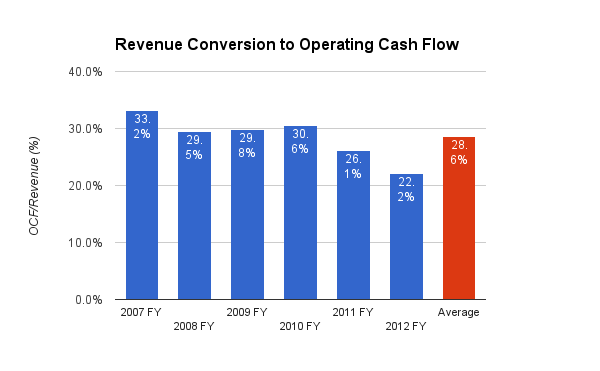 Since "Project Spring" this conversion ratio has dropped a little to an average of about 22%: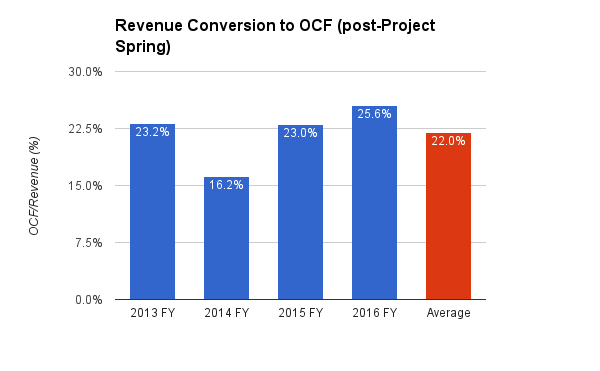 Averaging these two periods suggests an OCF/Revenue figure of about 25.3%.
In turn, CapEx (capital expenditure) usually constituted about 15% of revenue: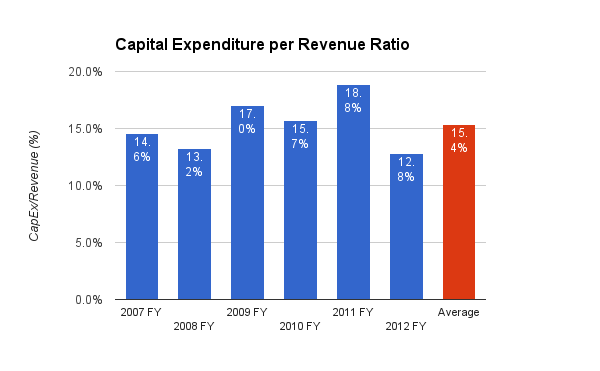 Now clearly, the post-"Project Spring" data with regard CapEx proportions is less useful. What is more, this 15% figure rather conveniently aligns with the company's own anticipations of CapEx share with them stating in the FY2016 results that:
Following the completion of Project Spring, total capex is now targeted to be in the mid-teens as a percentage of annual revenue.
As such, this looks like a pretty solid foundation on which to make some predictions.
Running the Prediction: Coverage Finally Here?
We now have a couple of figures that we can use to gauge the potential FCF of Vodafone in the next few years:
OCF/Revenue Ratio = 25.3% CapEx/Revenue Ratio = 15.4%
With revenue predictions of £44.8 billion and £46.3 billion for FY2017 and FY2018 we can then use the above figures to generate these estimates:

Needless to say, this looks far more like what we are after. If we assume that Vodafone continues to grow their dividend at about 2.5% per year for the next two years (in-line with recent growth rates) this would represent payments of about 11.75p and 12.05p per share. Based on outstanding shares at last count this would be a total dividend payment requirement of:

This would suggest that, finally, Vodafone could see its dividend covered by FCF over the next two years: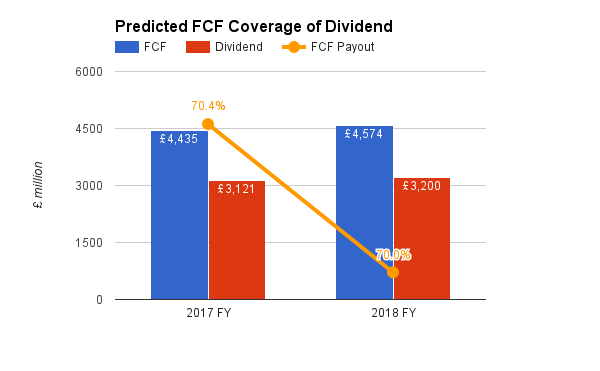 This is very good news. So should I be pushing my capital towards Vodafone in preparation for this sudden wave of cash washing away concerns for the dividend? Not quite for me, as there remains outstanding the issue of spectrum costs.
The Spectre of Spectrum Costs
Spectrum costs are an odd beast for telecom companies. Generally I think they should be considered alongside CapEx even though they are largely treated by the company's themselves (rather misleadingly to my mind) as a sort of acquisition. I can understand why they are not included in CapEx, they are erratic and often pretty huge. FCF figures would look worryingly inconsistent if they were instantly wrapped them up into CapEx numbers.
Nonetheless, spectrum costs are huge and necessary to keep the business actually in business. That sounds much more like a form of maintenance CapEx than an acquisition to me. In Vodafone's case, their spectrum bills are certainly hefty: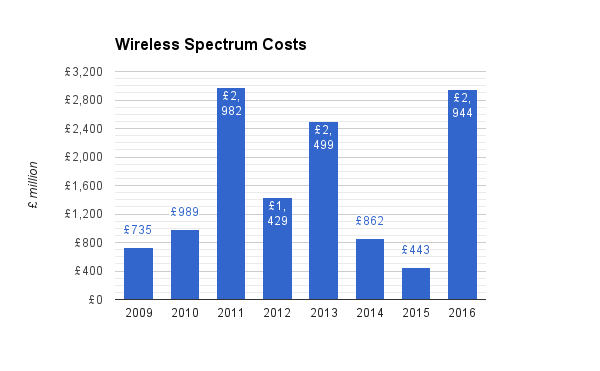 On average, therefore, Vodafone has required about £1.61 billion per annum to cover their spectrum requirements. As such, placing spectrum requirements into the same group as CapEx would suggest that the dividend will remain largely uncovered for the next year or two and beyond. This is not even considering the fact that spectrum costs across Vodafone's operating countries seem set to continue to grow at quite a rapid pace as a combination of governments seeking to extract more from their spectrum assets and growing competition in the sector.
All told, this leaves me with a degree of discomfort regarding their dividend coverage still. There is no doubt that Vodafone's is looking better on this front. Yet with spectrum costs continuing to put strains on their cash needs, coverage still looks fragile at best.
Conclusion
With "Project Spring" coming to an end the cash flow situation at Vodafone is no doubt improving. Indeed, it has begun to look increasingly tempting to me and may pull me in for a modest position. Yet the reality remains that cash flow coverage still remains thin at best when spectrum costs are pulled in.
Vodafone's increased "Project Spring" investment in 4G capacity and its increasingly important emerging markets is great for the long-term health of the company which certainly makes it more attractive. Yet until it becomes clear that its dividend is fully covered with all its costs included, I am reticent to jump in. For me, the dividend as it stands still looks a little too rickety. With, I suspect, many investors tempted by Vodafone due to its yield the potential share price fall in the event that any sort of cut (however modest) occurs is perhaps a risk I am little too uncomfortable accepting right now. My fears here are softened a little in light of the fact that with the yield running noticeably ahead of its other UK-listed peers some of this risk appears priced in already. Nonetheless, I remain cautious.
I have been itching to add Vodafone to my portfolio for some time now. Yet until the underlying FCF dividend cover (including both maintenance CapEx and spectrum costs) shows strong signs of being healthy once again I am loathe to do so. It is an appealing business and if you're happy to accept a level of dividend risk it could be an attractive time to jump aboard. Over the medium- and long-term Vodafone really appeals to me from a growth and dividend perspective, yet in the immediate term I am more nervous. Whilst these immediate term worries work themselves out, I am currently happy to wait.
Notes
Unless otherwise stated, all graphs an d the calculations contained within them were created by the author. Creative Commons image reproduced from Flickr user jono2k5.
Disclosure: I/we have no positions in any stocks mentioned, and no plans to initiate any positions within the next 72 hours.
I wrote this article myself, and it expresses my own opinions. I am not receiving compensation for it (other than from Seeking Alpha). I have no business relationship with any company whose stock is mentioned in this article.