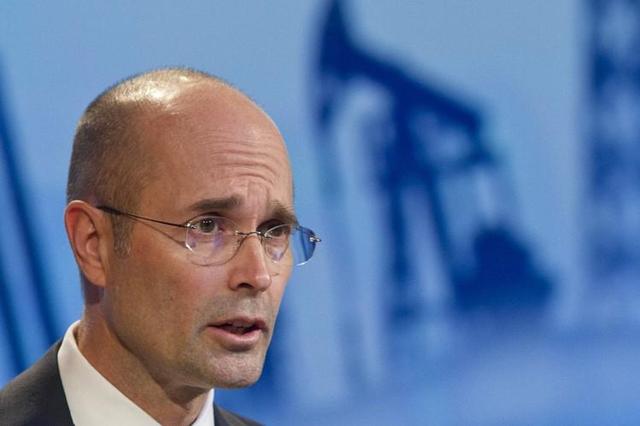 Baker Hughes CEO Martin Craighead
Baker Hughes (BHI) is set to report Q2 earnings Thursday. Analysts expect revenue of $$2.32 billion and eps of -$0.62. The revenue estimate implies a 13% decline sequentially. Investors should focus on the following key items:
Has North America Really Turned?
In Q2 Schlumberger (NYSE:SLB) and Halliburton (NYSE:HAL) experienced revenue declines in North America of 25% and 15%, respectively. Schlumberger suggested North America had bottomed; Halliburton intimated animal spirits had returned to the region, and with oil prices reaching $50, shale plays were interested in adding rigs and increasing drilling activities. A rebound in North America would be key to Baker Hughes. It received over 30% its revenue from the region in Q1 2016, down from 43% in the year earlier period.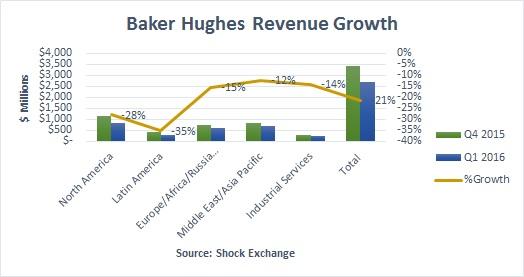 Last quarter Baker Hughes' North America reveneu fell 28% sequentially. A rebound in the region could potentially alleviate the price war in the oil patch.
That said, shale oil plays have some of the highest break-even costs in the industry. Earlier this week oil prices fell below $45; if prices re-test $40 they might have to make a trade off between expanding capex or servicing cheap debt accumulated when oil prices were above $100. That would not bode well for Baker Hughes.
Paltry EBITDA Margins
Prior to the rapid fall off in E&P in 2014 Baker Hughes had EBITDA margins of about 19%. Through head count reductions and other cost-cutting efforts the company maintained margins in the 10% - 14% range through the first nine months of 2015. Margins fell to 8% in Q4 2015 and broke support last quarter, falling to 2%. This pales in comparison to Schlumberger's (23%) and Halliburton's (12%).
Some believe the distraction caused by its failed merger with Halliburton caused Baker Hughes' margins to fall so low. The company barely made money at $2.7 billion in revenue last quarter. Management's outlook on margins could drive sentiment for the stock.
Will Baker Hughes Squander Its $3.5 Billion Windfall
Baker Hughes received a $3.5 billion windfall after its failed merger with Halliburton. The company had $2.2 billion in cash at Q1; including the break-up fee cash could come in around $5 billion this quarter. Reports suggest the company could use its windfall for share buybacks. I believe it needs to squirrel away as much capital as possible in order to survive the price declines in the oil patch. Secondly, there is no guarantee E&P will rebound any time soon. In my opinion, share repurchases would be waste of time and money.
Disclosure: I am/we are short SLB, BHI.
I wrote this article myself, and it expresses my own opinions. I am not receiving compensation for it. I have no business relationship with any company whose stock is mentioned in this article.