The average discount in muni CEFs are very tight at just 40 bps to NAV, a stark reversal from the wide discounts we saw back in December when the group traded at a low-teens discount. Nuveen, the largest municipal closed-end fund manager with over 40 selections between national, high-yield, and state specific, recently released their June UNII data.
Back in December, discounts were extremely wide given the fear of higher interest rates. That concern has been overblown as interest rates have not bucked that now 30-year trend lower. In our article earlier this month where we covered the best opportunities in the space, we cited how the supply and demand imbalance along with foreign buying is supporting the municipal market.
Since the start of the year, the yield-to-call and the yield-to-maturity of the bond buyer muni index has fallen to just 2.74% and 3.81%, from 3.67% and 4.21%. That is a fairly strong move as the Barclay's Municipal Bond index total return is up 4.33% YTD as muni funds have had 41 weeks of inflows totaling $1.22 billion. The June monthly increase of 1.33% was the best monthly return of the year aided by the Brexit vote. That has carried over in July just not to that extent.
In our June 29th article, "Are Muni Closed-End Funds Overvalued?" we cited the fact that the yield curve had flattened which caused a significant amount of muni CEFs to cut distributions. The short-term borrowing costs continue to creep up while the yields on the index had fallen, shrinking the earnings spread. Since then, the yield curve has steepened which has helped these funds but should this recent trend reverse - lower long-bond rates versus short rates - more cuts could be realized.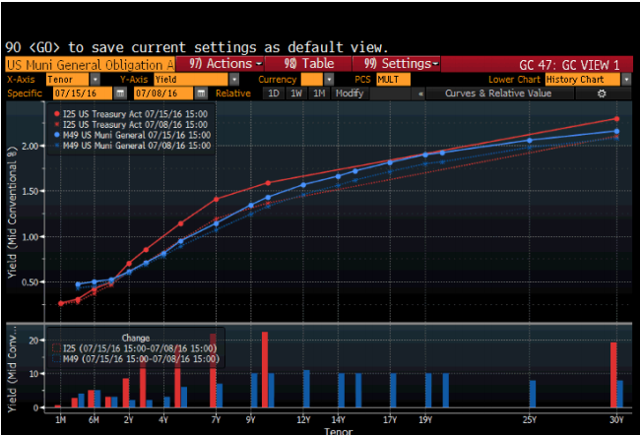 (Source: Bloomberg)
Still, we still like the muni space for several reasons including:
1. High quality yield - Despite the low absolute yield, investors can still realize a 2%-3% tax-free (3.5%-5% taxable) income with extremely low default rates.
2. Downside protection against equity risk - historically, muni bonds have been negatively correlated to the S&P 500 creating a downside hedge for investors.
3. Comparison to treasuries and other sovereigns - foreign demand of our high quality and relatively higher-yielding bonds are driving increased demand.
Nuveen Report Card For June
Nuveen is one of the fund sponsors that offers up their earnings and UNII information on a monthly basis - similar to PIMCO (see "PIMCO Closed-End Funds Report- June"). Many of the muni CEF funds are trading at a premium- we use the PIMCO Municipal Income Fund (NYSE:PMF) as our benchmark. PMF now has a premium of 21%, which is down from 23% a month ago.
The table below modifies their monthly release to adjust for current earnings and adds in discounts/premium variables to arrive at our projected total return. The formula we use simply applies the coverage ratio to the distribution rate to get to approximate NII yields. We then add in a discount/premium adjustment to arrive at the total return figure.

At the top of the list are two of the largest CEFs (NVG is currently the largest) as Nuveen merged several funds together to improve liquidity. These funds recently increased their distribution due to stipulations in the merger agreement (including suspending the AMT-free constraint) but they are under-earning. However, the combined entities have significantly improved liquidity and sizeable discounts compared to the space as a whole.
In aggregate, the coverage ratios are even or down compared to May (NZF and NVG stayed the same). Only two funds saw the coverage ratio increase (NIM and NIQ), while 18 funds saw their coverage ratio decline. Given the term structure of interest rates during the month of June, this is not surprising. We are being watchful for July's release four weeks from now to see if that trend continues. We think investors are currently forecasting that it won't given the resumption of the upward trend and buying demand for these funds.
Discounts in the Nuveen group of funds still exist, with some funds distributing 5% tax-free, equating to a 9.95% yield on a taxable basis for the highest-income earners. In today's ZIRP and increasing NIRP world, a portfolio of high quality, negatively correlated to S&P 500, securities yielding 5% tax-free is very compelling.
The top tier of funds are all very similar with discounts between 5.5% and 6.5%, effective durations around 11-12 years, and three-year returns on NAV between 10.5% and 11.5%. In other words, expect further consolidation to occur given the success of prior mergers.
What We Look For In A Muni CEF
We look for several items on muni CEFs:
1. "Double-discount" advantage - One of the key things we like to find are a double-discount CEF whereby the fund trades at a discount and the underlying bond average price is at a discount to par. These funds are few and far between today. In addition, looking on CEFConnect.com for this information can throw investors off. For example, the Nuveen Select Tax-Free Income 3 (NYSE:NXR) shows an average bond price of $77.13. However, that includes zero-coupon bonds, which can significantly skew that figure. The Nuveen website shows this information without the impact of zeroes.
From CEFConnect.com:
From Nuveen: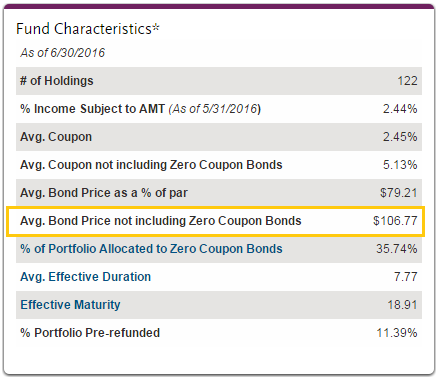 2. The Call Exposure - call exposure is a key risk for muni bond portfolios. Most muni bonds have a call feature allowing the issuer to essentially refinance if they can issue at lower rates. Given the trend in interest rates, most issuers are currently doing that as fast as they can. This is also available on both CEFConnect.com and most sponsor websites like Nuveen.
Call exposure of NVG: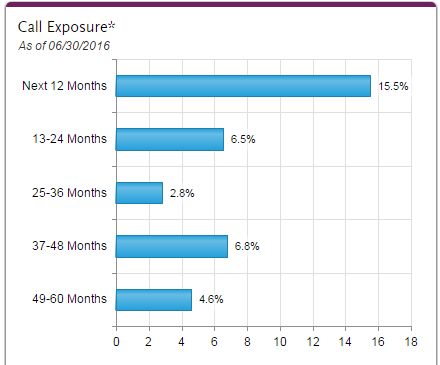 (Source: Nuveen Website)
3. Other Factors - Outside of the first two items, we like to see, all else being equal, higher-credit qualities, shorter effective maturities, lower leverage for the same yield, and diversified geographic and industry breakdowns.
The municipal market is characterized by lengthy maturity horizons of 25-years or more in many cases. This compares to the bullets of the typical high-yield or even investment-grade bond, which averages around seven years. This exposes investors to more interest rate sensitivity that should be recognized. Thus, investors should always favor the fund with the lower effective duration and effective maturity.
Leverage will have the same essential effect as the duration of the fund - amplifying the effects of interest rate changes.
One thing many investors have been shown to ignore is the geographic breakdown and sector allocations of funds. This is where many investors who had assets in funds, both open and closed, that had invested in triple tax-free Puerto Rico bonds were caught off-guard by depreciation. Today, investors have become slightly more cognizant of geographic exposure and PMs are also recognizing that investors have concerns about certain areas following the Puerto Rico debacle. Those include Illinois and to a lesser extent, Connecticut, New Jersey, and Kentucky.
In terms of sectors, guaranteed and GOs backed by tax obligations are typically the safest, since they are guaranteed by the issuer and backed by the taxing authority of the municipality. Healthcare, education, and water and sewer bonds are also of fairly safe and high quality. Be cognizant of transportation (given state transportation departments' tendency towards optimistic toll revenues), utilities, and housing bonds. While still relatively safe, they are what we consider to be of lesser quality within the high-quality muni bond space.
Conclusion
The municipal bond market continues to see increasing demand with average to slightly below average net new issuance creating a strong dynamic for pricing. The CEF sector in particular has also seen discounts tighten in the last few weeks as investors flock to safety and yield seekers discover the juicy tax-free yields over 5%. The Nuveen funds have seen coverage ratios generally decline over the prior month but that was expected given the flattening of the yield curve that was realized in June. Since then, the yield curve has steepened creating a more favorable earnings environment.
Disclosure: I am/we are long NVG, NZF, NPI, NQS, NMO.
I wrote this article myself, and it expresses my own opinions. I am not receiving compensation for it (other than from Seeking Alpha). I have no business relationship with any company whose stock is mentioned in this article.
Additional disclosure: The commentary does not constitute individualized investment advice. The opinions offered herein are not personalized recommendations to buy, sell or hold securities. As I have no knowledge of individual investor circumstances, goals, and/or portfolio concentration or diversification, readers are expected to complete their own due diligence before purchasing any stocks mentioned. The strategies discussed are strictly for illustrative and educational purposes and should not be construed as a recommendation to purchase or sell, or an offer to sell or a solicitation of an offer to buy any security. There is no guarantee that any strategies discussed will be effective. The information provided is not intended to be a complete analysis of every material fact respecting any strategy. The examples presented do not take into consideration commissions, tax implications or other transactions costs, which may significantly affect the economic consequences of a given strategy. This material represents an assessment of the market environment at a specific time and is not intended to be a forecast of future events or a guarantee of future results. This information should not be relied upon by the reader as research or investment advice regarding the funds or any security in particular.