Despite the expected sales decline, investors found reason for encouragement in Apple's (NASDAQ:AAPL) June quarter earnings, and the stock is up about 7% as of this writing. Apple gave indications that the next iPhone will continue to be innovative and have a strong launch in September. In addition to iPhone, Apple is expected to update a number of product lines, including Mac and Watch. Investors have much to look forward to this Fall.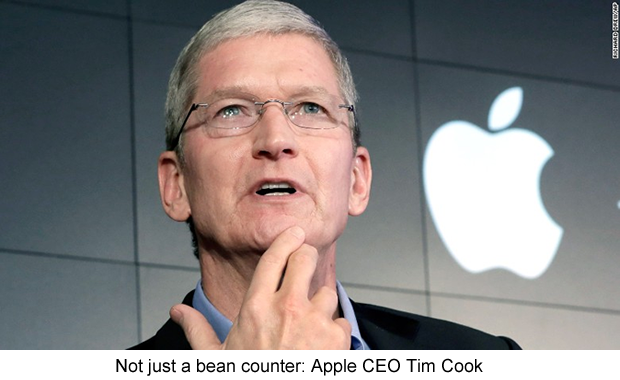 Source: CNN
R&D Powerhouse
As usual, Apple's management refused to answer any questions regarding product plans, which was uppermost in analysts' minds during the fiscal Q3 earnings conference call held on 7/26. But perhaps, stung by the ongoing narrative of the "non-innovative" iPhone, CEO Tim Cook just couldn't help himself. When questioned by Goldman Sachs analyst Simona Jankowski about regaining iPhone share in China, Cook had this to say:
... if you look at our share over time, our share in China tends to peak during launch windows. There's a higher high and a lower low there. There's a bigger difference between those two. And so what we have to do and what we're doing is innovating like crazy and delivering the best smartphone to our customers there. And if we do a really great job of that, which we will, then I'm confident that we'll do well.
In the past, when Cook has directly contradicted or rebuked Apple critics, he's usually been proven out, so I take his assertion as a good indicator. Of course, innovation is in the eye of the beholder to some degree, but there were other concrete signs of Apple's innovation efforts.
As shown in Apple's SEC 8-K filing, Apple's R&D spending increased by over 25% y/y to $2.56 billion. As a percentage of revenue, at 6% this is the highest it's ever been. There can be some debate about whether R&D spending translates into innovation, but my experience is that short of gross mismanagement, it almost always does. What isn't guaranteed is that innovation will translate into market success.
In the past, Jobs provided the critical filter of identifying innovations that could be translated into successful products. The jury may still be out on current management, but I believe the Watch and the new Apple TV indicate that Apple hasn't lost the ability to translate innovations into products with high growth potential.
Apple's management was asked about the fraction of R&D spending on new products rather than refining existing products, and while Cook wouldn't specify an exact number, he did state that there was "quite a bit" of investment in new products and services.
It remains to be seen how innovative the next iPhone truly is, but Apple's earnings report and guidance suggested that the next iPhone launch is expected to be strong.
Earnings Review
In the table below, I summarize key results from the earnings report compared with my predictions.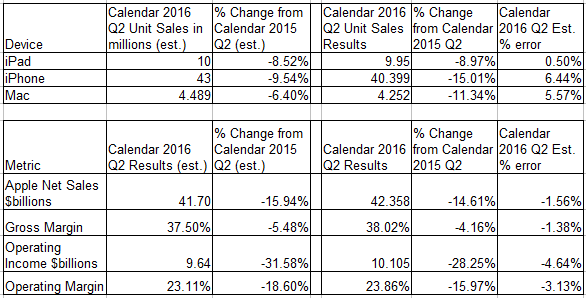 iPhone sales came in slightly below my expectations on a sell-in basis, but Apple stated that unit sales for the quarter drew down channel inventory by over 4 million units, putting sell through at about 44-45 million. iPhone revenue came in better than I expected as corporate gross margin was higher overall and iPhone ASP was also higher than I expected at $595.
Why is Apple drawing down inventory on iPhone so heavily? Probably because it knows that once the next iPhone is released, iPhone 6 and 6s sales will drop sharply. iPhone 6 is due to be discontinued anyway. Management did indicate that inventory reductions were mostly in higher margin phones.
iPad sales came in almost exactly as expected, while revenue was higher on the mix of iPad Pro devices. Although unit sales declined y/y, the sequential drop was only about 3%, indicating that the iPad sales may be starting to stabilize. This is something I've been hoping to see for some time. The iPad Pro 9.7 in. device offered excellent value and is driving iPad refresh.
It may be no coincidence that stabilization in iPad follows on the heels of Intel's discontinuance of its tablet processor business and contra revenue subsidies for tablet processors. I always felt this had a negative effect on the overall tablet market. Intel's predatory pricing pushed tens of millions of low cost tablets into the market starting in 2014 and this was when iPad's sales really started to decline.
Apple analysts have been reluctant to acknowledge the Intel effect, but I expect iPad sales to continue to recover now that Intel has abandoned contra revenue.
Mac sales continue to languish, and actually came in a little below IDC/Gartner estimates, which had been the basis of my estimate. This is largely due to the long delayed refresh in the Mac lineup, especially in Mac Pro and MacBook Pro. Probably the refresh will arrive this Fall, early in the December quarter.
Services and Other Products revenue came in right where I expected them, probably indicating that the IDC estimate for Watch sales was correct at 1.6 million units. Much has been made of the 55% y/y decline in unit volume, but this is gratuitous. Sales of any product always fall off (more or less exponentially) from launch. A year over year comparison for the June quarter really isn't reasonable given that Watch launched in the June quarter last year. Once again, this is an effect of the delayed refresh, not indicative of the future potential of Watch.
Guidance Debate
A debate of sorts broke out during the conference call regarding the guidance Apple gave for the fiscal Q4 (September) quarter. Apple guided to $45.5-$47.5 billion in revenue with basically unchanged gross margin of 37.5-38%. At the midpoint of the guidance range at $46.5 billion, this represents a 10% y/y decline.
The y/y decline isn't necessarily indicative of weak expectations for an iPhone 7 launch, as I had kind of assumed in my preview article. The guidance may simply reflect the current reality of weak iPhone 6s sales. Typically, Q3 iPhone sales are made up of current generation iPhones plus the sales of the new generation (mostly during the launch weekend). This was especially true last year, when the launch weekend came at the end of the quarter.
Steve Milunovich of UBS pointed out that the guidance calls for a 10% sequential increase in revenue compared with the June quarter, and this is much greater than historical norms. For instance, last year the sequential revenue increase was just 4%. He took this as a bullish sign for the iPhone 7 launch.
Toni Sacconaghi of Bernstein took an opposing interpretation. He pointed to the sell through of 45 million units in iPhone for the June quarter, and suggested that revenue guidance indicated that sell through would be roughly flat for iPhone quarter over quarter.
I tend to align more closely with Milunovich on this. I think the sequential increase is a good indicator, especially since iPhone 6s sales can only be expected to weaken further in fiscal Q4.
Last year, iPhone sales for fiscal Q4 were 48 million, including about 13 million iPhones 6s models for the launch. This means that previous generation iPhone sales fell sequentially from the 47.5 million of the previous quarter, to 35 million for fiscal 2015 Q4, a 26% sequential drop.
Probably, the sequential drop this year for existing iPhone models will be higher, and there may be some additional channel inventory reduction ahead of the new iPhone launch. Being conservative and using the sell through number from the June quarter as well as the 26% sequential drop, puts existing iPhone unit sell in at about 33 million units, not counting the new iPhone launch. Assuming overall sell in for the quarter of 45 million units, puts the launch of iPhone 7 conservatively at about 12 million units.
Given all the various uncertainties concerning the launch window and channel draw down, this indicates that Apple is expecting iPhone 7 to have launch sales comparable to last year. It also indicates that Apple is not planning on "pulling in" sales from the December quarter in order to beef up September quarter sales.
So I'm backing off from the opinion in my preview article that guidance for a y/y revenue decline would be bad for the stock and indicate a weak iPhone 7 opening. I think Milunovich is basically correct, especially given my own expectations regarding the innovations that will arrive with the new iPhone 7.
Investor Takeaway
I was really happy to see the surprisingly positive market reaction to Apple's earnings report. This indicates to me that the market is starting to respond to the value that Apple represents as a quality technology company, as well as its growth potential. The Fall is shaping up to be better than normal in terms of product updates.
It's still an open question whether Apple will return to y/y growth in the December quarter, but my expectation is that it will. Apple will be able to tap into pent-up demand in a number of areas including Mac and Watch. I remain long Apple and recommend it as a buy for investors with a 3-5 year investment horizon.
Disclosure: I am/we are long AAPL.
I wrote this article myself, and it expresses my own opinions. I am not receiving compensation for it (other than from Seeking Alpha). I have no business relationship with any company whose stock is mentioned in this article.