This is a short series of articles that will discuss how to analyze business development companies ("BDCs") for upcoming dividend coverage, and this article focuses on Ares Capital (NASDAQ:ARCC). As mentioned in the introduction to this series, I have noticed very little discussion on Seeking Alpha of projected dividend coverage especially beyond looking at historical and maybe 90 days out. These projections do not provide investors with a long enough time frame or detailed assumptions (see below). Most BDCs that reduce dividends are looking well beyond one quarter and trying to get ahead of the curve. Also, relying on historical information (even the previous quarter) is not enough. Investors and analysts/contributors providing projections need to be able to read the "tea leaves" of where the company is headed. BDCs will begin reporting Q2 2016 results this week.
Upcoming Articles on Dividend Coverage: I am happy to walk readers through example dividend coverage analysis, and if you have a preference on which companies I use, please let me know using the following survey that has a list of tickers and shows the results at the end. Also, please see Part 1 linked below that analyzes dividend coverage for Medley Capital (NYSE:MCC).
Links to previous articles in this series:
Survey results so far: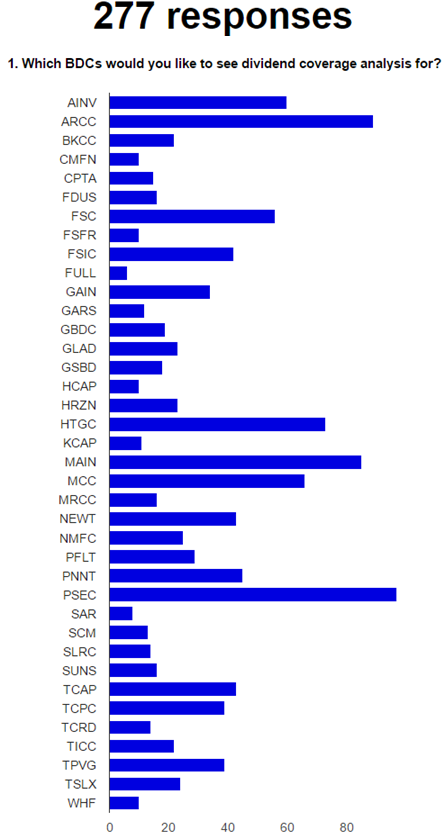 Depending on the feedback from readers, I will discuss dividend coverage projections for a certain amount of these companies. Not surprisingly, many of the top selected BDCs are the most followed on Seeking Alpha such as ARCC, Prospect Capital (NASDAQ:PSEC), Main Street Capital (NYSE:MAIN), Hercules Technology Growth Capital (NYSE:HTGC) and Fifth Street Finance (NASDAQ:FSC). This does not necessarily imply that readers think these BDCs are more likely to cut their dividends in the coming quarters. However, I was surprised to see less widely known BDCs such as Newtek Business Services (NASDAQ:NEWT) and Gladstone Investment (NASDAQ:GAIN) higher up on the list as well as Triangle Capital (NYSE:TCAP) that most recently cut its dividend. Also, TICC Capital (NASDAQ:TICC) and KCAP Financial (NASDAQ:KCAP) were lower ranked, but could have coverage issues from declining collateralized loan obligation ("CLO") cash distributions. BDCs such as Apollo Investment (NASDAQ:AINV), Gladstone Capital (NASDAQ:GLAD), FS Investment Corp. (NYSE:FSIC) and PennantPark Investment (NASDAQ:PNNT) have higher oil/energy related exposure, and if oil prices continue to dip, these companies could experience lower dividend coverage.
Investors need to understand the following assumptions that are being used to project dividend coverage:
Expected portfolio yields and non-accruals
Change in asset mix (safer vs. riskier)
Debt-to-equity and cost of borrowing sources
Anticipated new portfolio originations and repayments
The amount of non-interest income (dividend, fees, etc.)
For my projections, I use best, base and worst scenarios with different assumptions for each. There are many reasons that investors should understand the assumptions used by analysts/contributors because BDCs often provide portfolio updates that are either publicly announced or included in the details of recent SEC filings. As new information comes to light, investors can adjust expectations and pricing accordingly.
ACAS Acquisition:
On May 23, 2016, ARCC announced the potential acquisition of American Capital (NASDAQ:ACAS) that would have a combined portfolio of around $13 billion. There are many positives to this acquisition including increased scale, relationships and credit platform. However, I believe that one of the primary benefits is the increased ability to ramp the SDLP. BDCs are allowed a maximum of 30% of total assets to be considered "non-qualified," which includes the SSLP, SDLP and Ivy Hill Asset Management. Currently, ARCC is "very, very tight on the 30% basket" which are assets in non-qualified investments (includes other investments as well) and on the earnings call last month, management alluded to the ACAS acquisition when discussing this issue:
"It's obviously a very significant constraint, if anybody models out to see that once you contribute those assets to SDLP and it creates bad assets out of good assets that we are very, very tight on the 30% basket…So it is a constraint. We've got a whole lot of ideas just to how we are managing it, but for the time being we do see the ability to make that conversion without having an issue on the 30% basket, and I think we have some tools that you'd probably imagine are in process right now to mitigate that going forward, because it is a constraint that something that we spend a lot of time thinking about and are working through right now."
ACAS Acquisition Highlights:
Estimated closing at the end of 2016, subject to the sale of ACMM
ARCC and ACAS shareholders will own ~74% and ~26% of the combined company
Pro-forma debt-to-equity at closing expected to be in a range of 0.65-0.75x
ACAS shareholders will be eligible for ARCC's quarterly dividend
Key Outstanding Items:
Assets to be sold prior to closing will impact: portfolio risk profile, dividend coverage potential and debt needed to pay cash portion of transaction
Capital structure and leverage needed to pay cash portion
Operating expenses going forward (G&A, salaries, etc.)
Fee waiver details (up to $10 million per quarter)
Transaction related expenses (bankers, advisors, executive comp., etc.)
Tax related issues (deferred tax asset write-offs, etc.)
There are too many "outstanding items" that would impact dividend coverage to start looking at a potential combination that will likely be near the end of 2016 and mostly impact 2017 and going forward.
Portfolio Yield & Non-Accruals: ARCC's portfolio yield has bounced around from 8.9% to 9.6% and is currently around 9.3%. However, the company has been increasing the amount of second-lien investments to offset the lower yield from the de-levering of the SSLP (due to the pay-down of GE Capital notes). More importantly is the expected ramp of the SDLP that will eventually provide increased portfolio yield.

Non-accruals remain a small portion of the portfolio at 1.3% of total investments at amortized cost and 0.6% at fair value down from 2.6% and 1.7%, respectively, for Q4 2015.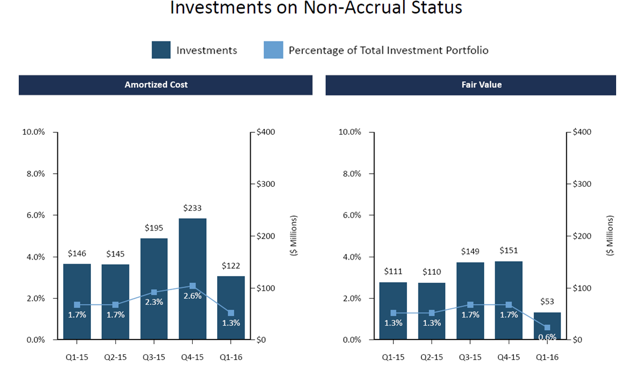 Change in Asset Mix: As mentioned earlier and shown in the chart below, ARCC has been increasing the amount of second-lien loans to maintain its portfolio yield. However, I still consider ARCC to have one of the "safer" risk-profiles, with over 60% of the portfolio in senior secured debt investments, not including the SSLP, and as discussed by management:
"…we structure and underwrite all of our second lien, so not every second lien is created equal. And in fact, our second lien performance, whether they were investments we made in '05 or '09 or 2012, actually all performed quite well. And we've emphasized in the past too that they're in larger companies than most of the other folks that you'll see, as you analyze the BDC space. And I'd argue in better borrowers and larger companies, more stable results…And secondly, being secured versus unsecured is really, really important in achieving recoveries, and I can't emphasize that enough. So while that number has gone up a bit, we continue to focus people on saying or looking at kind of what the total second lien and mezz exposure is at this point in the cycle relative to where we were as a company back in '08, that's about half of where we were back in '08. So we do think that we're much more conservatively positioned even today than we were going into potentially more difficult environment."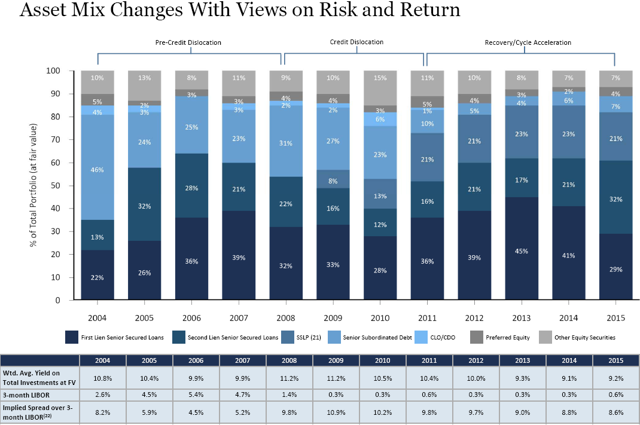 Debt-to-Equity & Cost of Borrowings: ARCC has a targeted debt-to-equity ratio of 0.65 to 0.80, and as shown in my article, "BDC Borrowing Rates & Potential Baby Bond Redemptions", ARCC has slightly above-average borrowing costs. However, ARCC has been focused on reducing its borrowing rates through refinancing higher rate debt, including the June 2016 repayment of $230 million in 5.125% convertible notes and the February 2016, repayment of $575 million in 5.75% convertible notes using its credit facility at LIBOR + 1.75%. ARCC is still well positioned for rising rates (better than most BDCs) as discussed in my other "ARCC articles."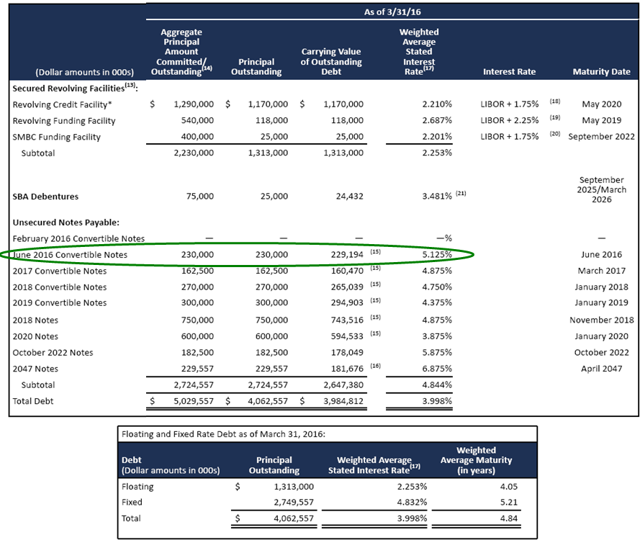 Anticipated New Portfolio Originations & Repayments: This is very important when assessing quarterly earnings estimates and involves going through investor calls, portfolio updates (through announcements and/or SEC filings), press releases, "portfolio intelligence," annual meetings and investor presentations, and sector awareness of what is going on with their competitors. Portfolio intelligence is knowing the individual holdings of your BDC and following any changes to these mostly private companies. This will help identify potential credit issues leading to non-accruals and decreased dividend coverage and net asset value ("NAV"), or upcoming prepayments that could lead to higher onetime fee income or changes in portfolio growth.
However, I will not be including this level of research for this series as it is not being used for specific quarter projections, but rather a long-term view of dividend coverage potential. ARCC has a targeted leverage range of 0.65 to 0.80, and I will use 0.80 for this analysis.
Non-Interest Income: Over the last four quarters, dividend and fee income has averaged around $48.6 million. My projections are usually slightly conservative, and I would rather be positively surprised. Again, this is where portfolio intelligence can make a large difference when projecting upcoming earnings.
On June 2, 2016, ARCC announced that it is serving as the administrative agent, joint lead arranger and joint bookrunner for a $1.075 billion unitranche credit facility in support of the acquisition of Qlik Technologies, Inc. (NASDAQ:QLIK) by Thoma Bravo. As mentioned in "Are Business Development Companies Better Than Banks?", ARCC has been focused on various initiatives to increase fee income and achieve higher investment yields by utilizing its scale, relationships and experienced credit platform. One of these initiatives is its syndication/distribution strategy. This facility is the largest financing by a BDC and is expected to close in late Q3 2016 with ARCC holding a "significant" portion of the facility:
"Ares Capital is committing to and holding a large portion of the financing, which is the largest unitranche financing by a business development company to date. In addition, Ares Capital will be leading the syndication process to attract additional lenders to the credit facility."

"This unitranche financing was unprecedented in size and required a quick commitment from Ares and the syndicate," said Erwin Mock, Director of Capital Markets at Thoma Bravo. "Due to Ares Capital's size and experience, we were confident that we could rely on them to arrange the financing of our acquisition of Qlik in a timely manner."
ARCC Dividend Coverage Analysis:
This is more of a basic dividend assessment rather than a full-blown projection analysis that might include specific portfolio intelligence and share repurchases or other quarterly changes in the capital structure. However, it is useful because it takes into account the operational cost structure and six different coverage scenarios using the upper targeted leverage of 0.80 with stable and lower portfolio yield as well as higher and lower amounts of dividend and fee income. This analysis implies that the current dividend is stable with average amounts of dividend and fee income and a stable portfolio yield. I have recently organized an "Index to Free BDC Research" that includes previous Dividend Coverage articles as well as pricing and rankings (risk, return, pricing, dividend potential), fee structures, historical total returns, charts and valuations, interest rate discussion, my historical purchases and current positions, and suggested BDC portfolios, and for my free monthly newsletter, please visit "BDC Buzz.com."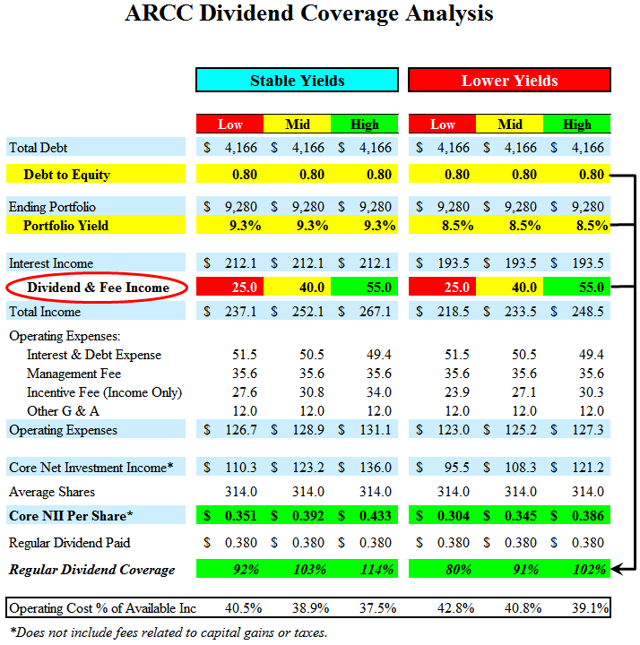 Personal note: I have updated my positions to reflect changes in my holdings, but please keep in mind that some of the positions are very small and mostly for research purposes.
Disclosure: I am/we are long ABDC, AINV, ARCC, BKCC, FDUS, FSC, FSFR, FSIC, GAIN, GARS, GBDC, GLAD, GSBD, HTGC, MAIN, MCC, MRCC, NMFC, PFLT, PNNT, PSEC, TCAP, TCPC, TICC, TPVG, TSLX.
I wrote this article myself, and it expresses my own opinions. I am not receiving compensation for it (other than from Seeking Alpha). I have no business relationship with any company whose stock is mentioned in this article.