As widely expected, Atlas Resource Partners (NYSE:ARP) is on the verge of a Chapter 11 filing after entering into a restructuring support agreement with debtholders. This restructuring support agreement calls for the first-lien debt to be partially paid down via hedge monetization while the second-lien debt principal is maintained with interest partially paid in kind for a while. The second-lien debtholders also end up with 10% of the new equity while the unsecured debtholders get their $668 million in debt converted into 90% of the new equity. Common unitholders receive nothing except the potential for a substantial tax liability due to CODI if they continue to hold their units. Preferred unitholders will receive nothing as well, although I do not believe that they will be allocated CODI since the preferred units are "generally not anticipated to share in our items of income" according to the prospectuses. However, as I am not a tax professional, I would suggest discussing the CODI issue with a tax professional to make sure. The post-restructuring company will be called Titan Energy and it will not be an MLP.
Effect On Debt
Atlas's first-lien borrowing base has been reduced to $440 million with a $410 million conforming tranche. Atlas has monetized its hedge portfolio and used a portion of the proceeds to pay down its borrowing base and also projects $118 million in 2017 asset sales. This will reduce Atlas's credit facility borrowings to around $280 million at the end of 2017. The weighted average interest rate for the credit facility is LIBOR +4%.
Atlas's second-lien debt has been maintained at $250 million + accrued interest. Atlas has received some interest relief with the cash interest rate reduced to 2% for the next nine months while an additional LIBOR +9% is paid in kind. For the next 15 months after that, the second-lien debt will either receive LIBOR +9% in cash interest or 2% in cash interest and LIBOR +11% paid in kind (depending on Atlas's first-lien debt status, with a high first-lien leverage ratio resulting in the PIK interest), and after that, it goes back to LIBOR +9% in cash. The second-lien debtholders also receive 10% of the new company equity (before management incentive plan dilution).
Unsecured debtholders are converting their $668 million in outstanding debt into 90% of the new company equity (also subject to management incentive plan dilution).
Notes On Previous Calculations
I believe that my previous calculations for Atlas Resource Partners have generally proved to be quite accurate. I had estimated the value of Atlas's hedges to be approximately $244 million, and the company indicated that the mark-to-market value of its hedge portfolio was approximately $244 million. I'll have to admit though that the fact that the numbers ended up exactly the same was partially due to luck since my calculations were done a week prior to Atlas's calculations and oil and gas prices fluctuate.
I also estimated that Atlas's allowable borrowing base without hedges would be around $400 million. Atlas's new borrowing base is $440 million after it monetized its original hedge portfolio, with a conforming tranche of $410 million. The $10 million difference between the conforming borrowing base, and my estimate is pretty negligible.
As well, I was pretty convinced that the common and preferred units would be wiped out and that the unsecured debt would be converted into new equity. I was less certain about the fate of the second-lien debt, as it could have been converted into equity as well or maintained. Atlas ended up maintaining the second-lien principal, and offering the second-lien debtholders some new equity in exchange for a partial PIK feature on the debt for up to two years.
Value Of The Unsecured Debt
The value of the unsecured debt hinges very strongly on future oil and gas prices. Based on Atlas's projections (shown below), natural gas is significantly more important in the near term, but increasing oil production and decreasing natural gas production will make oil more important to Atlas by 2020.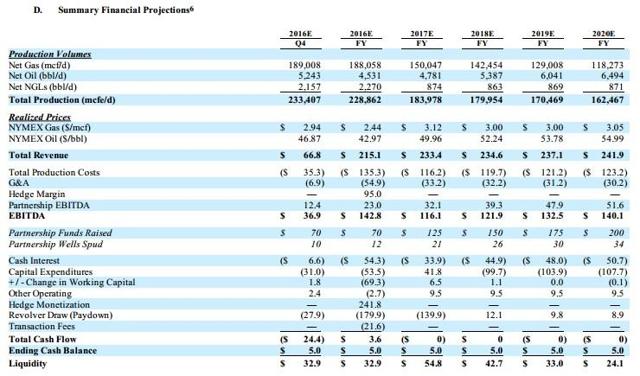 Source: Atlas Resource Partners
Atlas's recent differentials from the last two quarters have been around $0.20 for natural gas and $4 to $5 for oil. Therefore, Atlas's projections are based on NYMEX gas prices of approximately $3.25 and NYMEX oil prices of around $54 in 2017 to $59 in 2020.
Based on my calculations, Atlas is generally expected to have around $545 million in net debt by the end of 2017 (around $280 million in credit facility debt and $270 million in second-lien debt, along with $5 million in cash). My calculations are based off of Atlas's projections, although I've tweaked some of its numbers downward a bit due to my skepticism about its ability to raise its targeted partnership funds in a $50-ish oil world (see next section below).
Thus, at $3 NYMEX natural gas and $53 NYMEX oil in 2018, Atlas would generate approximately $97 million in EBITDA. Valuing it at 6x EV/2018 EBITDA and using projected 2017 year-end net debt would result in a market capitalization of approximately $37 million. Thus, the unsecured debt would end up with a 4% recovery given an 81% share of new equity after the management incentive plan dilution.
At $3.50 NYMEX natural gas and $60 NYMEX oil, Atlas's market capitalization is estimated at $230 million, resulting in a 28% recovery for the unsecured bonds.
This does assume that the rest of 2016 and 2017 generally go according to Atlas's projections. A significant deviation from those projections would change Atlas's 2017 year-end net debt, and thus its expected market capitalization.
| | | | | |
| --- | --- | --- | --- | --- |
| NYMEX Natural Gas | $3.00 | $3.20 | $3.50 | $3.75 |
| NYMEX Oil | $53.00 | $57.00 | $60.00 | $65.00 |
| 2018 EBITDA ($ Million) | $97 | $112 | $130 | $154 |
| YE 2017 Net Debt ($ Million) | $545 | $545 | $545 | $540 |
| Estimated Unsecured Recovery | 4% | 15% | 28% | 47% |
Risk To Atlas's Projections
One of the bigger risks to Atlas's projections appears to be its estimates for partnership funds raised. Atlas's projections are for $70 million in partnership funds to be raised in 2016 (loaded into Q4), followed by $125 million in 2017, $150 million in 2018, $175 million in 2019 and $200 million in 2020. Atlas was able to raise $169 million in 2014 and $150 million in 2013, but only $59 million in 2015. Atlas could probably raise its projected partnership funds in a $70 oil and $4 natural gas scenario, but I am more skeptical about it reaching its partnership contribution projections in future years with low $50s oil and natural gas a bit over $3 (ARP's projections using strip pricing).

Source: Atlas Resource Partners 2015 10-K
It is important for Atlas to reach its goals for partnership funds raised since partnership EBITDA accounts for a large part of its total projected EBITDA (ranging from 28% in 2017 to 37% in 2020). Thus, falling short of its partnership fundraising goals would have a significant effect on Atlas's EBITDA.
As well, another risk to Atlas's projections is its new hedges. It monetized its current hedges and expects to put new hedges in place. It discusses some volumes and prices for new hedges, but I don't believe that those hedges have been put in place yet. If recent weaker oil and gas prices persist, Atlas may be forced by its agreement with credit facility lenders enter into new hedges that are below its projected futures prices, resulting in it falling short of its cash flow projections.
Conclusion
Atlas has managed to significantly reduce its interest expense and its debt burden through its restructuring plan. However, Atlas's debt levels remain quite significant at $50 oil and $3 natural gas, and a lengthy period of prices below those levels may threaten the value of the new equity and result in a restructuring of the second-lien debt. Atlas is not permanently out of the woods yet.
Atlas's unsecured debt appears to be priced for future expectations of close to $3.20 natural gas and $57 oil. Prices below that result in marginal value for the new equity and increased uncertainty about Atlas's ability to meet its drilling partnership fundraising goals. At higher prices, it will be easier for Atlas to meet those goals and also deliver enough EBITDA for the new equity to have significant value. A future with $3.50 natural gas and $60 oil could make the unsecured bonds worth over double current levels.
Author's Note: If you thought this article was interesting, please scroll to the top of the article and click on "Follow" next to Elephant Analytics. Thanks for reading!
Disclosure: I/we have no positions in any stocks mentioned, and no plans to initiate any positions within the next 72 hours.
I wrote this article myself, and it expresses my own opinions. I am not receiving compensation for it (other than from Seeking Alpha). I have no business relationship with any company whose stock is mentioned in this article.