The recent closure of all 140 Sports Authority stores in the US is part of a trend showing no sign of letting up any time soon. Consumers continue to shop online like never before, as traffic dwindles in brick and mortar stores. Long-term store closing plans have already been announced by a slew of major brick and mortar retailers, including The Gap (NYSE:GPS), Barnes & Noble (NYSE:BKS), Office Depot (NASDAQ:ODP), Walgreens (NASDAQ:WBA), American Eagle Outfitters (NYSE:AEO), and Aeropostale (OTCPK:ARO). Furthermore, Wal-Mart's (NYSE:WMT) plans include closing 154 US stores, while they currently operate 4,627 US stores as of June 30, 2016.
Kohl's (NYSE:KSS) has closed 18 locations with Macy's (NYSE:M) shuttering another 40. The chart below shows an idea of the sheer amount of closures occurring in recent years, as well as the upcoming.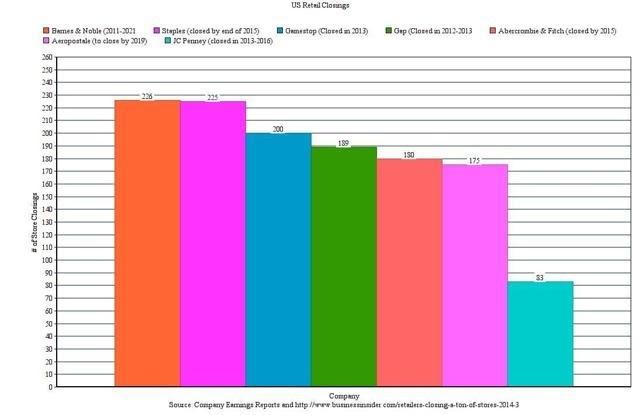 The open announcement of long-term store closing plans by publicly-held firms has not been so commonplace in the past, due to the tendency to increase uncertainty in the minds of customers and investors alike. An estimated two-thirds of the American gross-domestic-product (GDP) is driven by consumer retail spending, so store closures may be viewed as an important indicator of the overall economic health, both the present and future outlook.
The US retail industry, which is heavily-sensitive to fourth quarter holiday shopping, reported for Q4 2015 a disappointing 3% sales growth upon Street expectations of 3.7% during the critical time frame. To put this number in perspective, aggregate annual US retail sales between 1993-2015 rose by 4.5% annually, according to the US Census Bureau.
As additional retailers announce further store closings, the retail industry growth outlook continues to remain bleak, especially considering the difference in American retail footage versus other countries.
In comparison to the retail industry in the UK, the US has six times more square feet of retail space per capita, with the top eight markets representing 33% of total US retail footage. Therefore, one could reasonably expect to see the top US markets most vulnerable to future closures.
Retail sales per square foot (calculated by: total in-store sales divided by selling area, including stockrooms, in square feet) is a critical performance metric, and grossly under-reported compared to same-store-sales comps within retail industry analysis. The reason for the importance of this metric is the ability to gauge the retailer's operating efficiency with the use of space in combination with human capital, product/service mix, and layout. Additionally, this measure has the advantage of allowing comparisons between retailers, as well as within a retailer over time.
However, though the store closings often come with the heavy price of both layoff costs as well as real-estate transactions (typically related to lease terms), they are a necessary strategic move in order for a business model to survive. As retail sales per square foot decrease, assuming total sales hold constant, operational efficiency will likely increase. In turn, this puts the retailer back in a position to continue their business with a healthier bottom line in the long run.
To give an example, J.C. Penney Corporation (NYSE:JCP), based in Plano, TX, after facing a slew of negative quarters, began turning their business around under new governance and increased their sales per square foot from $147 in FY2013 to $165 in FY 2015, yet still below a 2011 high of $212. This is, however, well below the FY15 $228 figure reported by competitor Kohl's. As traditional retailers close more stores, the sales per square foot will naturally experience an uptick, though aggregate sales and even gross margin may still decrease.
American retail brick and mortar stores are currently spread across freestanding stores (49%, according to Q3 2015 Retail Market Inventory, JLL, Costar), as well as shopping malls (9%), which are undergoing a major crisis of their own in terms of both sales and traffic. As the shopping mall crisis continues to show no signs of letting up, we can expect traditional mall "anchor" retailers, particularly those in the biggest markets, to be most significantly impacted in terms of store traffic and sales declines. In comparison to the rest of the world's retail space, the American over-extension represents a hugely significant risk to future GDP growth, with plenty of closings seen, and inevitably more to continue.
Disclosure: I/we have no positions in any stocks mentioned, and no plans to initiate any positions within the next 72 hours.
I wrote this article myself, and it expresses my own opinions. I am not receiving compensation for it (other than from Seeking Alpha). I have no business relationship with any company whose stock is mentioned in this article.