SoftBank (OTC: OTCPK:SFTBY) tumbled over 10% in Tokyo last week immediately after the Japanese Internet conglomerate agreed to buy Britain's chip designer ARM Holdings (NASDAQ:ARMH), one of the U.K.'s most successful tech companies, for $32 billion (£24.3 billion). ARM shares surged more than 40% percent to nearly £17 after the news was announced. Amid the volatility of Brexit and slowing British economy, suddenly, SoftBank decided it is a good time to buy ARM for a large markup?
Background
SoftBank Group first shocked the market earlier in July by announcing that the handpicked successor of SoftBank's founder Masayoshi Son, Nikesh Arora, will be leaving the company only two years after being hired away from Google. Arora, an ambitious business salesman, later tweeted that he didn't want to wait "past my sell-by date." Masa Son, on the other hand, has decided to "stay on as CEO for another 5 to 10 years."
In the press conference, Son stated that "This is one of the most important acquisitions we have ever made, and I expect ARM to be a key pillar of SoftBank's growth strategy going forward." A source close to the company claims now that the President has left, no one would rein in Son's lavish spending on acquisitions, despite the company's wounded balance sheet.
So let's look at the deal: SoftBank will pay GBP 17.00 in cash for each ARM share, which is already a 43% premium to its closing price the week prior to the announcement. It shows great confidence from Son in this transaction. In fact, Son said at the annual shareholders' meeting in June that he still felt young, and "wanted to work on a few more crazy ideas."
ARM powers a lot of smart devices, but it is not clear how ARM, which was already listed and valued by the market at a hefty premium to peers, will benefit SoftBank shareholders. Sure, I agree that ARM would be a good tech firm to invest in, but when a $65 billion company such as SoftBank Group trading at a price-to-earnings ratio of around 12x, buys a large company from a rather irrelevant field for about half of its market cap ($32 billion) at a P/E of around 40x, it looks like this deal will only decrease value for the shareholders. And be reminded, this is an all-cash deal.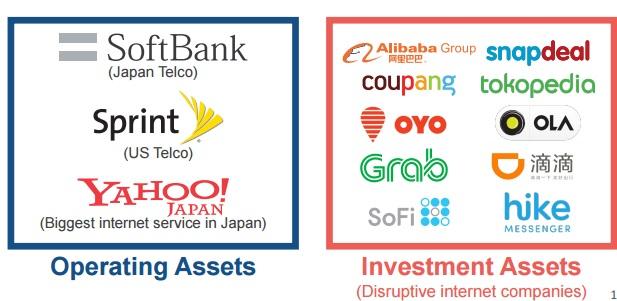 (Softbank's holdings. Image Source: SoftBank Investor's Relations)
And how SoftBank Group will finance this deal is of more concern. SoftBank released a statement on July 18 that it had entered into a loan agreement (the "bridge loan") with Mizuho Bank (NYSE:MFG) for an amount of JPY 1.0 trillion (c. $10 billion) to finance a portion of the consideration payable in the acquisition of ARM Holdings and will fund the rest from the money it recently raised by selling stakes in Alibaba (NYSE:BABA) and Supercell (adding up to around $20 billion).
Investors cheered when SoftBank sold £8 billion of shares last month in Alibaba and £6bn in Finnish gaming company Supercell to reconcile its damaged balance sheet and to recoup its finances. However, now the ARM deal is making it clear that SoftBank's incentive to sell off so promptly its big stakes in the two companies was never to boost its cash flows as part of SoftBank's buyback programs, as many analysts previously believed.
SoftBank has taken over a number of leading technology companies in the past decade, including a stake in Chinese e-commerce giant Alibaba, U.S. telecommunication giant Sprint (NYSE:S) and many more big players in the industry. But the ARM deal is not only SoftBank's but also one of Japan's biggest deals overseas, outranking even Sprint, as SoftBank joins a parade of Japanese companies seeking growth abroad as the domestic economy stagnates.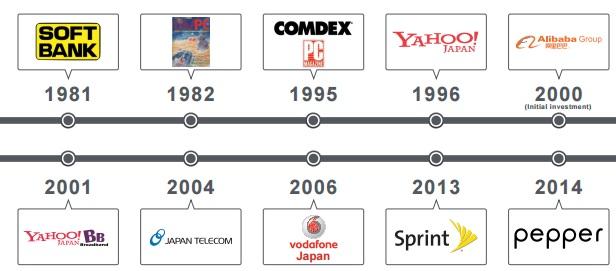 (Some of SoftBank's largest acquisitions)
But as this analysis by Daily Mail UK explains why SoftBank's previous bidding over Sprint has been a bad deal:
"Sprint, the American telecoms firm, was bought by SoftBank three years ago in a £16.7 billion deal - a record at the time. A £25 billion debt at a U.S. mobile phone firm owned by Japanese giant SoftBank could scupper the firm's bid to take over ARM Holdings. But since then the deal has been mired by losses and concerns over the vast debts at Sprint. SoftBank itself has total debts of £85 billion... Sprint has continued to weigh down shares of SoftBank as it struggles in the U.S. It reported a loss of £350million during the first three months of 2016, more than doubling the £140 million loss the previous year."
These concerns now threaten to jeopardize SoftBank's attempt to take over ARM for yet another $32 billion. Just as Atul Goyal, an analyst at Jefferies said: "To us, the ARM acquisition appears largely inconsistent with SoftBank's investment strategy. It was unclear how ARM, would benefit SoftBank investors. It does not inspire much confidence."
Where are the hopes?
It is possible that Masayoshi Son can still create value longer term as he did when he acquired a loss-making Vodafone Japan and turned it around in 3-5 years, or when he invested <$100m in Alibaba some 15 years ago and eventually reaped rewards when he sold it last month - given that he does not keep using the recouped cash to continue financing risky investments. Now Son hopes that ARM would help SoftBank power a new era of interconnected Internet-of-Things devices, which seems to be another focus of Masayoshi Son's focus as elaborated in last month's annual shareholders' meeting.
Tomoaki Kawasaki, senior analyst at Iwai Cosmo Securities Co said: "There is little synergy with SoftBank's existing businesses, but it makes sense if we look at ARM's future potential... Son is prioritizing investment for the future over shoring up the balance sheet... It's very Son-like."
Conclusion
There are risks from large deals, and it certainly looks like SoftBank is no stranger to those from its track record of recent acquisitions and even taking new directions such as purchasing ARM. While some may argue that ARM would be a hidden gem for SoftBank, at this point of time, another huge acquisition would only hurt its wounded balance sheet. Deteriorating P/E ratio post-acquisition, low operational synergies between the two companies, uncertain future performances post Brexit from ARM, and increased leverage by borrowing another $10 billion are all red flags of the SoftBank-ARM acquisition deal.
Disclosure: I/we have no positions in any stocks mentioned, and no plans to initiate any positions within the next 72 hours.
I wrote this article myself, and it expresses my own opinions. I am not receiving compensation for it (other than from Seeking Alpha). I have no business relationship with any company whose stock is mentioned in this article.
Editor's Note: This article discusses one or more securities that do not trade on a major U.S. exchange. Please be aware of the risks associated with these stocks.