McDonald's (NYSE:MCD) missed consensus earnings estimates by $0.13 per share, printing at $1.25, down a penny from last year's comparable quarter. Earnings would have printed at $1.14 per FDS had the company not bought back 86.4 million shares. EPS data suffered a net $195 million charge-off in the comparable Q's ($240 million in 2016Q2 and $45 million in 2015Q2) that will make 2016Q2 look worse by comparison. But 2016Q2 had $66.7 million more in refanchisings and asset sales than last year's comparable quarter.
The disappointing earnings came as no surprise.
First, MCD had previously announced a $235 million hit to Q2 earnings (ultimately reported at $230 million) from impairments from re-franchising company-owned restaurants and from the relocation of MCD headquarters from Oak Brook to the site of Oprah Winfrey's former Harpo Studios on Chicago's far West Side.
Second, the F/X translation of European sales were bound to suffer inasmuch as those earnings in EUR and GBP would be translated at a lower average rate, given Brexit's effect on both currencies. (This will likely continue for some time, and at greater effect in future quarters because the currencies' plunge would have affected only five weeks of the currency's average during the quarter. In Q3 and subsequent quarters, it will affect all 12 weeks. This is notable not only for MCD, but for all US multinationals with significant Eurozone/UK operations.) CFO Kevin Ozan said the F/X translation would affect full-year sales by about nine cents per share for 2016.
Third, as I and others here on SeekingAlpha had long predicted, "All Day Breakfast" (hereafter, "ADB") may have cannibalized topline higher-cost menu items by offering diners a cheaper alternative. I also suspect that some of the novelty of ADB has worn off. Once 2017Q1 results are reported, the first quarter that will show comparable quarters with ADB for the full quarter, it should become clear that ADB was a "one-shot" to earnings growth.
Fourth, MCD's interest expense has skyrocketed by 50%, from $149.2 million to $223.9, largely as a consequence of its share buy-back program that has put MCD debt at just three notches above non-investment grade, as Bachar Samawi discussed in these pages earlier this week.
Today's results were particularly troubling given that they came at the mid-way point for the year in which CEO Steve Easterbrook had hoped to conclude his turnaround plan.
Simply put, that plan is simply not strategically viable as a way to continuously grow earnings over the long-term.
Easterbrook's strategy has been aimed at building out platforms for continuous earnings growth. While he hit a home-run with ADB commencing in 2015Q4, and, to a far lesser extent, McPick 2, the prospect of continuous, Q on Q earnings growth (or even Y on Y) earnings growth seems more and more unlikely.
There is simply nothing in the works that will successfully build out additional earnings YoY earnings growth, aside from additional international expansion. And even that, ultimately, comes to an end.
Earnings platforms like "Experience of the Future" (ETF), in which customers customize their burgers, will create longer wait times at a higher ticket price.1 That would seem unlikely to encourage traditional McDonald's customers who are seeking a QSR meal at an inexpensive price. Similarly, Mr. Easterbrook's attempt to broaden MCD's appeal into a higher class in the IEO market by offering table service seems like almost fatuous overreach into the casual dining sector. McDonald's is eponymous with cheap QSR hamburgers ordered across a counter or at a drive-thru, not a "dining" experience. What's next? A McDonald's maître d'?
Another platform that the media is calling "ADB 2.0" will offer the whole spectrum of ADB alternatives at all US locations. That hardly seems like it will be much of a profit driver, either. More likely, it will simply complicate the menu (again) for already stressed franchisees as existing ADB diners simply choose different menu items from what they already choose.
Finally, Mr. Easterbrook's appeals to the health-conscious, with plans to provide commodities like "sustainable" beef and cage-free eggs were summed up best by this wag, a McDonald's franchisee who was speaking specifically about corporate plans to possibly use fresh, not frozen, beef. But his succinct and direct comment about such initiatives could be applied to all McDonald's "healthy" menu plans:
"The only ones who care are the ones who don't eat at McDonald's."
McDonald's is also suffering sector decline. People are simply not eating out at IEO establishments as much as they did before. While some here attribute this phenomenon to geopolitical events like political instability, the fall elections, and terrorism, I think it is far more likely a symptom of dwindling mall traffic and what I call "no hassle shopper syndrome." Why get dressed, drive to a mall, walk a mile or two looking at the wares, lug the stuff out to your car, and spend $20-$30 on crappy fast food when you can sit comfortably in your bathrobe, chat with your friends over social media, click your mouse at Amazon (NASDAQ:AMZN), have your purchases delivered to your door, and make yourself a much better hamburger in your own kitchen?
A DIVE INTO THE NUMBERS:
Recollect, first, that, for purposes of comparison, 2016Q2 is still benefiting for the roll-out of ADB in October, 2015.
For the quarter, McDonald's earned $89.9 million in operating profit from re-franchising company-owned stores and $4.3 million from asset sales. That compares to a net of just $27.5 million for the same items in the comparable quarter in 2015Q2. One should also keep in mind that 2016Q2 earnings benefited from a $45 million charge for the comparable period in 2015 and incurred such a charge of $230 million in 2016Q2, so a net $185 million hit to earnings in 2016Q2 for comparison purposes.
EPS in the financials also benefited from the 25.7 million shares the company re-purchased in the quarter at a cost of $7.1 billion. Fully diluted shares for 2016Q2 were 871.2 million versus 957.6 for the same quarter last year, a decrease of 86.4 million shares.
Thus, on an "as if" steady earnings and share basis, exclusive of a $230 million 2016Q2 special charge, the $45 million 2015Q2 special charge, the net effect of asset sales, the additional interest expense from share buy-backs, and keeping shares outstanding constant, and ignoring any adjustments to reflect constant currencies, earnings for the quarter would have increased $83.5 million, or 7%, and EPS would have been up $0.09 per share to $1.36, just short of consensus expectations: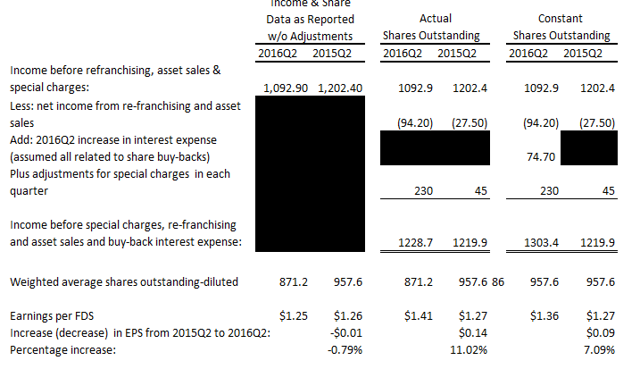 Source: Author's chart derived from MCD 2016Q2 Form 8-K
SSS, while up from the comparable quarter last year, were down considerably, Q on Q, as illustrated below: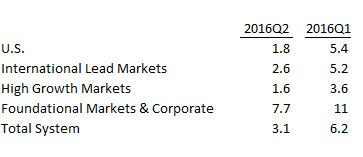 Source: Author's chart derived from MCD 2016Q2 and 2016Q1 Form 8-K
In this schedule, Foundational Markets, which includes Japan, continues to benefit from recovering reputational damage after a Japanese supplier's food safety scare there in plunged SSS by 7.2% 2015Q1 and 3.4% in 2015Q2 in what was then reported as part of "APMEA" (Asia, Pacific, Middle East and Africa).
Margins remained relatively stable, +/- 150 bps, save for the company-owned High Growth where margins increased 2.2% for the quarter.

ROOM FOR IMPROVEMENT
Mr. Easterbrook was asked specifically in the call whether there was a loyalty program in the works, but he talked around the question and did not answer it directly, other than to say,
"The team is certainly working on other activities. There is nothing in particular to share today, but I would say that we are playing the long game here."
A loyalty and rewards program would certainly enhance restaurant traffic. More importantly, data mined from loyalty program participants might be even more helpful, and might help better target (and thereby reduce) MCD marketing expenses for things like the Olympics and FIFA that Easterbook said merely serve as "brand reinforcement."
The credit card and consumer data mined through the MCD app and a loyalty program could identify enthusiasts of sports, music bands, films genres, retailers, etc. and tie-in MCD promotions to those specific activities via direct mail, e-mail and social media. For example, if a fan of Manchester City FC has bought tickets to a match, MCD could send an e-mail to his or her account with an exclusive, non-transferable discount offer for the day of the match. Countless other cross-promotions with other partners would also be possible and at far less cost than hugely expensive event sponsorships. Such sponsorships are a competitive disadvantage, in my opinion, because they cut into profits and are cost rarely incurred by MCD's QSR competitors like Wendy's (NYSE:WEN) or Burger King.
I will reiterate comments I've made previously that there is simply just so much MCD can do if it continues to frame itself as a "modern progressive burger company". The "Golden Arches" are eponymous with cheap, QSR hamburgers. New, albeit temporary, menu additions like their Buttermilk Chicken2 or even McRib will never build the following that longtime favorites like BigMac and QuarterPounder have in US markets.
I've said repeatedly that MCD's real expertise lays in franchising QSRs, marketing, branding, and food service logistics. Were it to build on those skills to adopt a merchant banking model to bring ethnic cuisines like Vietnamese Banh Mi sandwiches, Indian, Chinese, Japanese and even regional American favorites like the spiedie sandwich that is so popular in south central New York State or the BBQ briskets of West Texas, to a national audience, and outside the auspices of the Golden Arches, growth could be spectacular within a decade. (MCD, you'll recollect, was the original "godfather" of Chipotle, among others, but abandoned the model years ago after treating them like corporate backwaters.)
CONCLUSION
In my view, MCD is on a general downward trajectory, harmed by demographics, a mature product line, IEO sector decline, and innovation that puts food innovation far behind "whiz-bang" technology like cell-phone apps, order kiosks, and voice-recognition software at the drive-thru window.
Attempts to reach out to health-conscious millennials with things like sustainable beef and cage-free eggs are, frankly, lost on the average McDonald's customer and unlikely to appeal to young parents or millennials who, as children, were taught by their health-conscious parents to view Ronald McDonald and his salt-laden, fatty, high-calorie burgers just a notch or two above the way they came to view Freddy Krueger when they were teenagers.
The company is sadly constrained in bondage by ropes management itself has tied. "A modern, progressive, burger company" eliminates most other food product innovation or the merchant banking model I've suggested by limiting the scope of MCD operations to serving "meat on a roll."
I see MCD on a long, slow, slide down; the "Howard Johnson's" of my college-age children's generation that will be gone by the time their own children are adults. For the time being, and within about two years, I expect MCD to return to its traditional PE of 16 to 18, so about $80 to $90 per share. It will move down further, faster, after that when the market recognizes that Mr. Easterbrook's turnaround plan, while admirable for the short term, was basically a three-trick pony based on ADB and promotions, cost-cutting, and stock buy-backs. None of those will lead to continuous, Y on Y earnings growth.
-------------------------------------------------------
1. At an ETF in Manhattan, near the Bloomingdales flagship store, the ETF customizable burger and fries runs around $10. Even at that price, I suspect, all-in, MCD is taking a loss on each meal at the high-rent location as a means of showing the brand flag and earning media.
2. This contributor sampled the Buttermilk Chicken Sandwich for a sign it might be a long-term competitor to a Chick-Fil-A and another platform for good innovation. I got a dry, paper-thin, chicken breast in a veritably tasteless deep-fried batter. Not recommended.
___________________________
Author's note: My commentaries most often tend to be event-driven. I also write mostly from a management consulting perspective for companies that I believe are under-performing; that is, I sometimes lay out strategies that I would recommend to the company to improve its business and strategy were they my clients. I think this approach lends special value to contrarian investors who see the opportunities that I do in companies that are otherwise in downturn. My opinions with respect to the company here, however, assume the company will not change.
If you like my perspective, you might consider following me by clicking the "follow" link below.
Disclosure: I/we have no positions in any stocks mentioned, and no plans to initiate any positions within the next 72 hours.
I wrote this article myself, and it expresses my own opinions. I am not receiving compensation for it (other than from Seeking Alpha). I have no business relationship with any company whose stock is mentioned in this article.
Additional disclosure: The views expressed are the opinions of the writer and do not represent, and should not be considered to be, investment advice. You should not use this article for that purpose. Before making any investment decision you should consult your own business, legal, tax, and financial advisers.