Recommendation
Buy Whitestone REIT (NYSEMKT:WSR) at a price up to $16/share. WSR is available at reasonable value (at less than 2 times book value) and offers an attractive, 7.2% dividend (double many peers), all while growing steadily and responsibly. It represents a solid, long-term investment for more conservative investors seeking current income and stability of underlying value.
Introduction
I surprise myself that I am recommending a retail REIT as I have viewed this segment of real estate as being overpriced, overstored and overvalued as an income vehicle. Currently, many retail REITs are selling at unreasonable multiples of market price to book, assets, earnings and payout. I hear a lot of discussion that these historically astronomical valuations are reasonable, given the existing microscopic bond yields and market interest rates, but I have a different point of view.
Examples of the current valuations of key REITs are provided here (as of close on July 22nd, 2016 - Data from Yahoo Finance Key Statistics for each security):
| | | |
| --- | --- | --- |
| REIT: | Price/Book: | Dividend Yield: |
| SPG | 15.33 | 2.84% |
| FRT | 6.42 | 2.25% |
| O | 2.91 | 3.40% |
| | 1.74 | 7.17% |
All of these retail REITs, save one, are trading at very high valuations as illustrated by these simple headline metrics. That exception is Whitestone REIT, which appears to be valued at historically reasonable levels; because of this screen, I selected WSR for additional evaluation.
WSR is a small-cap retail REIT with locations in fast-growing Sun Belt areas such as Austin, San Antonio, Dallas-Ft. Worth, Houston and Phoenix. The company has established shopping communities providing the types of goods (e.g., groceries & dining) not easily satisfied by online retail and has focused on the development of both its shopping centers and the retail tenants to be "Internet resistant".
Recently, three well-known Seeking Alpha authors (Brad Thomas, Achilles Research and Sure Dividend - Dirk Leach) have each covered WSR in the past couple of months, representing significant attention in spite of the small size of the company. Their articles tend to focus more on the real estate, business operations and business strategy aspects and are very good reads if these aspects of WSR are of interest to the reader. In this article, we will focus more on key financial aspects of WSR: what they own (the Balance Sheet), what they earn (FFO and Core FFO) and what they pay out (dividends along with the ability to sustain these payouts) to determine the attractiveness of this name as an investment.
Selling at a price of $15.81/share on the close of July 26th, 2016, we will show below that WSR offers an attractive valuation relative to underlying assets (certainly relative to the rest of the retail REIT universe). In addition, we will show that WSR is growing its underlying earnings "into" its current dividend as well as providing support for future dividend increases. This REIT provides a currently attractive dividend yield, which is (nearly) covered by Core FFO, all the while positioning itself to further grow that already attractive dividend in the future. Indeed, this combination of reasonable valuation relative to underlying assets, strong current payout and a reasonable expectation of future increases prompted me to add WSR to my portfolio as a 20% position.
What WSR Owns: The Balance Sheet
The latest balance sheet from the 1Q'16 illustrates what the company owns and owes: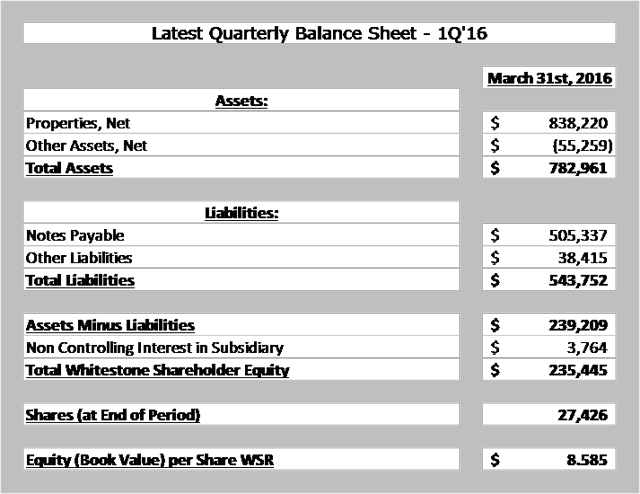 At a market price of $15.81/share, WSR is selling at 1.85 times book value; as such, this name is not cheap, but is reasonably valued (especially relative to the remainder of the retail REIT space). An even better perspective can be provided by observing the evolution of the balance sheet over the past five years: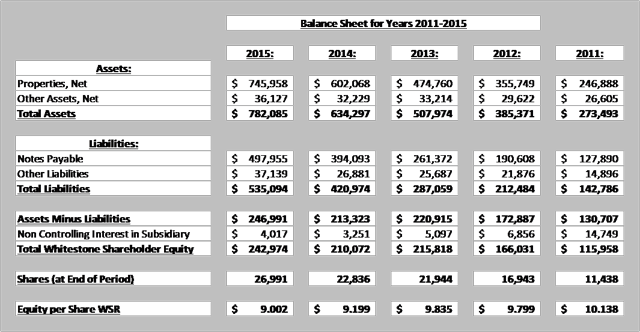 A few trends are evident from this table:
a. Assets are growing very quickly at a rate of 30% per year;
b. liabilities are also growing fast, but at a rate slower than assets, enabling net assets to grow at 20% per year;
c. share count has grown to provide capital to support this growth for the company; and
d. equity per share has declined modestly over this period (and continued into the 1Q'16 as seen above). Indeed, a potential investor would prefer to see the assets per share grow, not shrink. We will revisit this decline in equity per share below.
What WSR Earns: FFO and Core FFO
The FFO and the Core FFO, the acknowledged method of measuring "real estate earnings", are provided for 1Q'16 here: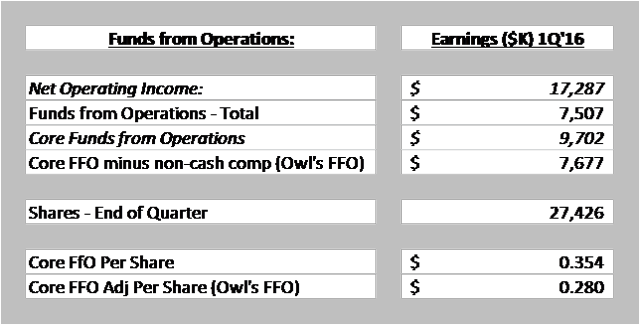 Except for one line, these are presentations found typically for REITs and non-REIT real estate companies. As one will see below when comparing the latest results from the past five years, WSR continues to grow earnings from the growth in assets and net assets.
There may be one line in this chart which may cause you to scratch your head; that is, you may be wondering what in the heck is Owl's FFO and what has the Owl done now. To explain, let's start with WSR's view of Core FFO, taken from the 1Q'16 SEC Filing:
"FFO Core - Management believes that computation of FFO in accordance with NAREIT's definition includes certain items that are not indicative of the results provided by our operation portfolio and affect the comparability of our period-over-period performance. These items include... legal settlements, non-cash share-based compensation expense... Management believes that these adjustments are appropriate in determining FFO Core as they are not indicative of the operating performance of our assets."
That is, management believes that the evaluation of financial performance should exclude the cost of non-cash, share-based compensation in determining how much money the company has made.
Mr. Warren Buffett has written often over the past decade about the exclusion of non-cash (share-based) compensation in measurement of non-GAAP earnings. Without wanting to put words in Mr. Buffett's mouth, he believes that such an exclusion is crazy and so do I. Non-cash, share-based compensation may be considered as "non-recurring", but as you will see below, it is a real cost (to the shareholders if not directly to the company) and it is a non-recurring item that "recurs" every year, which would hardly be a surprise. Compensation and retaining talent is a cost of doing business, whether you are providing money, equity or boxes of canned peaches, and it should be included in financial metrics as a legitimate expense against earnings. Since management will not do that for me, I am doing it for you, hunting down that "non-expense" and making sure that you are aware of the "real" Core FFO as earned by WSR, including all of its costs. As you will see below, this turns out to be important.
FFO, Core FFO and "Owl's FFO" (or O-FFO) are provided here for the past five years to provide better insight to the earnings trajectory of WSR:

Viewing this table, one can see that net operating income has grown strongly over the past five years. Likewise, FFO, Core FFO and Owl's FFO are also growing strongly. However, given the concomitant growth of WSR's shares over this same period of time (to "capitalize" the growth and avoid an over-reliance on debt), the per share numbers are growing less quickly than the underlying numbers. On the other hand, even with the significant growth of shares, there remains reasonable growth in the per share values.
What is critical for WSR is a comparison of the dividends paid out and the per share earnings, which pay for the dividends, to determine whether these dividends are sustainable. That is discussed in the next section.
What WSR Pays Out - Payout and Dividends
Please find the historical quarterly payouts of WSR over the past five years: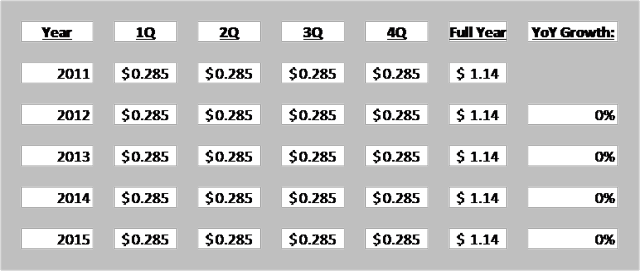 Honestly, I include this table as a bit of a joke, even if it is my standard format for displaying historical payout data. Please note that the quarterly dividend payout has been constant since 2011. Indeed, it has been constant since dividends were initiated in August 2010 (the first dividend that I could find) and has not grown since it was established. WSR pays a monthly dividend of $0.095/share (providing a three-month total of $0.285/share). Some shareholders have understandably groused about no increase in the dividend even as Core FFO or FFO has grown over time. Let's go look why.
The FFO tables above are found again below, this time adding the payout data to compare earnings to payouts for both the recent quarter and for the past five years: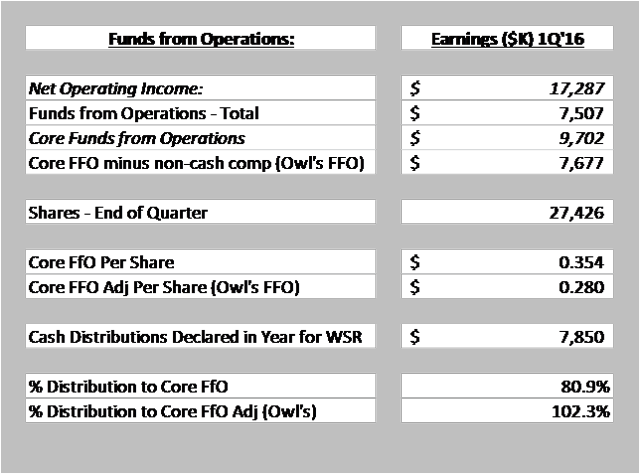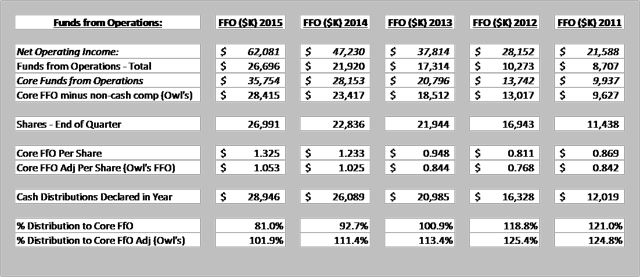 As one can readily see in the second table, initial payouts in the early years were not covered by earnings. Management had written earlier that it wanted to encourage investors to hold WSR at this point, providing them an incentive for patience, even if the company had not yet "grown" into the dividend. This resulted in payouts exceeding earnings; at the same time, this reduced book value per share over time, a trend highlighted as we discussed the balance sheet. In addition, it prevented WSR from increasing dividends when it could barely "afford" the existing one.
In more recent periods, in 2014, 2015 and the recent quarter, one can see that Core FFO is "covering the payout" and, in fact, exceeding the payout; in the most recent quarter, the payout represented only 80.9% of the Core FFO. However, as we have discussed above, the Core FFO as reported by WSR is not the best metric to use; IMHO, it overstates the earnings available for payout by excluding a significant cost to the company (at least, to the shareholders).
To rectify that situation, we can use Owl's FFO (or O-FFO) to provide a more sound assessment as it has excluded the offending non-cash compensation adjustment. Comparing the O-FFO to the payout, one can see that WSR is just now reaching a point where the "real" underlying earnings are able to support the existing payout. The payout represented 101% of the O-FFO in 2015 and 102% for the 1Q'16 as opposed to 2014, where a ratio of 111% indicated that WSR was still falling short.
Given the existing growth trajectory, I expect to see O-FFO exceed the (constant) payout in the not-too-distant future. At that point, excess O-FFO over funds paid out will contribute to a reduced need for additional share issuance, add to book value of existing shares and will provide the base for financially sound increases in the dividend in the future.
Summary and Conclusion
Whitestone REIT offers to conservative investors a reasonably valued investment, which offers a strong, 7.2% payout that we have shown is supported by the ongoing earnings of WSR. WSR is responsibly financed, avoiding excessive debt by issuing additional shares to support the growth; yet, the company has been able to create shareholder value by increasing the earnings power per share all while managing growth of share count and paying out a relatively high dividend.
Because of these attributes, I have added WSR to my portfolio at a 20% level because of my confidence in the company along with the strong current income.
Recommendation
Buy WSR at a price up to $16/share. It is available at reasonable value (at less than 2 times book value) and offers an attractive, 7.2% dividend (double many peers), all while growing steadily and responsibly. It represents a solid, long-term investment for more conservative investors seeking current income and stability of underlying value.
Disclaimer: No guarantees or representations are made. The Owl is not a registered investment advisor and does not provide specific investment advice. The information is for informational purposes only. You should always consult an investment advisor when considering an investment.
Disclosure: I am/we are long WSR.
I wrote this article myself, and it expresses my own opinions. I am not receiving compensation for it (other than from Seeking Alpha). I have no business relationship with any company whose stock is mentioned in this article.