T Rowe Price (NASDAQ:TROW) reported Q2 2016 earnings on July 26th that were largely disappointing. Most investors are already familiar with the company. T Rowe Price manages numerous no-load mutual funds with many funds being rated as 4 or 5 stars by MorningStar. The company is also a dividend aristocrat that has increased its dividend annually since the IPO in 1986. This is in addition to special one-time dividends in 2012 and 2015.
In the article below I will review T Rowe Price's second quarter earnings and highlight why it should be of concern to investors.
Negative: Earnings Decline Excluding Dell LBO Charge
T Rowe Price's net income for Q2 2015 was $195.3 million including a $166.2 million charge related to the Dell leveraged buyout and proxy vote. According to the company, this charge reduced net income by $100.7 million.
Without the onetime charge, net income would have been $296 million; a 11% decrease versus year ago. For the first six months of 2016, net income, without the Dell LBO charge, is down 8% versus 2015 ($591 million vs $642 million).
Excluding the onetime charge, EPS for the quarter was $1.15 lower than the $1.24 from a year ago.
T Rowe Price's declining net income (ex Dell charge) should be a worrisome signal for investors. The decline in EPS (ex Dell charge) is more troubling considering the company repurchased 3.6 million shares (over 1% of total outstanding shares) thus far in 2016. Even with the massive repurchase, EPS declined this quarter versus year ago.
Negative: Smaller Net Inflow Than Competitors
As a pure play money manager with no investment banking or trading desk, T Rowe Price's revenues are almost entirely driven by the assets it has under management (AUM).
In Q2 2016:
AUM increased by $12 billion to $776.6 billion.
Clients withdrawals decreased AUM by $2.7 billion
Market appreciation increased increased AUM by $14.7 billion
The $2.7 billion in net outflows points to a troubling trend for T Rowe Price. The table below shows net flows for the trailing six quarters.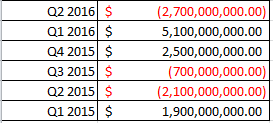 (source)
For all of 2015, net inflow was only $1.6 billion.
By comparison:
T Rowe Price's largest competitors are gaining new client money significantly faster. BlackRock is ~6 times larger but had net inflows 2015 that were almost 100 times larger than T Rowe Price. Vanguard is 4.5 time larger and had net inflows that were 160 times larger.
T Rowe Price is failing to keep pace with its largest competitors in attracting new client money. The company's 2016 Q2 results, net outflows of $2.7 billion, show this worrisome trend continuing.
Neutral: No Robo Offering
The past few years robo advising has became one of the hottest trends in asset management. Vanguard officially launched their own robo-advisor in May 2015 which has brought in $12 billion in client money between May and December 2015. BlackRock chose to buy versus build and acquired FutureAdvisor in August 2015. Charles Schwab has its own robo and Fidelity began piloting a robo nationwide in March.
T Rowe Price has still not announced its own robo advisor program. The company does however offer target date funds which are very similar to robo. I personally am not a fan of robo's, I would rather invest into a target date fund, but a robo offering could help T Rowe Price bring in new client money.
T Rowe Price's continued lack of a robo platform I rate as a neutral issue.
Conclusion
In conclusion, T Rowe Price's second quarter earnings were largely disappointing. Excluding the one time charge, net income was lower this quarter than same period year ago. Excluding the one time charge and including share repurchases, earnings per share were lower this quarter than year ago. For business operations, T Rowe Price is adding new client money at a significantly lower rate than its largest competitors. The lack of a robo offering may become a problem in the future.
Contrarian
I cannot think of a contrarian (ie positive) view on T Rowe Price's second quarter earnings.
The company has increased free cash flow per share fairly consistently the past 10 years so their dividend aristocrat status is likely safe. The company also has no debt on its balance sheet.
I do not own stock in T Rowe Price but do hold one of their mutual funds and have so for 10+ years (Capital Appreciation).
Disclosure: I/we have no positions in any stocks mentioned, and no plans to initiate any positions within the next 72 hours.
I wrote this article myself, and it expresses my own opinions. I am not receiving compensation for it (other than from Seeking Alpha). I have no business relationship with any company whose stock is mentioned in this article.