BP Plc (NYSE:BP), one of the world's leading vertically-integrated oil producers, has recently released its financial results, in which it posted its third straight quarterly loss and ended up missing analysts' earnings estimates. But there were two major positives as well.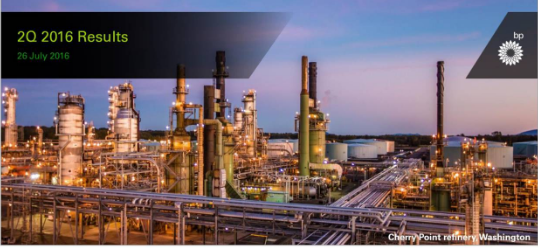 First, a quick recap. During the second quarter, BP produced 2.09 million barrels of oil equivalent (boe) per day, a drop of 1% from a year earlier. This does not include results from the Russian oil giant Rosneft (OTCPK:RNFTF), which contributed a little more than 1 million boe per day to BP, up 1.3% from a year earlier. While BP's total production was almost flat, the hydrocarbon prices were still down on a year-over-year basis. BP's price realization for liquids was just under $45 a barrel, down from $56.69 in the same quarter last year, while natural gas average price fell from $3.80 per thousand cubic feet to $2.66 in the same period.
Meanwhile, the weak refining environment, due to decline in margins, hurt the company's downstream results. In fact, BP has reported the weakest refining margins for the three months ended June since 2010. The company also booked a $5.1 billion pre-tax charge related to the Deepwater Horizon incident. Due in large part to these reasons, BP reported a replacement cost loss, or net loss, of $2.25 billion, which compares against a loss of $6.27 billion in the second quarter of 2015. Excluding the impact of one-off items, including the Deepwater Horizon losses, brings the company's earnings to a profit of $720 million, which is significantly lower than the adjusted profit of $1.31 billion in the year-ago quarter and missed analysts' consensus estimate by a wide margin of $119 million.
At a glance, it appears that there was hardly anything to cheer about in the quarterly results. Although oil prices have gained substantially since the first quarter of this year (BP's liquid price realizations were up 66.8% sequentially), they are still down on a year-over-year basis. That was always going to hurt BP's core upstream or exploration and production business. The refining margins have fallen in recent weeks, with average gasoline-WTI crack spread for the month of June dropping by 37% from a year earlier, according to data from Bloomberg, thanks to the above-average inventories of refined petroleum products. These factors will also likely weigh on the performance of Statoil (NYSE:STO), Royal Dutch Shell (RDS.A, RDS.B), Total SA (NYSE:TOT), Eni SpA (NYSE:E), Exxon Mobil (NYSE:XOM) and Chevron (NYSE:CVX), which will release their quarterly results in the coming days.
However, there were two major positives Mr. Market seems to have ignored. Firstly, digging deeper into the company's financials reveals that BP was successful in generating enough cash flows to fully fund its organic capital spending. In the first half of this year, the company generated underlying operating cash flow of $8.5 billion, which was enough to cover organic capital spending of $7.9 billion. Note that this is an adjusted, not the actual cash flow number. The results exclude the impact of oil spill related cash outflows of $2.7 billion and include working capital release of $520 million. Still, it proves that BP's business is now in a position to fully fund its operations. That's something most vertically-integrated oil producers have been unable to do.
Secondly, BP has reported a staggering $61.6 billion in pre-tax charges related to the Deepwater Horizon disaster so far. But during the conference call, the company's chief, Bob Dudley, reminded everyone that BP has "finally drawn a line under the material liabilities for Deepwater Horizon." In other words, the company has realized all material liabilities related to the oil spill, bringing closure to a six-year long process and clearing the dark clouds of uncertainty related to spill claims that have been weighing on the oil producer. Finally, BP can focus solely on its future.
And it looks like the management is now giving full attention to BP's future. The company has said that it is on track to "to rebalance organic sources and uses of cash by 2017." This means that by 2017, BP expects to be in a position to generate enough cash flow to fully fund not only its organic capital expenditure, but also dividends. That's something which no oil major, including BP, has been able to do for the last few years. BP has been using debt and asset sales to fund its dividend. But if it manages to balance cash flows by 2017, then that will quash all concerns regarding the sustainability of the company's payouts.
The catch here, however, is that the company's plan is based on Brent oil reaching $50 to $55 a barrel in 2017, as opposed to its current level of less than $45. This means that the company's cash flow ambitions rely on crude oil climbing by almost 25% in 2017. If oil fails to rise, then BP could still fund organic capital spending from cash flows, but dividends will be powered by additional borrowings and asset sales.
Moreover, BP has now identified some major upstream projects that will fuel its production growth by the end of the decade. Dudley has said that BP is moving forward with three major projects this year and could make final investment decision regarding additional three projects in 2016. Overall, the company has predicted that it will place 800,000 boe per day of new capacity into service by the end of the decade. And this forecast has room for upside since the company is also mulling over a number of other options to boost production.
Conclusion
BP's performance in the second quarter was slightly disappointing, but the company is generating enough cash flows (adjusted) to fund its organic capital expenditure and seems to have settled all liabilities arising from the Deepwater Horizon disaster. The management is now focused solely on its future. The company expects to balance cash flows by next year and add 800,000 boe per day of additional production by 2020. The company's future direction is in place. With Deepwater Horizon in the past, the biggest challenge for Bob Dudley now is to convince shareholders that BP can deliver on these promises.
If you believe that BP can balance cash flow next year and grow production by 2020, then you should consider buying this stock now while it is still cheaper than most of its peers. In terms of EV/EBITDA multiple (2016e), BP is trading at 6.69x, as opposed to Royal Dutch Shell and Total that are priced above 7.1x, according to data from Thomson Reuters.
Note from author: Thank you for reading. If you like this article, then please follow me by clicking the " Follow" link at the top of this page.
Disclosure: I/we have no positions in any stocks mentioned, and no plans to initiate any positions within the next 72 hours.
I wrote this article myself, and it expresses my own opinions. I am not receiving compensation for it (other than from Seeking Alpha). I have no business relationship with any company whose stock is mentioned in this article.
Additional disclosure: I own shares of funds that may hold a long position in XOM, CVX, RDS.A, RDS.B