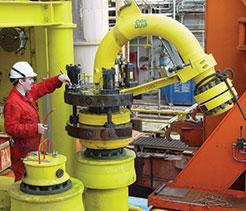 Dril-Quip (NYSE:DRQ) reports Q2 earnings Thursday. Analysts expect revenue of $149.33 and EPS of $0.67. Estimates imply a decline in revenue of 10% Q/Q and 31% Y/Y. Investors should focus on the following key items prior to earnings:
Subsea Technology Has Finally Cracked
Q1 revenue of $166 million was off 17% sequentially and 26% Y/Y. The company's bread and butter remains subsea equipment, which represents 73% of total revenue: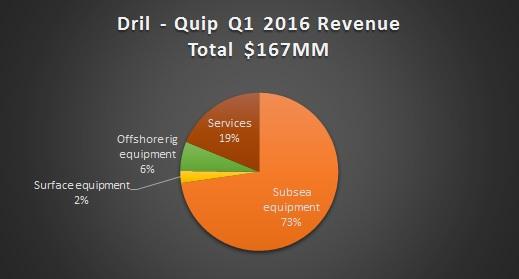 Subsea Equipment sales of $121 million were off 13% Q/Q and 28% Y/Y. Over the past year, subsea technology has been more stable than the land drilling segment, but that could be changing. The rout in oil prices has made many deep water drilling projects uneconomical. Big oil has responded by shuttering offshore drilling contracts and cutting E&P. Analysts expect deepwater E&P to rebound until 2018; 18 months is a long time to wait for a return on investment.
Revenue from the company's other two segments - Surface Equipment and Offshore - both fell sequentially by over 40%. Contracts for Surface Equipment might not be as long term as the other two segments and can be more easily shuttered by clients. Investors should brace themselves for volatility in Surface Equipment if oil prices continue to fluctuate. With oil prices sub-$50, I expect double-digit declines in total revenue to continue for several more quarters.
How Long Can EBITDA Margins Hold Up?
Management has done an excellent job of containing costs during the decline in E&P. EBITDA margins ticked up to 35% in Q1 from 34% in Q4 2015. Dril-Quip cut combined costs for SG&A and engineering from 16% in Q4 to 15% last quarter, offering a slight erosion in gross margin. Despite the 26% decline in Q1 revenue Y/Y, the company's EBITDA margins were unchanged at 35%. That implies management has cut costs in lockstep with revenue declines.
That might not be possible going forward if revenue continues to fall by high double-digits again. Dril-Quip could lose the benefits of scale and more cost reductions might result in the company cutting into muscle. Declining revenue and margins could punish earnings. DRQ currently trades at about 9.9x run-rate EBITDA, outside my valuation range of 7x. Investors should continue to avoid the stock.
Disclosure: I/we have no positions in any stocks mentioned, and no plans to initiate any positions within the next 72 hours.
I wrote this article myself, and it expresses my own opinions. I am not receiving compensation for it. I have no business relationship with any company whose stock is mentioned in this article.