Source: Cisco Systems
While the stock market has been on an epic run over the past few years, the same isn't true for Cisco Systems (NASDAQ:CSCO). In fact, since the company announced its corporate restructuring in 2011, shares have badly underperformed other tech firms, as well as the S&P 500.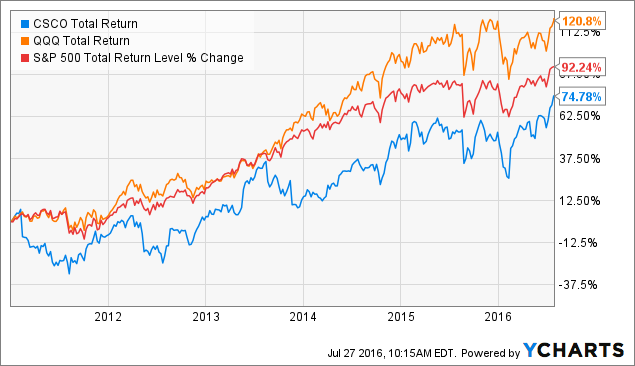 CSCO Total Return Price data by YCharts
However, past performance doesn't necessarily indicate future returns, and I believe there are plenty of reasons for long-term dividend lovers to invest in this high-tech blue-chip. Read on to find out what the future is likely to hold for Cisco Systems as well as what risks could threaten its ability to continue rewarding shareholders with large dividend hikes in the years to come.
Cisco's business model is evolving
Source: Earnings release
| | | | |
| --- | --- | --- | --- |
| Metric | Q3 2016 | Q3 2015 | Year-Over-Year Change |
| Revenue | $12.0 | $12.14 Billion | -1.2% |
| Net Income | $2.35 Billion | $2.44 Billion | -3.7% |
| EPS | $0.46 | $0.47 | -2.1% |
| Free Cash Flow | $2.76 Billion | $2.68 Billion | 3.0% |
| FCF/Share | $0.55 | $0.52 | 5.8% |
| Quarterly Dividend | $0.26 | $0.21 | 23.8% |
| FCF Payout Ratio | 47.3% | 40.4% | 17.1% |
While Cisco's flat top line results aren't necessarily anything to write home about to fire up, nonetheless I'd like to point out two very favorable facts. First, the company's free cash flow or FCF per share continues to grow as it cuts costs and buys back shares. Second, despite continued strong dividend growth, the FCF payout ratio is low enough to allow several more years of aggressive payout increases as the company transitions to its future business model.
Which brings me to the biggest reasons I'm bullish on Cisco's long-term prospects. The fact is that today's fast paced world of evolving technology is seriously starting to challenge the IT departments that are Cisco's primary customers.
Specifically, over the past decades, IT managers have learned to trust Cisco's brand and build extremely complex enterprise systems around its products. This has created high switching costs among conservative and risk averse IT managers, which helps to insulate Cisco's short- to medium-term cash flows from many of its competitors.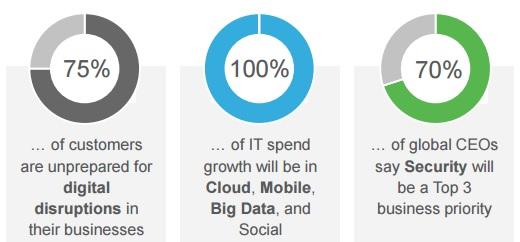 Source: Cisco investor presentation.
However, competitive pressures to increase productivity as well as increase data security means that its customers have no choice but to invest into the enterprise and data management systems of tomorrow. Which is why Cisco's evolution into higher margin services is primarily focused on three key high growth areas: video data services, teleconference collaboration services and security services.

Source: Cisco earnings presentation.
In each division, Cisco is working hard to ensure that these future growth drivers incorporate cloud, mobile and Internet of Things, integration that will be key to building a wide moat around its future cash flow generators.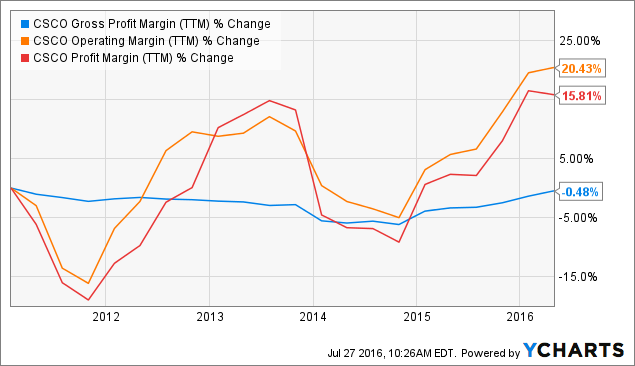 CSCO Gross Profit Margin (TTM) data by YCharts
Thanks to a strong emphasis on cost cutting while still investing strongly into R&D spending into its most important markets, Cisco has been able to maintain strong and even growing margins since it instituted its 2011 turnaround plan. This means ongoing strong, above industry average returns on investor capital, which will sustain its dividend growth going forward.
Sources: Morningstar, Gurufocus
| | | | | | |
| --- | --- | --- | --- | --- | --- |
| Company | Operating Margin | Net Margin | Return on Assets | Return on Equity | Return on Invested Capital |
| Cisco Systems | 24.8% | 20.7% | 9.1% | 16.9% | 34.62% |
| Industry Average | 13.7% | 10.2% | 5.6% | 11.3% | NA |
Cash return program is key to long-term dividend growth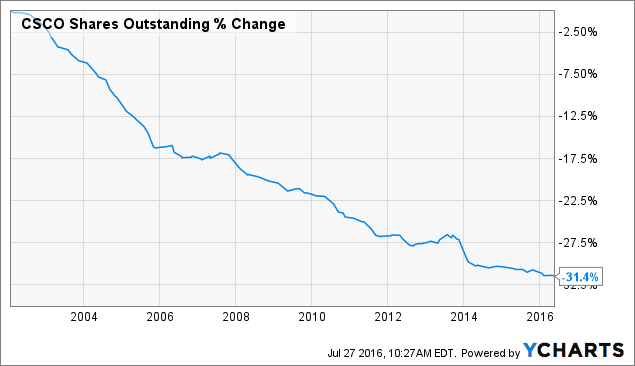 CSCO Shares Outstanding data by YCharts
As you can see, Cisco has a strong track record of buying back about 3% of its shares each year since 2002. This has allowed Cisco to convert moderate top line growth of 5.7% CAGR over the past decade into much more impressive 8.1% CAGR growth in free cash flow per share. FCF/share is ultimately what pays for the dividend, which is why growing this metric at a quick rate is key to Cisco's ability to reward dividend investors with a fast growing payout, and ultimately, market beating total returns. That's because a good rule of thumb for long-term total returns is yield plus dividend growth.
Sources: Yahoo Finance, earnings release, Morningstar, Fast Graphs, YCharts, FactSet Research, Multipl.com, Moneychimp.com
| | | | | | |
| --- | --- | --- | --- | --- | --- |
| Company | Yield | TTM FCF Payout Ratio | 5 Year Dividend Growth Rate | 10 Year Projected Dividend Growth Rate | 10 Year Projected Total Return |
| Cisco Systems | 3.4% | 35.5% | 34.1% | 7.0% | 10.4% |
| S&P 500 | 2.1% | 39.1% | 14.3% | 5.8% | 9.1% |
Cisco almost is certainly not going to be able to continue its recent torrid dividend growth rate into the future. However, given its low FCF payout ratio and solid growth catalysts, I believe investors can expect around 7% dividend growth over the next decade. Which, given the company's generous current yield, should be enough to generate solid, market beating total returns over the next decade.
Valuation is a bit rich... unless you have a very long-term time horizon
Over the past year, Wall Street has finally rewarded Cisco shareholders for management's recent successes with strong outperformance relative to other tech firms, and the S&P 500.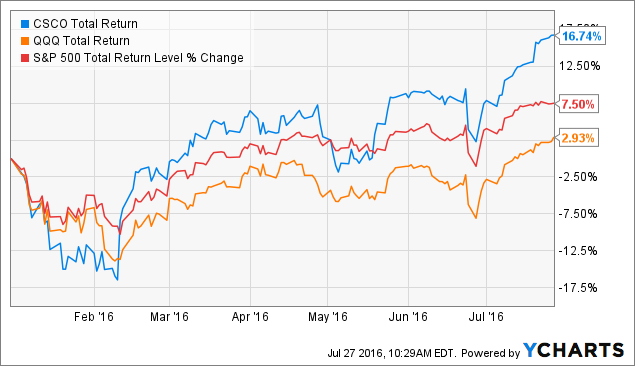 CSCO Total Return Price data by YCharts
Unfortunately, this means that Cisco is now trading at premium to its average valuation multiples since 2009.
Sources: Yahoo Finance, Fast Graphs
| | | | | | | |
| --- | --- | --- | --- | --- | --- | --- |
| Yield | 5 Year Average Yield | PE | 7 Year Average PE | P/Operating Cash Flow | 7 Year Average P/OCF | Average Historical Premium |
| 3.4% | 2.4% | 13.3 | 15.1 | 12.0 | 10.5 | 14.7% |
Which means that Cisco's shares are at risk of a short-term pullback in price. While that would actually benefit long-term dividend investors, for those with a short time horizon, such as retirees needing to sell shares to finance living expenses, you might want to hold off buying at this time.
In fact, according to Morningstar analyst Ilya Kundozerov, Cisco is trading around 14% above its intrinsic value based on a four-year business outlook.
Source: Morningstar
| | | |
| --- | --- | --- |
| Morningstar Fair Value Estimate | Current Share Price | Premium to Fair Value |
| $27 | $30.88 | 14.4% |
Now don't get me wrong, no analyst valuation estimate should ever be taken as the gospel truth. However, Morningstar's long-term, fundamental focused, buy and hold approach gives them, at least in my opinion, far better credibility when it comes to determining the intrinsic value of a company compared to more short-term focused Wall Street analysts.
That's especially true since its analysts don't make short-term price predictions but instead try to forecast what a company's intrinsic value will be in the future based on realistic and conservative assumptions. For example, Mr. Kundozerov's valuation model projects slow 3% revenue growth through 2019 due to continued weakness in Cisco's core switching and networking businesses. In addition, this valuation model takes into account gradual margin contraction in the company's product's segments, from 60% to 57%, as a result of ongoing industry commoditization.
Which is why I view Mr. Kundozerov's medium-term valuation as both realistic and reasonable. However, just because Cisco is currently moderately overvalued on a short- to medium-term basis doesn't mean shares aren't necessarily worth buying, especially if you are considering opening an initial position.
Sources: Morningstar, Fast Graphs, Gurufocus
| | | | | |
| --- | --- | --- | --- | --- |
| TTM FCF/Share | Projected 10 Year Growth Rate | DCF Fair Value Estimate | Reverse DCF Implied Growth Rate | Margin of Safety |
| $2.49 | 7.6% | $46.44 | 0.2% | 34% |
That's because when you look out longer to 10-plus years of potential earnings and cash flow growth, Cisco actually still makes a potentially solid dividend investment. Now, don't get me wrong, I'll be the first to admit that no discounted cash flow analysis should ever be the sole basis for buying a company's stock.
That's because the longer you try to forecast and value growth, the more uncertainty is involved with the calculation. That being said, based on the most recent 10-year analyst growth forecasts for Cisco, when combined with a terminal growth rate assumption of 4% growth beyond 10 years, and a discount rate equal to the market's historical 9.1% CAGR since 1871, Cisco still has the potential to beat the market in the long term.
Risks to consider
The tech sector is a fast paced and ever changing one, which will continue to present Cisco with numerous challenges to its future growth efforts.
For example, in its core switching, routing, server and networking business, Cisco is facing growing competition and commoditization risk from competitors such as Hewlett-Packard Enterprises (NYSE:HPE), Juniper Networks, (NYSE:JNPR), Alcatel-Lucent and even low cost Chinese competitors such as Huawei.
While Cisco's strong brand and high customer switching costs are likely to minimize the rate of sales declines going forward, nonetheless these business segments aren't likely to be able to sustain stable revenue and earnings forever. Which means Cisco's investment thesis as a dividend growth stock is predicated on management's continued strong execution on a transition towards cloud computing, security and other high-margin business services.
Toward that end, management continues to aggressively invest in bolt-on acquisitions to strengthen its brand in these vital and fast growing divisions. In fact, in the last quarter, the company acquired five companies to strengthen its service offerings.

Source: Cisco earnings release
Cisco's high free cash flow margin of 25.7% and $63.5 billion in cash and cash equivalents means that it has plenty of capital to continue buying its way towards growth. In fact, this has been Cisco's strategy for much of its 32-year history. For example, since its founding in 1984, the company has acquired over 200 companies for over $70 billion.
However, investors need to keep in mind that each acquisition comes with risks of its own. For one thing, in today's overheated stock market, overpaying is always a concern. In addition, an acquisition based growth strategy also exposes the company to the risk of poor integration execution, which can result in large write downs that harm earnings and profitability.
Bottom line: Cisco continues to successfully transition towards higher margin services which likely means a bright dividend growth future.
While the company's core business segments are likely to continue to suffer increased pricing and margin pressure from low cost competitors, I have confidence that its experienced management team, armed with the company's high FCF margin and vast cash reserves, can lead Cisco into a bright, cloud based, service oriented future.
And while Cisco's current valuation makes it at risk of a pullback in the short to medium term, patient long-term investors looking for a generous, secure, and growing yield can still do well initiating a position today. That being said, I would use any future price corrections as an opportunity to add or initiate a position at a lower cost basis, and thus lock in an even better yield.
Disclosure: I/we have no positions in any stocks mentioned, and no plans to initiate any positions within the next 72 hours.
I wrote this article myself, and it expresses my own opinions. I am not receiving compensation for it (other than from Seeking Alpha). I have no business relationship with any company whose stock is mentioned in this article.