The story of Ted and Mary has appealed to countless readers. It gives those who are retired or considering retirement soon an idea of what factors they may want to consider and how they might want to design their portfolio.
Ted and Mary
The goal here is to make this hypothetical couple face situations that my readers may face. For this week Ted and Mary will be in a scenario where Ted has 8 years left to go before he can claim his maximum Social Security benefit. Mary is the same age as Ted and will file at the same time.
Ted had a great career. However, after their firm outsourced Ted's entire division he was forced to look for other work.
There was nothing for him. Unemployment has declined, but finding a suitable job was not in the cards. Mary found a part time job with great health insurance. It costs her entire paycheck, but it eliminated the risk of major medical expenses in the first several years.
Ted and Mary lived frugally. They kept putting money into their IRA accounts and employer sponsored plans. After Ted's job ended, he rolled his 401k into his IRA to have more control over the investments. They also inherited a few hundred thousand from Ted's parents a few years ago. The capital was used to buy a mix of bonds and dividend champions.
Despite living frugally, Ted and Mary lived in an expensive area and rented all their lives. They had the capital to buy, but it did not make sense for them. Ted's job required moving every few years. Now they want to change that. They are tired of moving and plan to settle down in one city. They are planning to use a large chunk of the principal from their bonds to buy a house.
Ted and Mary loved investing and were always researching the best dividend stocks. If their capital was restricted to the company 401k accounts their investing opportunities would be substantially more limited.
They have a long-term horizon. They are not always watching the returns on the stock market today. Ted and Mary attempt to follow a simple buy and hold strategy of the best dividend stocks so they can expect a growing stream of income. In this example, it won't happen quite that way. There will be dividend cuts over the next 38 years.
While other people are trying to figure out how to make money online, Ted and Mary are reading Seeking Alpha and improving their knowledge on dividend growth strategies.
The Challenges for This Week
Total cash prior to buying a house: $1,000,000
Ted and Mary both love going on cruises.
They plan to put their only granddaughter through college.
A medical emergency occurs after Mary's job ends. Their mediocre insurance doesn't cover the treatment.
They proceed to incur a six-figure medical bill, and then incur others as they live past 100.
Returns on the market are volatile.
A few of the dividend champions begin cutting dividends. The decrease in dividends hammers away at the couple's retirement income.
Building the Plan
Before Ted and Mary can decide what investments they should own, they need to assess their cash flow needs. They both believe that they have exceptional health and will live long enough to make it worth waiting to declare for Social Security.
Individuals facing this scenario should seek a financial advisor that can help them with strategies to enhance their income from Social Security.
Ted and Mary look up the following chart to determine how their benefits will be impacted: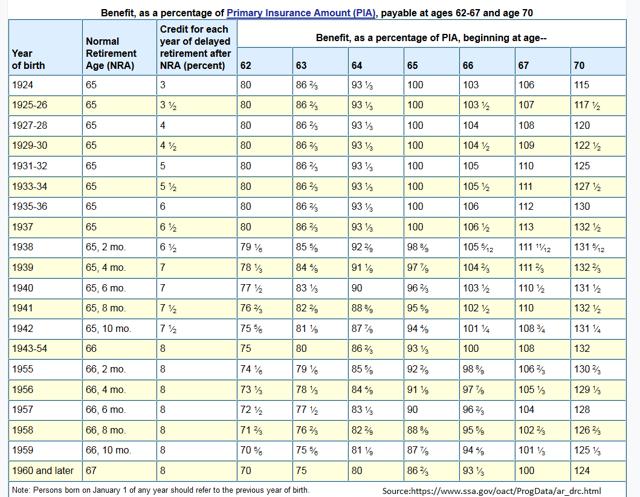 After looking at the chart, they decide the growth rate in the payments will make it worthwhile to wait until they are 70 to file. If they die young, this would turn out to be an unfortunate choice. However, they will not know their time of death in advance.
If you are wondering when to file, you should read this: When should you file for Social Security benefits?
Making a Move
They both love to cruise. Ted and Mary expect to go on a couple trips each year. The couple retires to Fort Lauderdale. The coastal Florida city is ideal for them. Even though it is more expensive, it means they do not need to fly for vacations. Even better, their son and daughter-in-law live there. They made it a priority to live near their grandchild, so the whole situation worked out well.
Living in a port city is great. Ted and Mary are able to take advantage of promotions from the cruise lines. Those promotions dramatically reduce the cost of vacations, though it requires them to be ready to sail on very short notice. Occasionally cruise lines will release huge sales when there are several empty cabins a week or two before departure.
The sales allow them to find cruises for around $600 to $800 per person. Those last about a week on average. They go on three cruises per year. The total estimated cost for six fares is $4,800 per year. If they were unable to go on short notice, this would be impossible.
Inflation
Inflation averages 2.3% during their retirement. There is no way to predict this in advance. Therefore, I have simply assigned the value.
Allocation of Wealth in Dollars
I'm building the portfolio based on the projected expenses. Social Security is similar to an inflation-adjusted bond fund. It makes predictable payments that increase with the official rate of inflation. Ted and Mary allocate more of the portfolio to safer investments for the years prior to Social Security payments starting.

Each investor has a different risk tolerance. The stock and bond portfolio would be dramatically larger with lower allocations to CDs if Ted and Mary were planning to take Social Security earlier.
The Champions
Ted and Mary love investing in the best dividend stocks. They build a portfolio that is primarily filled with dividend champions. When a friend told Ted he should try to make money online, Ted told his friend that he already knew the real secret to making money. It was buying and holding some of the best dividend stocks on the NYSE.
| | | | |
| --- | --- | --- | --- |
| Company | Ticker | Yield | Years |
| Northwest Natural Gas | (NYSE:NWN) | 2.86% | 60 |
| Procter & Gamble Co. | (NYSE:PG) | 3.12% | 59 |
| Emerson Electric | (NYSE:EMR) | 3.40% | 58 |
| 3M Company | (NYSE:MMM) | 2.46% | 57 |
| Vectren Corp. | (NYSE:VVC) | 3.08% | 55 |
| Cincinnati Financial | (NASDAQ:CINF) | 2.56% | 55 |
| Coca-Cola Company | (NYSE:KO) | 3.05% | 53 |
| Johnson & Johnson | (NYSE:JNJ) | 2.56% | 53 |
| California Water Service | (NYSE:CWT) | 2.06% | 48 |
| Target Corp. | (NYSE:TGT) | 3.20% | 48 |
| Stanley Black & Decker | (NYSE:SWK) | 1.93% | 48 |
| Altria Group Inc. | (NYSE:MO) | 3.28% | 46 |
| Sysco Corp. | (NYSE:SYY) | 2.38% | 45 |
| Black Hills Corp. | (NYSE:BKH) | 2.67% | 45 |
| Universal Corp. | (NYSE:UVV) | 3.58% | 44 |
| Wal-Mart Stores Inc. | (NYSE:WMT) | 2.72% | 42 |
| PepsiCo Inc. | (NYSE:PEP) | 2.76% | 43 |
| ExxonMobil Corp. | (NYSE:XOM) | 3.19% | 33 |
| McDonald's Corp. | (NYSE:MCD) | 2.78% | 39 |
| National Retail Properties | (NYSE:NNN) | 3.49% | 26 |
| Realty Income Corp. | (NYSE:O) | 3.40% | 22 |
| Apple | (NASDAQ:AAPL) | 2.31% | 4 |
| Average | | 2.86% | 44.68 |
The "years" category is the years of consecutive dividend increases. Some of the companies have already raised dividends again. For instance, Target is now at 49 consecutive years of increases.
The goal for this portfolio is going to be a yield of 3.44%. The portfolio should grow dividends in a stable manner. However, I am assuming that things turn worse for the market. Ted and Mary expected their dividend income to increase. Instead, the portfolio's income and market value take a dive together.
Since the goal is 3.44% but the individual allocations only reach 2.86%, we know that the plan will require picking up a little extra yield. Ted and Mary could use some preferred shares. Since preferred shares tend to function like an annuity with the potential for a default by the company to abruptly end the payouts, it would be wise to assume that the preferred shares offer no growth in dividends.
The combination of dividend growth champions and preferred shares creates a portfolio where the total income should grow slowly. Preferred shares won't grow dividends, but enhance the yield.
I use some dividend champions in my investment portfolio.
Getting Diversification
Since the portfolio above may be a little too concentrated, I like to work in some ETF exposure. Ted and Mary will use the following 10 ETFs, but they won't get equal weighting.
| | | | |
| --- | --- | --- | --- |
| Ticker | Name | Div. Yield | Expense Ratio |
| (NYSEARCA:VIG) | Vanguard Dividend Appreciation ETF | 2.13% | 0.09% |
| (NYSEARCA:VYM) | Vanguard High Dividend Yield ETF | 3.06% | 0.09% |
| (NYSEARCA:DVY) | iShares Select Dividend ETF | 3.11% | 0.39% |
| (NYSEARCA:HDV) | iShares Core High Dividend ETF | 3.40% | 0.12% |
| (NYSEARCA:PFF) | iShares U.S. Preferred Stock ETF | 5.68% | 0.47% |
| (NYSEARCA:SDOG) | ALPS Sector Dividend Dogs ETF | 3.31% | 0.40% |
| (NASDAQ:VCLT) | Vanguard Long-Term Corporate Bond Index ETF | 4.19% | 0.10% |
| (NYSEARCA:TLT) | iShares 20+ Year Treasury Bond ETF | 2.24% | 0.15% |
| (NYSEARCA:HYG) | iShares iBoxx $ High Yield Corporate Bond ETF | 5.69% | 0.50% |
| (NYSEARCA:SPHD) | PowerShares S&P 500 High Dividend Portfolio ETF | 3.32% | 0.30% |
PFF is an ETF filled with preferred shares. Since Ted and Mary were not comfortable picking preferred shares themselves, they decided to use the ETF. It offers an increase in yield, but some of the preferred shares will be eligible for calls. The result of those calls will be capital reinvested at lower rates.
Breakdown of Holdings
| | | | | |
| --- | --- | --- | --- | --- |
| Weight | Investment | Cash | Yield | Dividend Income |
| 40% | Champions | $200,400 | 2.86% | $5,731 |
| 5% | VIG | $25,050 | 2.13% | $534 |
| 5% | VYM | $25,050 | 3.06% | $767 |
| 3% | DVY | $15,030 | 3.11% | $467 |
| 6% | HDV | $30,060 | 3.40% | $1,022 |
| 12% | PFF | $60,120 | 5.68% | $3,415 |
| 6% | SDOG | $30,060 | 3.31% | $995 |
| 10% | VCLT | $50,100 | 4.19% | $2,099 |
| 6% | TLT | $30,060 | 2.24% | $673 |
| 3% | HYG | $15,030 | 5.69% | $855 |
| 4% | SPHD | $20,040 | 3.32% | $665 |
| 100.00% | | $501,000 | 3.44% | $17,224 |
The goal for cash flows from this portfolio in the first year was $17,224. This allocation strategy nails it.
The Cash Flows
The following table demonstrates the cash flows: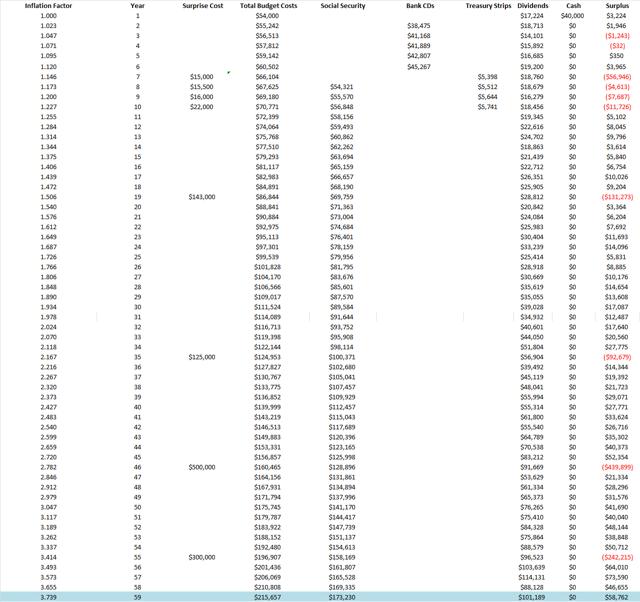 The easiest way to work through this presentation is to start from the left and move to the right. The years in the first column are fairly simple to read. The "Surprise Costs" include the costs that will be incurred to send their granddaughter to college. They could have told her to go to rely on student loans, but their granddaughter has faced quite enough hardship for one lifetime.
The college costs are not surprises. The term "surprise cost" covers all the possible deviations from their normal budget. You will see a larger cost at the end of the four years. That represents a nest egg they are hoping to provide. Ted and Mary are nice people. It is a shame that in year 19 they are facing a medical emergency that will hammer away at their savings. Further special expenses occur in the later years.
Investors cannot know when these costs will occur, but they must be prepared.
Portfolio Values
The model I built for these articles also works out the portfolio value in each year. Investors should be aware of volatility. Remember February. If the measurement period ended there, the returns would be dramatically different.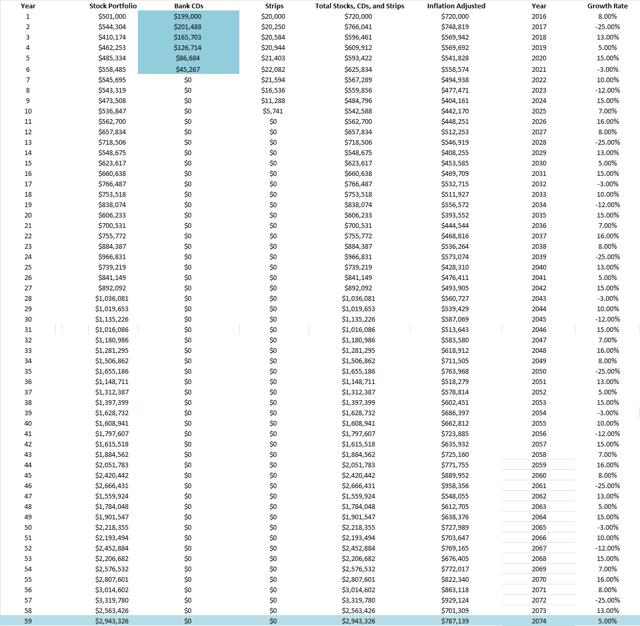 The portfolio value is highly volatile because it is realistic. Returns rarely move in a straight line. The result is portfolio values going up and down. The cycle I created for this scenario has a geometric mean growth rate of 1.61% to go with a dividend yield of 3.44%.
Despite assuming they would sell some shares during down markets, it is critical to point out that this model assumes they have the discipline to harvest only what they need and do not sell off during a recession.
The Investments in CDs
The following table shows the rates I used for the CDs, the amount invested, and the amount harvested.

You can check rates on certificates of deposit here.
Treasury Strips
The Treasury strip values come from Wall Street Journal. For this example, the couple only used $20,000 in Treasury strips. They provide certainty of cash flows when held to maturity. However, I find the higher rates on CDs much more appealing.
The End of the Story
Over their long retirement, Ted and Mary got by with a frugal budget. They survived major expenses. If a retiree expects to die at a young age, they may not need to invest. However, if they want to be able to handle the costs later in retirement, they need to earn some return on their capital. In this example the total expenses came to $8,197,647. The receipts from Social Security over the period came to $5,343,202. The difference of roughly $2.85 million was covered by the income generated through their investments. At the end of the story, the inflation-adjusted value of the portfolio was $787,139. That is over a 50% increase from the initial value.
Other Great Reading
I found many retirees want to know more about the best dividend ETFs for 2016.
If you want to learn about preferred shares, check out my piece on the better 7.5% dividend yield.
Please Share
If you appreciated this work, it would be a great kindness if you decided to share it. Posting it to Facebook, Google, Linked in, or linking to it from your blog will help other retirees find it.
I would love to hear your experiences in the comments. Feel free to include your story.
Want to Know More About Mortgage REITs and Preferred Shares?
Since the Mortgage REIT Forum is a new exclusive research platform, the first 100 subscribers will be able to lock in their subscription rates at only $240/year. My investment ideas emphasize finding undervalued mortgage REITs, triple net lease REITs, and preferred shares. With the market at relatively high levels, there is also significant work on finding which securities are overvalued to protect investors from losing a chunk of their portfolio.
Disclosure: I am/we are long MO, NNN, WMT, TGT.
I wrote this article myself, and it expresses my own opinions. I am not receiving compensation for it (other than from Seeking Alpha). I have no business relationship with any company whose stock is mentioned in this article.
Additional disclosure: Information in this article represents the opinion of the analyst. All statements are represented as opinions, rather than facts, and should not be construed as advice to buy or sell a security. This article is prepared solely for publication on Seeking Alpha and any reproduction of it on other sites is unauthorized. Ratings of "outperform" and "underperform" reflect the analyst's estimation of a divergence between the market value for a security and the price that would be appropriate given the potential for risks and returns relative to other securities. The analyst does not know your particular objectives for returns or constraints upon investing. All investors are encouraged to do their own research before making any investment decision. Information is regularly obtained from Yahoo Finance, Google Finance, and SEC Database. If Yahoo, Google, or the SEC database contained faulty or old information it could be incorporated into my analysis.