Square (NYSE:SQ) is a payments processing company, which enables anyone with a mobile device to accept card payments anytime and anywhere. Square generates the majority of its revenue from fees charged on payment volume with incremental revenue paid for software by their sellers. Square benefits from numerous trends in its favor, including the growth of payments by credit card as opposed to cash/check and the growing number of small and mid-sized businesses.
However, at $10 per share, we feel this market opportunity is priced in, but the price ignores the numerous risks the business faces. Square has no clear path to profitability and is going to face increasing competition as it tries to enlist larger businesses, which are currently served by more intricate and better developed payment businesses. Additionally, investors have to accept this risk while paying a valuation much higher than that of Square's competitors to own shares of a company offering a commodity product.
Brief Payment Process Overview: Square generates the majority of its revenue from payment processing and charges a fee typically 2.75% of payment volume for card present transactions or 3.5% of payment volume plus $.15 per transaction for card not present transactions. However, Square has to pay numerous parties including the acquiring processor (typically .15% of transaction value) and the issuing bank (1.5% of transaction value). Square settles transactions with merchants within one business day by Automated Clearing House (ACH) or same day via an instant deposit for an added fee. The full transaction cycle is depicted below.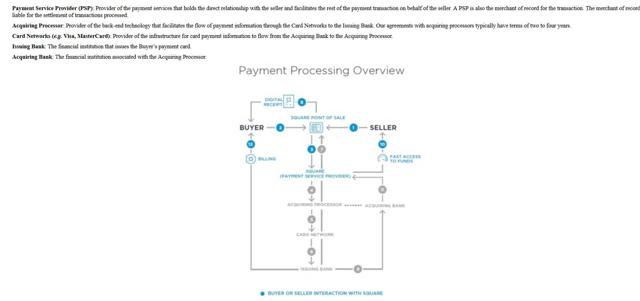 Source: Square 10-K Filing
High Micro Merchant Competition: Ultimately, we feel the micro-merchant business has no significant barriers to entry. New payment companies are constantly emerging. For instance Clover First Data's (NYSE:FDC) square competitor came up on a recent mobile payment Google search and offers a nearly identical product to Square (see below). PayPal (NASDAQ:PYPL) is also currently the major leader in online payments with approximately 184 million active PayPal accounts and 4.9 billion payments processed in 2015 through PayPal.
PayPal offers an identical mobile payments reader and even charges 50 basis points less on their per swipe rate relative to Square. PayPal has assembled a very large online payments portfolio with its acquisitions of Venmo and Braintree. Given its much larger scale with a $45 billion market capitalization, it also can make much larger research and development investments and has the balance sheet to offer top engineering talent higher salaries relative to what they might receive working at Square doing similar work.
Square states their competitive advantage rests in their technology and scale in their prospectus. However, PayPal has much greater scale and has invested much more in their technology and has a greater technology talent pool to pick from within their organization. Thus, we feel Square is likely to face increasing competition even within their core small business segment with numerous new start-ups offering mobile card readers likely to emerge.

Source: Clover Website
Pricing Concerns In Mid-sized & Large Business Segments: We also believe Square will have trouble pricing their product effectively as they move to acquire larger merchants. As the average price tag of a merchant's goods increases, the traditional interchange plus pricing model becomes more attractive. MasterCard's (NYSE:MA) interchange fees are around 1.7% plus $.10 per transaction, in contrast to Square's static 2.75%.
We understand there are small markup and network assessment charges in addition to this but the overall rate still ends up being greater when a larger merchant uses Square as opposed to a traditional merchant acquirer. Additionally, many merchant processors offer volume or value discounts, making a static pricing even less appealing. It is for this reason we see it unlikely that the greater than 500K GPV merchant (shown below) ever becomes a significant revenue stream for Square.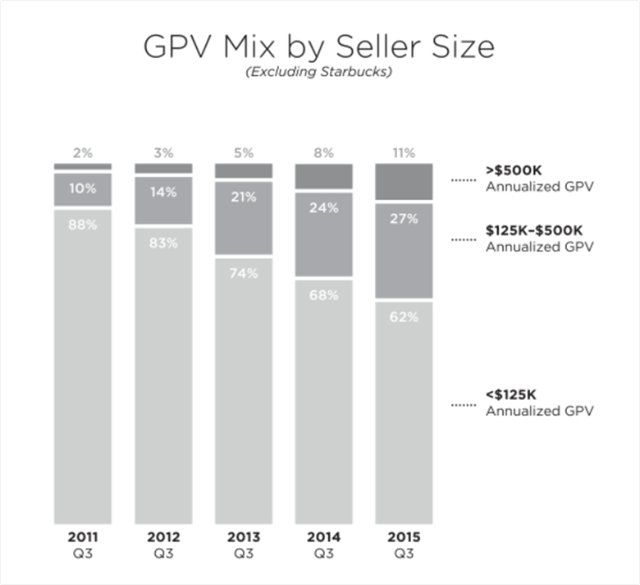 Source: Square 10-K Filing/Author Analysis
High competition in all segments is likely to restrict any ability to raise prices and increase margins. The company has a history of losses, with a $212 million loss in 2015. The company also offers its readers for free or for newer chip readers at costs below that what it costs to manufacture them. To put this in perspective, hardware costs were $30 million in 2015 and hardware revenues were less than half of that amount. This inability to raise prices coupled with high hardware costs are likely to restrict margins into the foreseeable future.
Most of Square's other business lines are relatively early stage (venture like) businesses within highly competitive segments. Caviar, shown below is still order of magnitudes smaller than GrubHub (NYSE:GRUB), which recently purchased Seamless and charges customers for each delivery, a major negative in our view. The company also marks up food prices and charges a delivery and service fee compared to GrubHub where there is no markup.
Square Capital also is a relatively small operation currently with major risks. Square Capital is dependent on third parties purchasing receivables and merchant loans, third parties may reduce the amount they are willing to pay for these loans and/or refuse to purchase the loans, which has happened historically. Square also offers limited information on these segments, limiting one's ability to evaluate them thoroughly as investments. All you can gauge is they make up a small portion of current revenue for the business but there is not enough detail to evaluate them as a reason for investing.
The company appears dramatically overvalued relative to other companies offering similar mobile card readers. Square has negative operating margins and has no trailing enterprise value to EBITDA multiple, given its high costs. Analysts project a forward enterprise value to EBITDA multiple for 2016 of over two hundred times. If you are looking to invest in a payments company, why not look to invest in one that already has a feasible business model and margins. If you are looking for a venture capital type investment, then Square provides similar risk but the upside is only 20% in a perfect execution scenario as opposed to greater than 100% for successful venture deals.
Their growing stock-based compensation (see below) also makes the premium valuation worse as investors are likely to continue to be diluted. This stock-based compensation increase will continue in order to retain talent and pursue acquisitions, which may or may not be accretive.

Source: Author Analysis

Source: Author Analysis/Company Financials
The major risk to our thesis is Square being acquired. Currently, many smaller technology businesses are being acquired at substantial premiums seemingly out of nowhere, including LinkedIn (NYSE:LNKD) and Outerwall (NASDAQ:OUTR) recently. We see this as unlikely given the commodity-like nature of their product, but it is a possibility.
In conclusion, we feel Square is not an attractive investment opportunity for technology investors. The company faces intense competition within both the micro-merchant segment and will have pricing issues as it moves upstream to acquire midsized and large businesses as customers given interchange fees being more attractive.
The company is very overvalued relative to its peers in terms of trading multiples and stock-based compensation is likely to continue its upward trend diluting investors. Given we see no clear path to profitability, we would suggest passing on shares until a major pullback and this becomes more of a value/distressed investment opportunity.
Disclosure: I/we have no positions in any stocks mentioned, and no plans to initiate any positions within the next 72 hours.
I wrote this article myself, and it expresses my own opinions. I am not receiving compensation for it (other than from Seeking Alpha). I have no business relationship with any company whose stock is mentioned in this article.