Cheniere Energy's (NYSEMKT:LNG) Sabine Pass LNG train 2 is finally starting up. We have written before that train 2 with capacity of 0.6 Bcf/d should be online by August, and we are finally seeing volumes ramp up. Current LNG export is sitting at 0.9 Bcf/d, and we should start to see that increase to 1.2 Bcf/d.
Tomorrow is the EIA natural gas (NYSEARCA:UNG) storage report, so be sure to read our projections here.
End of storage (EOS) injection estimates across the board have been revised lower. Despite slightly more bearish August injection forecasts so far, forecasters are expecting EOS around 4.02 Tcf. We expect 3.89 Tcf, and we will only get that if August continues to be hot. U.S. production has rebounded since REX came back on, and we aren't seeing supplies decrease much throughout this summer. By now, we had expected production to average around 69 Bcf/d and trending toward 68 Bcf/d by year-end, but we might need to revise these production figures.
Next week should see a record-breaking storage injection report - or, should we say, draw report. Current forecasts are sitting around -2 Bcf to +7 Bcf, and if we see a draw it would shatter the five-year minimum of +27 Bcf. This is also reflected in the power burn figure this week, as that is averaging close to 40 Bcf/d every day. With the LNG train 2 coming on just a few days ahead of schedule, it could knock off an additional 0.6 Bcf from the average.
Overall, the start of train 2 will help storage injections in August, but hotter temperatures are needed if we want to see $3+ gas this summer. Injection forecasts for August need to come in around 25 Bcf, and if we do get those numbers, we should see natural gas spike above $3.
Eight- to 14-Day Outlook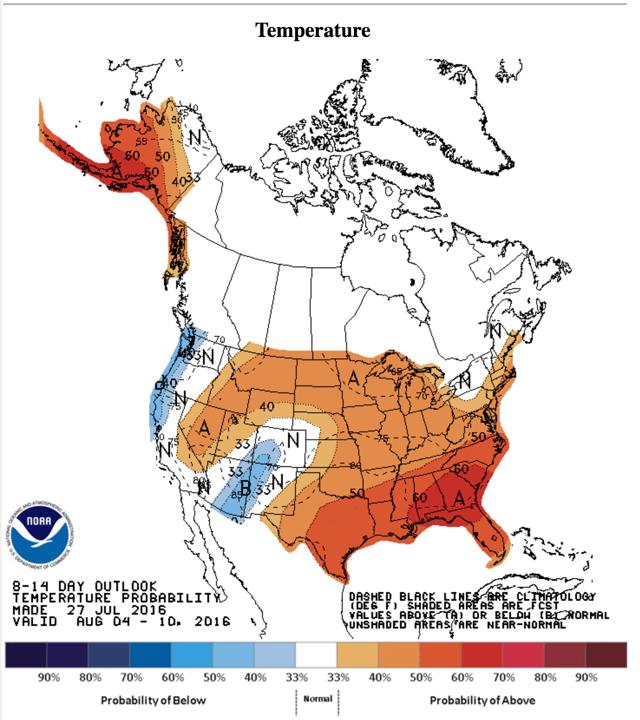 Natural Gas Prices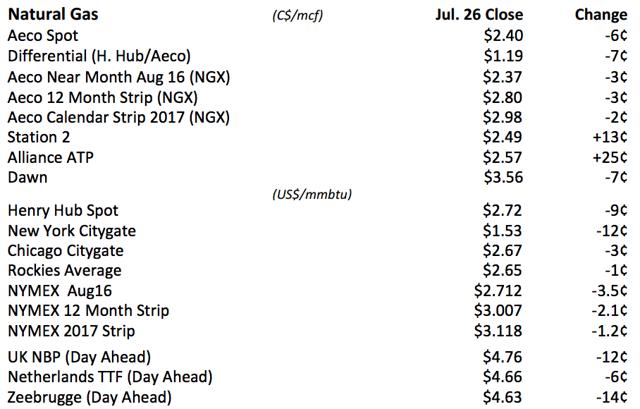 Thank you for reading our Natural Gas Daily article. If you want to read more of our articles, please be sure to hit the "Follow" button above. We also write a weekly HFI portfolio update for premium subscribers. You can read a sample weekly update here and view ourdelayed one-month portfolio update here. We hope you can join the HFI community.
Disclosure: I/we have no positions in any stocks mentioned, and no plans to initiate any positions within the next 72 hours.
I wrote this article myself, and it expresses my own opinions. I am not receiving compensation for it (other than from Seeking Alpha). I have no business relationship with any company whose stock is mentioned in this article.