Welcome to the Late edition of M&A Daily
Verizon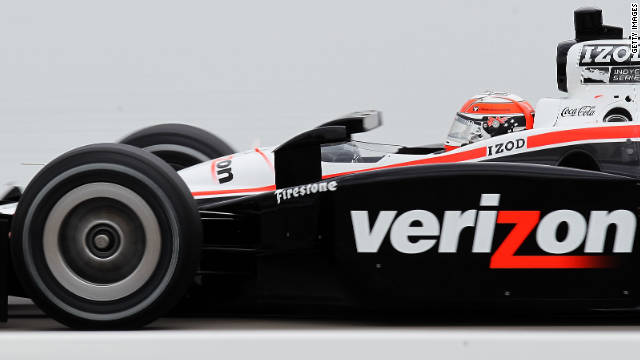 Verizon (NYSE:VZ) is working with Citigroup (NYSE:C) to sell its data centers. Suitors include CyrusOne (NASDAQ:CONE), Digital Realty (NYSE:DLR) and Equinix (NASDAQ:EQIX). We will hear more next month.
LogMeIn
LogMeIn (NASDAQ:LOGM) is combining with Citrix (NASDAQ:CTXS) GoTo business in a $1.2 billion Reverse Morris Trust deal. The deal needs LogMeIn shareholder approval and will probably close in the first quarter of 2017.
Linear
Analog Devices (NASDAQ:ADI) agreed to acquire Linear (NASDAQ:LLTC) in a $14.8 billion cash and stock deal. LLTC holders get $46 per share in cash and 0.2321 ADI shares.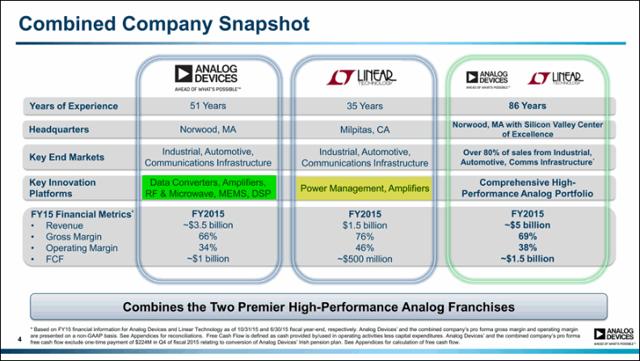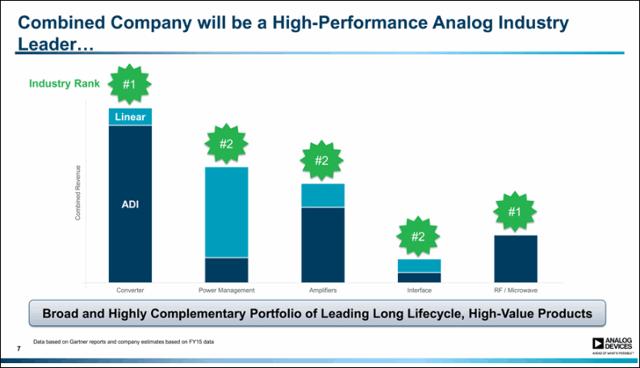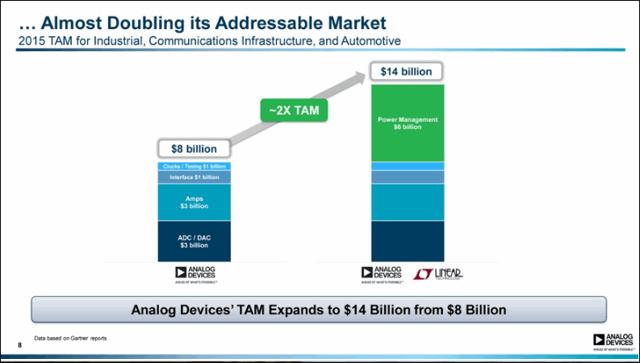 The deal price is at 20x the target's trailing twelve-month EBITDA.
Sequenom
Laboratory Corp. (NYSE:LH) is buying Sequenom (NASDAQ:SQNM) in a $302 million all-cash deal. SQNM holders get $2.40 per share in cash.
EPIQ
EPIQ (NASDAQ:EPIQ) is selling to OMERS and Harvest Partners for $16.50 per share in cash.
Relypsa
Today is the HSR filing deadline for the Galenica (OTC:GNHAY) acquisition of Relypsa (NASDAQ:RLYP). Relypsa holder Orbimed reduced its stake by 4 million shares to 7.5%.
QLogic
The first S-4 amendment has been filed for the Cavium (NASDAQ:CAVM) acquisition of QLogic (NASDAQ:QLGC).
Cash America
The first S-4 amendment was filed for the First Cash (NASDAQ:FCFS) acquisition of Cash America (NYSE:CSH).
More to come in future editions of M&A Daily…
Done deal.
The Suzhou acquisition of Multi-Fineline (NASDAQ:MFLX) closed.
Leonard Green's ExamWorks (NYSE:EXAM) deal closed.
The Krispy Kreme (KKD) sale closed.
Elsewhere on Seeking Alpha
Disclosure: I am/we are long RDI.
I wrote this article myself, and it expresses my own opinions. I am not receiving compensation for it (other than from Seeking Alpha). I have no business relationship with any company whose stock is mentioned in this article.
Additional disclosure: Chris DeMuth Jr and Andrew Walker are portfolio managers at Rangeley Capital. We invest with a margin of safety by buying securities at discounts to their intrinsic value and unlocking that value through corporate events. To maximize returns for our investors, we reserve the right to make investment decisions regarding any security without notification except where notification is required by law. We manage diversified portfolios with a multi-year time horizon. Positions disclosed in articles may vary in sizing, hedges, and place within the capital structure. Disclosed ideas are related to a specific price, value, and time. If any of these attributes change, then the position might change (and probably will).