No surprises here. The Federal Reserve did what many analysts expected it to and waved off another hike in interest rates, leaving them at a range between 0.25% and .5%. But it once again opened the gates to the possibility of a rate hike yet this year, noting for the first time that "near-term risks to the outlook have diminished."
That's not likely to mean there are no "headwinds," a Fed favorite expression of worry, but it reinforces the Fed's long-held data-dependent position and it does so with language that was muted, though leaning upbeat.
"Economic conditions will evolve in a manner that will warrant only gradual increases in the federal funds rate," the statement said, noting that the funds rate is "likely to remain, for some time, below levels that are expected to prevail in the longer run.
"However, the actual path of the federal funds rate will depend on the economic outlook as informed by incoming data," according to the statement.
The market reaction also proved predictive: After falling into negative territory in the hour-plus before the announcement the Dow Jones Industrials (DJIA) and the S&P 500 (SPX) crept up. Like they've done most of this week, the two major benchmarks hovered on the flat lands. The Nasdaq Composite Index (COMP6) held to early gains.
The dollar retracted slightly after the Fed announcement, while benchmark Treasury yields, which were slipping ahead of the announcement, edged higher at 1.511%. The VIX, the market's so-called fear gauge, also tiptoed higher.
The statement also noted that inflation lingers below the Fed's 2% long-term objective, partly because of a decline in energy prices like crude oil. To that end, it sees economic activity picking up at a "moderate pace" while labor market indicators like wage growth, one of Chair Janet Yellen's most watched measures, should strengthen.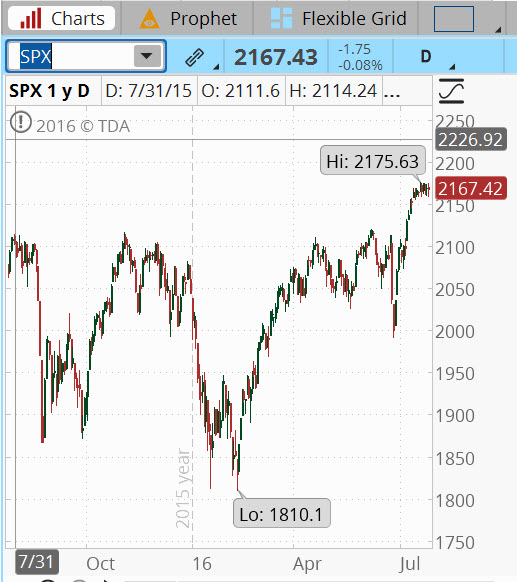 Figure 1: CREEPING FORWARD. The S&P 500 (SPX), plotted here Wednesday on the TD Ameritrade thinkorswim® platform, was holding above key technical support levels of 2,100 leading up to the Fed announcement and tried to sneak back into positive territory after the decision. Data source: Standard & Poor's. For illustrative purposes only. Past performance does not guarantee future results.
The Fed Challenges
By most accounts, the economy is indeed improving. Employment is relatively strong, despite the small rise in unemployment numbers in June; consumer confidence is holding its own; the markets are tipping toward fresh record crests; At 1.9% as measured by the Dallas Fed, inflation is at close range to the Fed's target of 2%. At the same time, the 4.9% unemployment gauge in June also touches the Fed's level of full employment. However, overall growth is not where the Fed has said it should be. It has even lowered its own expectations about where GDP will land this year to 2% from its original hopes of 3%.
Today's statement appears to put the market on notice that further rate hikes are on the horizon. Indeed, the Fed has shown a number of times this year-remember its Brexit worries ahead of the vote?-that it strives for neutrality. The Fed does not want to introduce new risks, particularly when the whole Brexit situation is still an unknown influence, either good or bad. Yellen has noted market volatility before and doesn't want to deliver a bombshell that will rock them. As we've noted before, the markets are not the economy, and the Fed is scrutinizing the economy, but what happens in the markets matters.
Another Win for Doves
Two-plus weeks ago, Fed members were at pulpits all over the world in force, speaking mostly in hawkish terms. Was that meant to brace traders for another potential hike in rates yet in 2016? This rocky year of jumbled economics and unexpected disruptions (do investors need to be reminded of the Brexit vote upheaval again?) has prompted some of the more hawkish members to side with doves, as witnessed by the unanimous decision to keep rates pat at the April meeting.
As Yellen as made clear repeatedly this year: There is no clear path to rising interest rates. "The stance of monetary policy remains accommodative, thereby supporting further improvement in labor market conditions and a return to 2% inflation," according to the statement.
Nine of the committee's 10 members supported the policy action. Kansas City Gov. Esther L. George dissented, once again favoring an aggressive hike of .50% to .75%.
Is This the Best it Gets?
Lael Brainard, a Fed governor in Washington, has taken on a dovish role this year that many interest-rate experts say has helped Yellen and friends factor global economics and events into the equation. Consider this comment from a Brainard speech in February: "The world has just changed fundamentally. What China does matters to the U.S." That's a tone Yellen has taken on in recent speeches and today's statement included this: "The Committee continues to closely monitor inflation indicators and global economic and financial developments."
Brainard also has said that lower rates are "likely to prove persistent" in the long run. If the economy is in a long period of slow growth, how, or better yet, when does the Fed make a decision to raise rates?
St. Louis Fed President James Bullard offered this assessment in a recent speech:"The best that we can do today is to forecast that the current regime will persist and set policy appropriately for this regime. If there is a switch to a new regime in the future, then that will likely affect all variables - including the policy rate - but such a switch is not forecastable."
Disclaimer: Commentary provided by TD Ameritrade® for educational purposes only. TD Ameritrade, Inc., member FINRA/SIPC. Past performance is no guarantee of future results or investment success.
Disclosure: I/we have no positions in any stocks mentioned, and no plans to initiate any positions within the next 72 hours.
I wrote this article myself, and it expresses my own opinions. I am not receiving compensation for it. I have no business relationship with any company whose stock is mentioned in this article.