A drop in US oil production to 8 million barrels a day, an appearance of new worldwide demand for 1.2-1.3 million barrels a day, and oil prices reaching and maintaining $60 per barrel: these are the modest requirements Anadarko Petroleum (NYSE:APC) wants fulfilled before it will consider expanding its capital expenditure budget. What if at least one of these does not materialize? Then, the firm intends to continue working on debt reduction.
While certain parts of the company's operations, notably offshore Gulf of Mexico and onshore DJ Basin and Delaware Basin, were the stars of the second quarter and might, especially in case of the latter, bring upside to future earnings, I am unsure if this will suffice to support the stretched valuation.


A&D and views on debt management
Strengthening the balance sheet and high-grading the portfolio were the company's two major themes during the preceding two quarters. In Q1, Anadarko monetized $1.3 billion in assets, followed by another $1.2 billion in Q2, and issued $3 billion in bonds. Together with cutting the dividend by over 80% in February, the firm has done a great job managing its near-term liabilities. Its target of $3.5+ billion in monetization proceeds in fiscal year 2016 appears to be readily reachable. The plan to retire $750 million of debt maturing in 2017 using funds from the proceeds of acquisitions and divestitures (A&D) also looks realistic.
Combining A&D of asset monetization program with the process of high-grading its portfolio has worked well. It is hard to just be a seller in the current generally distressed market, with many companies trying to sell assets to manage their debt loads. Nonetheless, there has been progress: Anadarko said there has been both buying and selling involving many transactions, each being too small to report. Further, the firm discovered a unique divestiture opportunity in Delaware, which did not involve selling into a distressed market. Anadarko sold non-core dry gas assets, which turned out to be attractive sales at strip prices, given the run-up in natural gas prices starting in late May.
Production
The recent CapEx levels have been insufficient to keep the production flat. This is true both for Anadarko and for all US oil producers in the aggregate. Keeping up with the historical sales volumes is an important priority for the firm and really does not seem easy. In Q2, the company benefited from outstanding performance in the Gulf of Mexico and record production in the DJ and Delaware basins. Without these, the quarterly figure would show declining sales volumes out of Ghana and Algeria (these are dependent on the timing of tanker liftings). The tieback opportunities in the Gulf of Mexico are an important driver of future growth for the company, as illustrated by the exhibit below.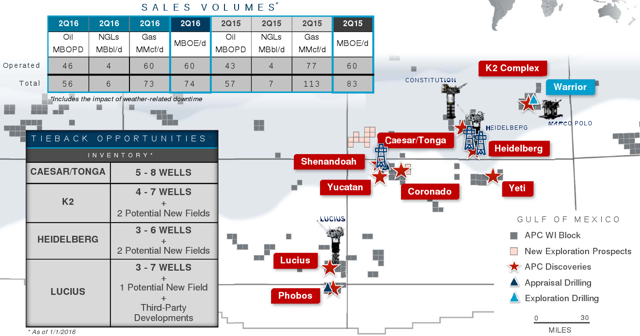 (Source: Anadarko Petroleum Q2 2016 Operations Report)
The Gulf of Mexico is so important to the firm that funding for tiebacks is embedded in the maintenance capital. Anadarko will need the resulting contributions to maintain the overall volume levels.
Costs and margins
In the DJ Basin and especially in the Delaware Basin, Anadarko reduced drilling and completion (D&C) costs, shortened the drilling times and saw the lease operating expense decline 15% YoY. There is a concern about how much of these savings are sustainable, given the oilfield service companies apparently expressing the attitude recently that they should be paid more. Anadarko, however, sees the service environment remaining fairly aggressive for now. Both the firm and its peers are benefiting from the effective emergence of a new competitor in the oilfield service industry due to the failed merger of Halliburton Company (NYSE:HAL) with Baker Hughes Inc. (BHI). Further, the process efficiencies are numerous and a major part of savings; they are sustainable. Currently, Anadarko continues seeing price concessions on service costs, and does not see a significant service price inflation or anticipate margin erosion while the oil price remains in a range from about $43 currently to the magic level of $60 per barrel, discussed below.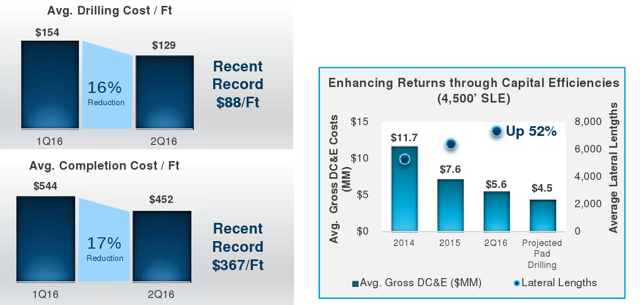 (Source: Anadarko Petroleum Q2 2016 Operations Report)
The above exhibit shows Anadarko's achievements in cost reduction and improving capital efficiency in the Delaware Basin. The future might bring positive surprises: the 2 billion Boe resource figure disclosed by the company was said to be conservative, as it was obtained assuming less than 5% of oil in place would be recovered. The company now expects that a greater fraction will be retrievable.
Among the different formations in the Delaware Basin, Wolfcamp is, and will remain, the focus as "the big prize". Lower Wolfcamp, while not as prolific as Wolfcamp A, is also a priority. In terms of the quality of acreage, 3/4th of Wolfcamp is said to be Tier 1 acreage. In contrast, Avalon and Bone Spring are not currently a priority, and indeed, there will be no drilling in Avalon this year.
Considering Anadarko's experience in Delaware, it is important to bear in mind its position as a relatively new and still small, yet rapidly growing, position among the company's assets. Delaware net sales volumes were 41 MBoe/d, rising 26% YoY, as compared to DJ Basin alone contributing 243 MBoe/d, while growing merely 5% YoY. The management feels there is still a lot to learn in Delaware. There are ongoing experiments with quantities of sand and water. Additionally, the firm started with short laterals, whereas presently, the average lateral length is in the middle of the industry's range, as they've done a mix of lateral lengths. A transition to longer laterals is in progress.
A very cautious approach to potential expansion
The company takes pains to avoid the appearance of expanding just yet. For example, it now has 6 rigs in Delaware (Shell (RDS.A, RDS.B) may be participating in some of these rigs), up from four as of the end of June. On the one hand, Anadarko has more activities to be done, and hence, does not plan to reduce the rig count. On the other hand, it does not want to commit to more rigs till next quarter. Caution remains the order of the day.
Fiscal priorities
The first priority is debt management - specifically, paying off $750 million of bonds maturing in 2017. The company will focus on it regardless of where oil prices go. If oil prices decline, monetization proceeds will be used for debt retirement. There will be no additions to CapEx.
The second priority, investments in the Delaware Basin, will only come to light gradually if and when the oil price increases to $60 per barrel.
There are three conditions to be met before CapEx is increased. First, the oil prices must go up to $60 and stay there sustainably. Second, this must be a demand-driven recovery. Third, debt reduction objectives must be met. It is only if all of the above happen that more CapEx will be applied in Delaware and, surprisingly, the DJ Basin as well. So, the prospects of CapEx acceleration in 2017 remain uncertain. The increases will depend on confidence. The theme is "spending within discretionary cash flow". Any increases will not be massive amounts and will be in the hundreds of millions at most.
Metrics
The company previously had a 30% longer-term target on the ratio of debt to capitalization. Now, perhaps due to changes in assets as a result of acquisitions and divestitures, it is paying more attention to Debt/Cash Flow and Debt/Barrel of Production. Overall, it still wants to reduce net debt further.
Hedging
Anadarko layered gas hedges, but does not want to add oil hedges given the current market environment. It does not see hedges as a way to justify additional drilling. I compared different companies' hedging strategies here.
What Anadarko wants to see: unconventional views on oil supply and demand
The firm does not expect oil prices to recover to the $90-100 range. In devising its strategy, it pays much attention to the overall US oil production, which peaked at 9.6 million barrels per day (MMBbl/d) and is now declining. The company sees it bottoming at 8 million barrels per day and wants to wait until this happens before commencing growth. Anadarko believes an 8 MMBbl/d level may be reached by the end of the year, while oil may rise to $60 by the same time. Company management wants the recovery to be demand-driven, rather than supply-constrained. The underlying belief is likely that the former is more sustainable. Anadarko wants to see the demand recovery and an additional 1.2-1.3 million barrels a day of demand. At higher oil prices of, say, $60 per barrel, it would want to know if margin erosion is occurring in order to determine the pace of any ramp-up in investment. The willingness to make investments is the primary factor: the company sees no infrastructure constraints that might impede additional capital allocation to the Delaware Basin.
Discussion
According to EIA, the U.S. crude oil production is currently at 8.6 MMBbl/d. While it was higher earlier in the year, EIA's forecast for the yearly average is at, coincidentally, the same level of 8.6 MMBbl/d for the entire year 2016 and at 8.2 MMBbl/d in 2017. Anadarko is more pessimistic than EIA. The only way production can reach 8 MMBbl/d is due to an unforeseen shock. It is hard to imagine shale producers capitulating now, given their survival through the harder first half of the year.
There are two obvious conceivable sources of new demand for 1.2-1.3 MMBbl/day - China and India. China's demand has been slowing recently, as it is about to finish filling its Strategic Petroleum Reserve, while the teapot refineries have contributed to a glut of oil products and have also seen reduced demand. There has not been any news from India that would indicate new demand emerging this year. So, the hope for new demand seems far-fetched.
As for when oil prices might reach $60, currently the front-month WTI future is around $43, while the futures prices a year from now in 2017 are around $48.5. Anadarko believes the strip is not informative; the company's opinion is that the forward curve is flat because there are fewer market participants than there were five years ago. Management expects oil prices to be at a sustained $60 level in 2017.
Of the above three conditions, each seems unlikely to be fulfilled this year.
Valuation
Q2 EBITDAX at $880 million is up from Q1 at $700 million. The increase is not a surprise: higher oil prices in Q2 compared to Q1 likely explain it. I computed a similar figure of $830 million for Q4 2015.
The estimated ratio of enterprise value (EV) to trailing twelve months' EBITDAX (EV/EBITDAX) was at 13.7 as of the end of the second quarter. This is a historically high figure. When analyzing non-E&P companies, the P/E ratio is commonly used. The counterpart of E&P companies' ratio EV/EBITDAX is the ratio of EV to adjusted earnings for non-E&P companies. By analogy, the ratio being high might mean that the earnings are expected to grow substantially in the future, or that the stock is overvalued. Given the company's conservative approach is unlikely to result in much production growth, intuitively its current EV/EBITDAX multiple seems too high.
Conclusion
Anadarko Petroleum is taking an extremely cautious approach by its almost non-existent reaction to the uptick in oil prices in the second quarter. With the dual focus on asset divestitures and refinancing or retiring debt, it has improved its fiscal position and may reduce leverage further in the second half of the year. The company has benefited from having invested in both conventional and unconventional oil, and may benefit in the future from its extensive geographic reach. Keeping its two basic parameters - production and EBITDAX - where they currently are may very well be attainable. The apparent contradiction is that the market appears to have priced the stock for growth. Management has named three events they are awaiting before increasing CapEx. The events are: US oil production dropping to 8 million barrels a day; fresh demand for 1.2-1.3 million barrels of oil per day emerging somewhere; and finally, oil rising to $60 per barrel. Each of these events might not happen for some time. The likelihood of all three happening at the same time is reduced still further. Given management's criteria, I see growth to be out of reach.
Note from author: Thank you for reading. If you like this article, please follow me by clicking the "Follow" link at the top of this page.
Disclaimer: Opinions expressed herein by the author are not an investment recommendation and are not meant to be relied upon in investment decisions. The author is not acting in an investment, tax, legal or any other advisory capacity. This is not an investment research report. The author's opinions expressed herein address only select aspects of potential investment in securities of the companies mentioned and cannot be a substitute for comprehensive investment analysis. Any analysis presented herein is illustrative in nature, limited in scope, based on an incomplete set of information, and has limitations to its accuracy. The author recommends that potential and existing investors conduct thorough investment research of their own, including detailed review of the companies' SEC filings and consult a qualified investment advisor. The information upon which this material is based was obtained from sources believed to be reliable, but has not been independently verified. Therefore, the author cannot guarantee its accuracy. Any opinions or estimates constitute the author's best judgment as of the date of publication and are subject to change without notice. The author explicitly disclaims any liability that may arise from the use of this material.
Disclosure: I/we have no positions in any stocks mentioned, and no plans to initiate any positions within the next 72 hours.
I wrote this article myself, and it expresses my own opinions. I am not receiving compensation for it (other than from Seeking Alpha). I have no business relationship with any company whose stock is mentioned in this article.