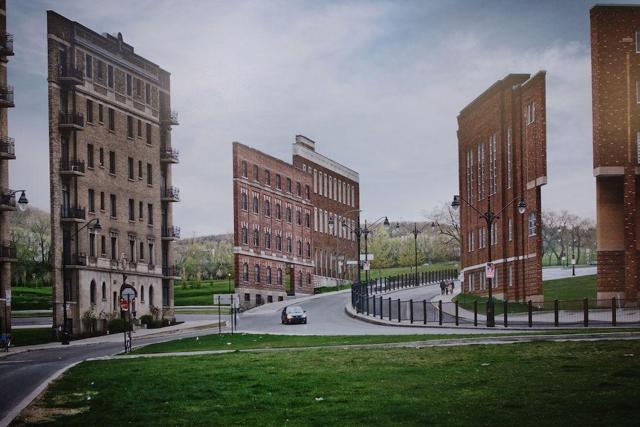 Zacharie Gaudrillot-Roy
Tesla (NASDAQ:TSLA) is often the source of the most bizarre stories in the market, at least when it comes to large-capitalization companies. Yesterday it again confirmed as much, by putting on a show which was the modern-time equivalent of the fabled Potemkin Villages.
For those who don't know the story, the term "Potemkin Village" refers to XVIIIth century events in Crimea, just after it was conquered by Russia. Potemkin was the governor of this new but devastated region. At the time, this region then dubbed the "New Russia" was visited by Catherine II and several ambassadors.
It is told that during this trip and to impress the guests, Potemkin would quickly set up gorgeous fake villages in the parties' path, complete with fake inhabitants. Overnight, these fake villages would be dismantled and set up further downriver (the ambassadors were traveling by boat).
Of course, opinions diverge on the truthfulness of these events, but the term "Potemkin Village" was enshrined forever, as meaning "a construction built solely to deceive others into thinking that a situation is better than it really is".
It's in that regard that it fits yesterday's events so well. Perhaps by coincidence, Tesla broke ground on the Gigafactory during 2014, the same year Russia "got back" its "New Russia" (Crimea), but what we'll see paints a much more coincidental Potemkin village.
The Workers Rush Ahead Of The Visiting Parties
I've already covered this in my previous article titled "Suddenly All Hands Must Rush The Gigafactory". The Gigafactory's footprint stood essentially unchanged for all of 9 months. Yet, 1-2 weeks before the media visiting parties arrived, all construction hell broke loose.
This is exactly like Potemkin would have done. We can't waste the efforts of those construction lads if there are no cameras around to record them. As a result, we had the same kind of "construction just in time" as used by Potemkin.
As a curious example of this scheme, take for instance this piece of news: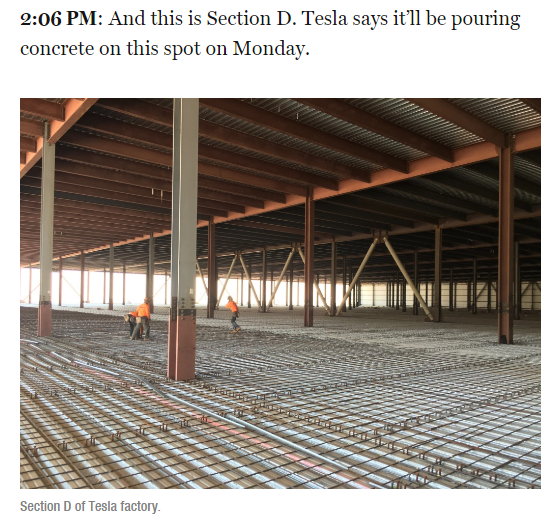 Source: Fortune
The very same piece of news was replicated on several other media channels. Nobody, however, seemed to wonder why the Potemkin workers were setting to pour this concrete next Monday, when the building had in its present state for at least 4 months. Said another way, the same "Section D" was already in the same state it is in, today, back in March. Here's that section as seen from the outside of the factory: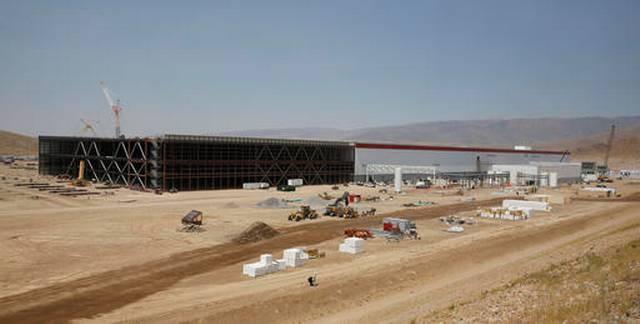 Yesterday
Source: IslandPacket.com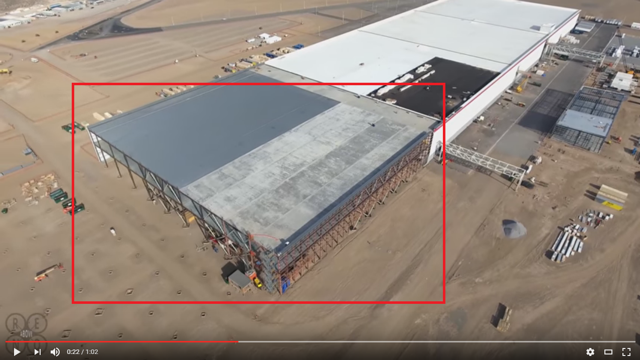 4 Months Ago
Source: Youtube video
The Bustling Factory
The Potemkin story remained remarkably consistent as journalists visited the inside of the factory, not just the outside. Remember, this was the schedule for this event:
12:00-12:30 PM (3:00-3:30 PM ET): Arrival at the Gigafactory and intro
12:30-2:30 PM (3:30-5:30 PM ET): Exterior and Interior tours
3:00-4:00 PM (6:00-7:00 PM ET): Remarks and Q&A with Elon Musk and JB Straubel
Source: Electrek.co
Well, those are clearly working hours, so what the journalists saw inside, particularly in Section A, was the immense Gigafactory already producing Powerwalls and Powerpacks to meet the "off the hook" demand Elon Musk had announced one year prior. Demand, I, at the time, said was as bogus as, well, a Potemkin village.
So what did the journalists see? I can't embed the exact videos as it would hurt their copyrights, but I call the special attention to BBC News and CNBC's. Both have videos filmed within the factory which show the same thing -- and idyllic factory, slowly going about its (manual) business of producing Powerwalls and Powerpacks.
Does it look like a factory going at full speed, gentlemen? Is this that "volumetric" efficiency Elon Musk has been promoting as of late? Is this the "machine that builds the machine"? What we see in those images is a nearly-idled, low automation, production process.
Those are real workers (not "Potemkin" ones), but the production cadence there makes sure that Tesla will be nowhere near meeting its absurd expectations for Tesla energy. Expectations which bear repeating, lest people forget them:
Rod A. Lache - Deutsche Bank Securities, Inc.

Okay. And just lastly, you've had a few more weeks here since the announcement of the stationary storage business, do you have any additional thoughts on how that's expected to ramp?

Elon Reeve Musk - Chairman & Chief Executive Officer

Yeah. I do want to preface this with some degree of uncertainty, because this is quite new, and again, we've got that challenge of exponential ramp and then depending upon how you move the - on how the dates fit over an exponential ramp, the actual numbers in a given quarter could be quite different, but the demand has been really crazy, so it's well in excess of - I mean if you just take the reservations that have been made thus far, it's well over $1 billion worth of Powerpacks and Powerwalls. So - and that's with no marketing, no advertising, no sales force to speak of, really, we're not trying to sell it, it's basically a presentation and a webcast and 30 minutes of press Q&A.

So there's probably room to improve. So this is - I mean, really, we're basically sold out of what we could make in 2016 at this point. And assuming these orders are real, which they seem to be. So were looking at maybe, again, just to preface with meaningful uncertainty, $40 million to $45 million in stationary storage in Q4 and maybe as much as 10 times that number in for next year. So it's $40 million to $50 million that this year and 10x of that next year. And I mean that growth rate is probably going to just, keep going at quite a nutty level. It's probably at least a few billion dollars in 2017, somewhat speculative at this point, but I think that's likely. So it's sort of growing by half order of magnitude to an order of magnitude per year.
Source: Tesla Q2 2015 Earnings Call Transcript
We now know, of course, that reality was much different. For Q1 2016, this is what Tesla had to say regarding Tesla Energy:
Tesla Energy posted strong growth in the quarter as well. During Q1, we delivered over 25 MWh of energy storage to customers in four continents. We delivered over 2,500 Powerwalls and nearly 100 Powerpacks in the quarter throughout North America, Asia, Europe and Africa.
At the original prices ($3.5k per Powerwall, $250/kWh for the Powerpacks), these quantities would translate to ~$11.25 million in revenues. A far cry from $40-$50 million promised for Q4 2015 and certainly far from enough to reach $400-$500 million during 2016.
We also know, from the Potemkin factory videos, that this reality hasn't changed much. So basically the $400-$500 million in Tesla Energy revenues for 2016 are a pipe dream.
The Robot
One of the funniest Potemkin moments in the Gigafactory event was "the robot". It didn't seem good to have the factory running (though looking idle) while having no robots. Not with so much talk about volumetric efficiency and the machine that builds the machine.
So somehow, a single robot was put through its motions for journalists to photograph and film. It was truly a kind of surrealistic moment. Here's a still of the famous robot: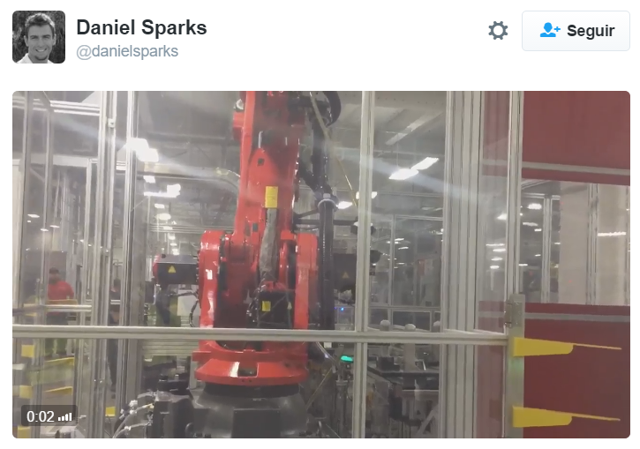 Source: @danielsparks Twitter feed, also countless media outlets (always same robot). The robot basically installs battery modules into a Powerpack.
Moar Money! Moar Money!
Back in 2014, Tesla issued $2 billion in debt maturing in 2019 to finance the Gigafactory. Those $2 billion, contrary to all those promises, are real. Said another way, Tesla has already issued the debt it said it needed to build the Gigafactory.
Because of this, and because of the fact that just recently Tesla also issued another $1.7 billion in equity, even I was amazed that during this Gigafactory event Elon Musk said a "mild" equity raise might be necessary to complete the Gigafactory. Not only do we see a Potemkin-line story, but the whole selling of Tesla tales seems to be based on people having no memories.
They need to have no memories that Tesla has already raised money for the Gigafactory. They have no memories of what Tesla promised for Tesla Energy. They have no memories of deliveries or margin proclamations. They have no memories of delays for the Roadster, Model S or X. In the end, it seems Elon's public will always believe his latest unbelievable proclamation, like the objective of selling 100,000 Model 3 during 2017.
I mean, take a look at that proclamation. It is, in itself, impossible and even Elon Musk knows it. It's impossible not because of the sheer impossibility of building those cars on such short notice, but simply because it already implies a production run rate (400,000 Model 3/year) Elon Musk itself only promises for 2018 (where it, too, will not be attained). It seems not even Elon Musk noticed that by promising so many cars for 2017, he was effectively promising the 2018 production run rate ahead of time. And what is real in the midst of it all? The only real thing is that even Elon Musk already sees the need for a further equity raise.
Is this equity raise really for the Gigafactory, or just advanced notice that if SolarCity is acquired, "Moar Money" is needed?
Conclusion
I draw two main conclusions from this exercise. One is general in nature and the other leads to a very specific prediction.
The general conclusion is that Tesla is very prone to make promises and even entire events whose main objective is just to inflate its stock and sell more shares. This could be seen with Tesla's Energy promises, the delivery dates and prices for all models so far, the size and schedule of the Gigafactory and so on. Tesla is so far down this rabbit hole, that it even produces the equivalent of a modern-day Potemkin village in pursuing it.
The specific conclusion is that Tesla Energy revenues will continue to be vanishingly small when compared to Tesla's guidance. Tesla guided for $40 million in revenues during Q4 2015, and 10x that in 2016. Instead, it posted ~$10-$15 million during Q1 2016. Why will Tesla Energy revenues continue to be vanishingly small? Because we saw the Gigafactory during working hours and yet movement was nearly non-existent. This wasn't a factory churning out product, so Tesla Energy sales cannot but be minimal.
As a positive comment: The only chance I see of the Gigafactory ending up being useful for Tesla, and even then cost-wise it's likely to be a doubtful bet, would be for Randy Carlson to be entirely right regarding his in-module cell processing thesis.
However, beyond the doubts raised by others, I don't see how Tesla can both attain its objective of making a simpler car on time, and develop plus fine tune several new processes for itself (greater steel usage, large scale mass production, dramatically different interior, new battery fabrication and balancing, etc). On top of this, Tesla will now have to work on the next autopilot generation by integrating a different supplier for its vision module (since Tesla was dropped by Mobileye). The odds are clearly against the Model 3 being less than one year late (not just on time).