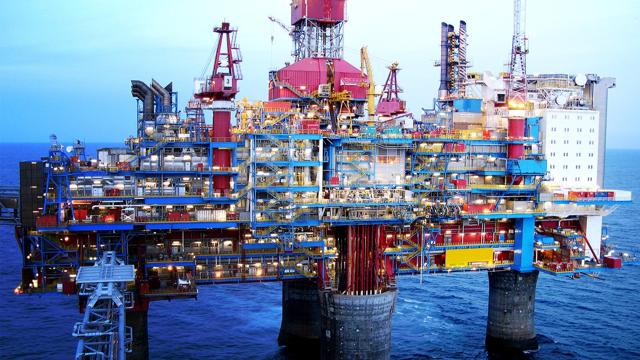 National Oilwell Varco (NYSE:NOV) reports Q2 earnings Thursday. Analysts expect revenue of $1.79 billion and eps of -$0.32. Estimates imply an 18% sequential decline in revenue. Investors should focus on the following key items.
Will The Backlog Take Another Hit?
National Oilwell's prodigious backlog was expected to sustain the company amid the downturn in oil markets. In Q1 the company wrote off $2.1 billion of its backlog pursuant to 15 Brazilian floaters with Petrobras (NYSE:PBR) as the ultimate customer. Its backlog ended the quarter at $4.3 billion, down 39% from year-end.
The risk of the drill ships package had been known for several months. However, at oil sub-$50 there may be increased pressure for offshore drillers to cut capex. According to JP Morgan's National Oilwell might receive additional contract cancellations:
While the EAS rigs were most at risk for cancellation, we believe there is potential for further backlog impairment (including from Asia as well) as the downcycle unfolds. At a minimum, further delays are inevitable, in our view, and continued oil price pressures on offshore E&P capex budgets into 2017 could lead to additional customer restructuring and ultimately more cancellations.
The backlog represents about two quarters' worth of revenue -- paltry by National Oilwell's standards. Another major customer cancellation could create negative sentiment for NOV.
Will EBITDA Turn Negative This Quarter?
National Oilwell has experienced sequential declines in revenue for five consecutive quarters. Last quarter revenue fell to 2.2 billion, down 20% Q/Q and 55% Y/Y.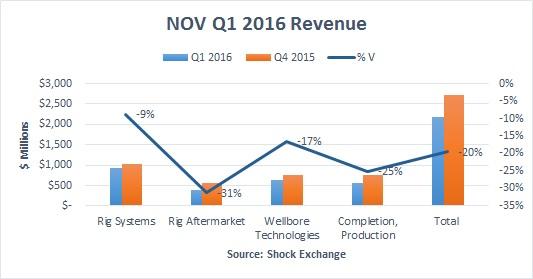 The company's reported EBITDA of $127 million was off 61% versus the $324 million reported in Q4 2015.
From Q4 2015 to Q1 2016 revenue declined by $533 million, while EBITDA fell by $197 million.
Said another way, for each dollar decline in revenue the company's EBITDA fell by 37%.
The $1.79 billion revenue estimate for Q2 implies a decline of $400 million in comparison to Q1 revenue of $2.19 billion.
If Q2 EBITDA falls by 37% of the expected $399 million revenue decline, EBITDA could fall by about $148 million.
This is a long-winded way of saying I doubt the company can deliver positive EBITDA this quarter with an 18% sequential decline in revenue.
Conclusion
At Q1 National Oilwell had cash of $1.8 billion and working capital of over $6.5 billion. The company generated free cash flow of over $500 million, and I expect a repeat performance in Q2. The company's liquidity should assuage bulls for now. However, with $3.4 billion in long-term debt and evaporating EBITDA, National Oilwell would be considered highly-leveraged. Negative EBITDA could draw the attention of the debt rating agencies and create even more negative sentiment for NOV. Investors should continue to avoid the stock.
Disclosure: I am/we are short NOV.
I wrote this article myself, and it expresses my own opinions. I am not receiving compensation for it. I have no business relationship with any company whose stock is mentioned in this article.