-by Jesse Atlas
Announced Partnership with Visa
PayPal (NASDAQ:PYPL) reported outstanding second quarter results. They beat on revenue with $2.65 billion while the street was only expecting $2.6 billion and reported in line earnings at 36 cents a share. More impressive than the revenue beat was the growth of transactions flowing through PayPal's peer-to-peer (P2P) mobile payment application Venmo. In the second quarter, PayPal saw a 28% jump on a spot basis in total payment volume to $86 billion. Venmo accounted for $3.9 billion of the total payments processed representing a 141% gain in total payment volume through Venmo since the end of the first quarter a year prior. However, the real news of the day was the announcement of PayPal's partnership with Visa (NYSE:V). Visa operates one of the most advanced payment processing networks in the world, aptly named VisaNet. The partnership opens lots of doors for PayPal because it will enable them to compete on a more even playing field with Square's (NYSE:SQ) P2P payment product Square Cash.
Integration with Visa's Technology
According to the announcement, PayPal will join Visa's Digital Enablement Program (VDEP). Joining VDEP will significantly increase the number of merchants that accept PayPal's digital wallet. Under the agreement, any location that accepts Visa's contactless payWave technology will now accept payment from PayPal's digital wallet. Users will simply wave their phones over the payWave reader and their accounts will be debited. There will be no additional cost to consumers or merchants who will be paying the same fees as if the consumer was paying with a traditional credit or debit card. PayPal also noted that this partnership will "further removes the threat of any fees or Visa network rules being targeted solely at PayPal." The deal also includes economic incentives based on payment volume and other performance metrics; PayPal did not disclose what the rewards or target numbers are.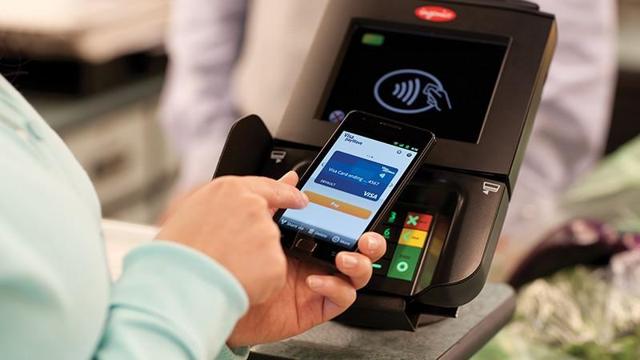 (Visa)
Venmo Nixes Square Cash's Advantage
Previously, Square Cash had one big advantage over PayPal's Venmo P2P payment product. Square Cash would automatically direct funds received through the payments application to your bank account every day without the user manually requesting it to be transferred. Now, consumers will be able to move and withdraw money from their Venmo and PayPal accounts to their banks accounts in real time by making use of a service called Visa Direct; so long as their Venmo accounts are linked to their Visa cards. This means consumers no longer have to worry about keeping money within the Venomo application or bank account because the funds will be easily accessible at any time. PayPal also made it very clear that it would not encourage Visa card holders to link a bank account via an automated clearing house.
According to Square's 2016 first quarter earnings report, gross payment volume came in at just over $10 billion. That number did not include payments through Square Cash. However, I believe it is safe to assume that Square equal no more than 20% of Square's gross payments volume and is likely well under $2 billion dollars. Square also doesn't have the marketing budget that PayPal does and can't market the product as aggressively. The one advantage Square has is its popularity among small merchants who don't have the hardware to support products like Visa payWave.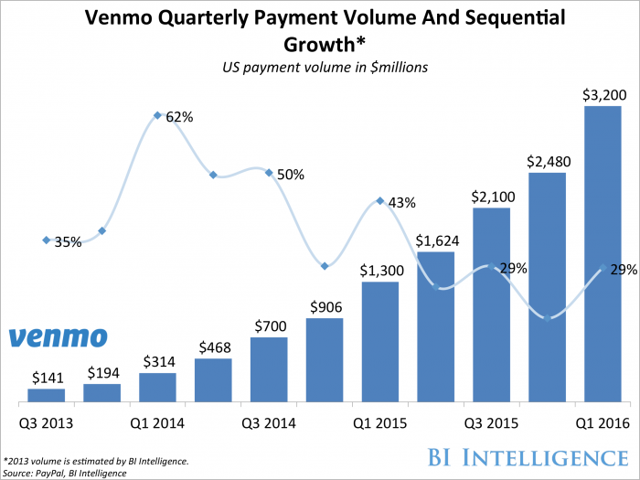 PayPal Expands Merchant Accounts
The partnership between Visa and PayPal is also extremely valuable to merchants. Without any additional hardware or software costs, merchants can now accept another form of payment. According to PayPal's earning report, at the end of the second quarter they had 14.5 million active merchant accounts, with retail giants like IKEA. This represents ~500,000 merchants accounts added to the platform since the end of the first quarter of this year. Keep in mind that this number was released before the announcement of additional merchants now accepting PayPal wallet thanks to the VDEP agreement.
Fee Worries Linger
The Royal Bank of Canada cut its 2017 earnings estimates after PayPal reported its second quarter numbers. Analysts from the bank argued that as the company moves from bank transfers to fee-based Visa transfers, PayPal's margins will experience a squeeze. An analyst from Autonomous Research, Craig Maurer, argues that the deal fee discounts won't make up for the high expense of using Visa's payment network more. PayPal realizes the higher fee's will impact their margins, but say that this is offset by the payment volume that will be generated by the deal.
The Bottom Line
The Visa agreement vastly increases the number of U.S. merchants that will accept PayPal as a form of payment. With no hardware additions, merchants with a Visa payWave reader will be able to accept PayPal. Venmo continues to assert itself as the dominant P2P payment application, growing payment volume by more than 20% quarter-over-quarter basis for the last two years. This deal signals PayPal's first major move as an independent firm ready disrupt traditional payment systems but also using their networks to their advantage.
Disclosure: I/we have no positions in any stocks mentioned, and no plans to initiate any positions within the next 72 hours.
I wrote this article myself, and it expresses my own opinions. I am not receiving compensation for it (other than from Seeking Alpha). I have no business relationship with any company whose stock is mentioned in this article.