A story that never fails to bring a smile to your face and warmth to your heart is the story of Bill Ruane adopting a block in Harlem; renovating buildings and paying for children to attend private school. His work in Harlem led to a program where children in various neighborhoods were encouraged to read at a young age. He was also deeply committed to mental health treatment and established a foundation to screen teenagers for symptoms of depression. Bill Ruane was a very good person.
Most know of him through the asset management company he founded, Ruane, Cunniff & Goldfarb, and its flagship fund Sequoia (MUTF:SEQUX). The company came into existence when The Buffett Partnership dissolved and The Sequoia Fund was started by Ruane and Richard Cunniff as a place for former Buffett investors to put their money. Cunniff was critical to the partnership and success of the fund from its earliest days. The two met while they were both analysts at Kidder, Peabody & Co. The partnership initially included Sidney Stires who, like Ruane and Cunniff, was from New York and attended Harvard Business School.
After a rough start, the fund prospered. Investors who put $10,000 into the Sequoia Fund in 1970 would have $3.4 million today versus $1.1 million from an investment in the S&P 500. (That works out to CAGRs of 13.5% and 10.7% respectively; it's worth mentioning that an investment in Berkshire Hathaway (BRK.A, BRK.B) at the same time would now be worth $46 million today, a 20.1% compounded return.)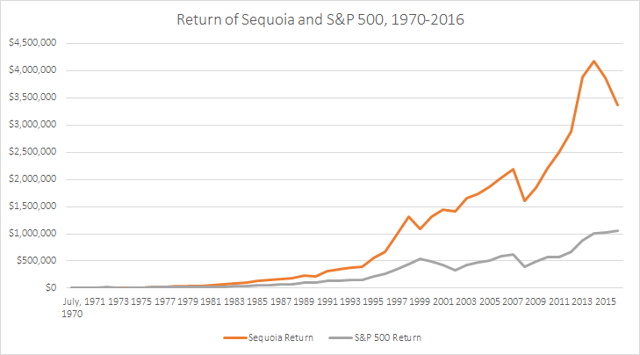 Ruane and Cunniff may have learned about investing from Benjamin Graham, but the fund has never been one to merely buy cheap assets, and has always had a slant towards quality, an investing style more akin to Phillip Fisher, known as the father of growth investing, than it ever did to Graham. Ruane explained the fund's philosophy in his 1999 letter to investors, and it's unsurprisingly similar to the gospel of every Buffett acolyte.
"Our longstanding approach to investing has been based on a few core principles. First, we try to own common stocks of high quality companies with good earnings growth prospects. We look for superior returns on invested capital, and we look for the returns to be sustainable well into the future. It's the last part of this requirement that is particularly tricky to assess. Second, we try to buy these companies at prices we believe underestimate their real value. This criterion dramatically narrows the field of potential candidates, as great companies are usually already recognized by the market. Third, when we find the first two elements together, we want to own a lot of the stock. And finally, we hope to hold these investments for many years as long as the fundamentals remain sound and earnings prospects remain favorable. We will generally hold an investment even if it faces some short-term challenges, or if its "sector" falls out of favor, or if it gets a bit ahead of itself. We will sell some or all of a position if we feel its valuation has reached levels which appear excessive relative to likely earnings prospects. These simple principles have served us well over the past 30 years, although we had a tendency to leave a fair amount of money on the table. As a result, in recent years we adopted a tolerance for holding stocks at higher valuation levels than in the past. This evolution contributed to our outsized results in 1997 and 1998, but also was a factor in our unusually poor results in 1999."
Aside from operating with Buffett-like principles, the firm also put a tremendous emphasis on research. In the 1996 letter to shareholders, Ruane discussed what he felt set the fund apart in this regard, primarily that there was no separation between research and portfolio management functions.
Ruane also made some comments in that letter regarding Bob Goldfarb, one of the portfolio managers:
"I have designated Bob Goldfarb in my will as the trustee and money manager for essentially all of the personal finances of my wife and family in total confidence that he will provide both outstanding prudence and sound growth of capital for them. The common stock portion of my family's investment accounts is almost entirely invested in Sequoia. Further, I have also named Carley [Cunniff] as successor trustee to Bob. I do not believe the future of the firm and the security of my family could be in finer hands."
Sadly, Bill Ruane died of lung cancer in 2005 and Richard Cunniff died of congestive heart failure in 2014. Prior to Ruane's death, Robert Goldfarb had already been playing a major role at the firm and took over sole management after Ruane died. Goldfarb had been one of the first analysts that had been hired for the fund in 1971.
What changed with Goldfarb? Not a lot, initially. Over time, the fund expanded the number of equities that it held, but maintained a concentration far greater than most any other mutual fund.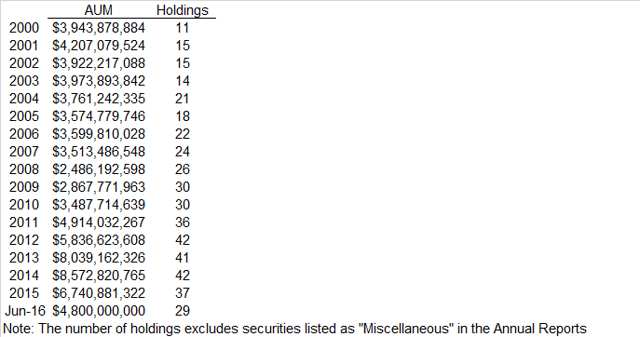 Source: Sequoia Fund Annual Reports
The basic approach of Sequoia and the tone of the letters that shareholders received never changed drastically. By all accounts, Bob Goldfarb was (and is) extremely well respected, intelligent, and hard working. That made what happened next all the more sad.
Sometime in 2010, Goldfarb was introduced to Mike Pearson, the fairly new CEO of Valeant Pharmaceuticals (NYSE:VRX), and he promptly joined the Mike Pearson fan club. He bought into the company while simultaneously selling part of the fund's Berkshire stake. By the end of 2010, Valeant was already Sequoia's second largest holding. Goldfarb described Pearson as a "value in investor in pharmaceutical products" while also praising the tax efficiency and low-R&D business model of the company.
To be fair to Goldfarb, at the time of his initial investment, Valeant had not yet engaged in its worst behavior. But, Goldfarb seems to have lost his ability to maintain perspective on his investment as time passed. After allegations of misconduct began circulating and Valeant's share price dropped, Goldfarb purchased more, prompting the resignation of two independent board members. The allocation of the fund to Valeant reached 32% at its peak.
As a result of the Valeant disaster, Mr. Goldfarb resigned earlier this year.
The Fund Today
The fund has made a couple of changes in the wake of its challenges. One, even though David Poppe is managing the fund (it should be noted that his record when it comes to Valeant is not clean either), a team of people will be jointly responsible for decision making and can share ideas and overrule each other. Hopefully, this structure will eliminate any analyst from falling in love with a company. There is also a rule that has been put in place that prohibits the fund from investing more than 20% of its assets in any one company. The fund has also completely sold out of its Valeant position, a wise move allowing it to start again with a clean slate. It is important to parse the past performance of the fund in order to better understand what a potential purchaser is getting themselves into.
The returns of the fund have benefited from owning Berkshire Hathaway for many years now, and it is reasonable to ask whether or not the fund has just been lucky throughout much of its life in owning a single home run investment that may not be indicative of future performance. Similarly, it is intelligent to ask how the fund performed outside of its Valeant investment. Even though the clock cannot be rewound, the investment in Valeant was so large and the returns, to the positive and the negative, have fluctuated so much over the life of the investment that a lot can be gleaned from momentarily ignoring it as well.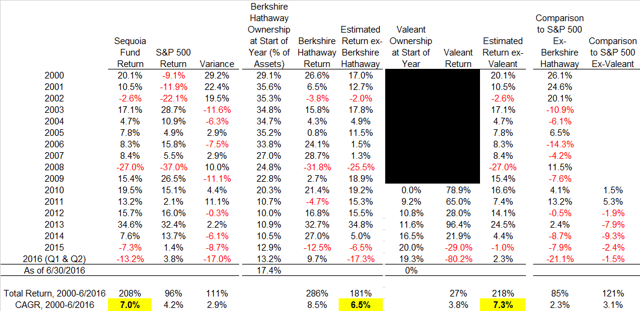 Source: Sequoia Fund Annual Reports and Yahoo! Finance
Looking back to the beginning of 2000, Sequoia has returned 7% for its investors versus 4.2% for the S&P 500, a more than satisfactory result. Excluding Berkshire Hathaway, the fund would have returned about 6.5% over that period, and excluding Valeant, it would have returned 7.3%. Both results still beat the S&P 500.
More recent results do not look as positive, however. For example, if you exclude the positive Valeant results from 2012, 2013, and 2014, the fund trails the performance of the S&P 500, and excluding the negative performance of 2015 and 2016 is not enough to push results above the performance of its benchmark.
One view of this performance is simply that Sequoia no longer is producing ideas to warrant the fees that it charges or perhaps a broader view is a reinforcement of the efficient markets hypothesis - the odds will catch up to every fund sooner or later. That view is not one that is entirely invalid.
But another, more charitable view, is that Sequoia is a fund that is not designed to beat indexes in sharply rising markets. The fund routinely holds large cash balances, currently at around 13% of assets. It also has tended to avoid economically-sensitive sectors, as the below chart outlining the largest sectors the fund has invested in shows.

Source: Sequoia Fund Annual Reports and Morningstar
Sequoia is consequently not a very good fund to bet on if you are making bets on directions in equity prices. In a market that is rising quickly, Sequoia is likely to underperform. In a falling market, Sequoia will also fall, albeit less than the overall averages. But for those willing to hold a single fund over the course of a full cycle of ten years or more, there is still a very good chance that Sequoia could be a worthwhile holding and outperform benchmark equity averages.
Recent Moves
The largest holdings of the fund as of the end of June reveal its continued emphasis on owning quality companies and holding them for a very long period of time.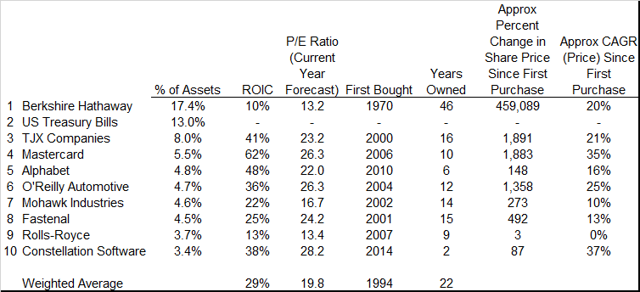 Notes: Excluding Berkshire Hathaway, the average holding period falls from 22 years to 11 years. Berkshire Hathaway's ROIC is the ten-year growth in book value per share and its PE ratio is based on the fund's own estimate of look through earnings.
The top holdings currently have a weighted average ROIC of 29% and a multiple of about 20. That compares to a long-term ROIC for the overall market in the range of 10% to 12% and a multiple on current year earnings of about 20 as well.
Large changes should not be expected in the future despite the recent turnover at the top. The immediate changes that have been made have been to sell the remaining Valeant shares as well as Allergan (NYSE:AGN), IDEXX Laboratories (NASDAQ:IDXX), and Cabela's (NYSE:CAB).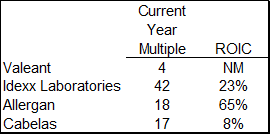 IDEXX had been owned for thirteen years and was sold solely on valuation concerns, while Allergan was sold because the fund managers expect drug pricing to come under continued pressure. Cabela's was sold as the share price has risen while the company explores a sale of itself.
At the same time, four stocks were purchased: CarMax (NYSE:KMX), Wells Fargo (NYSE:WFC), Chipotle (NYSE:CMG), and Charles Schwab (NYSE:SCHW). CarMax is a very high quality business that has held a dominant position in Markel's investment portfolio for many years, while Wells Fargo and Charles Schwab are two terrific financials.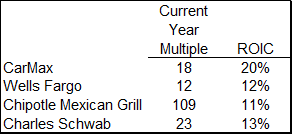 Summary
Many investors prefer low fee passive funds to actively managed ones, which is an understandable and intelligent position to take. To those with a desire for active management, Sequoia is a fund that should continue to be considered for a few key reasons:
The fund invests in a portfolio distinct from the S&P 500, providing true diversification, unlike closet index funds.
It appears that the management of the fund learned genuine lessons from recent struggles and instituted meaningful changes to avoid a similar experience in the future.
The businesses the fund owns are exceptional and it seems likely that the research-driven strategy will continue to produce returns moderately above the S&P 500 over the course of a full bull-bear market cycle.
With assets under management of ~$4.8 billion, the fund can continue to pursue ideas with a broad range of market capitalizations.
The managers continue to hold most of their own wealth in the fund.
The fund that Bill Ruane and Richard Cunniff built had a solid foundation that is likely to survive the sad consequences of a single investment that proved to be terribly ill-advised. With the fund recently being re-opened to new investors, it would be wise to take a look at shares of the fund.
Disclosure: I am/we are long SEQUX, BRK.B.
I wrote this article myself, and it expresses my own opinions. I am not receiving compensation for it (other than from Seeking Alpha). I have no business relationship with any company whose stock is mentioned in this article.