Last month I wrote about the Walgreens-Rite Aid merger and provided a few financial analytics from our monitoring platform Today, the merger is still in FTC limbo but Walgreens (NASDAQ:WBA) CEO Stefano Pessina earlier this month said he expected the deal to go through by the end of 2016. He also estimated Walgreens would divest 500 stores, well short of the 1,000 potential closures the company cited at the beginning of the deal. Walgreens, for its part, seems confident in the deal beyond the CEO's comments. A source for the New York Post said that the company was selling store in areas of overlap, while the company also completed a bond offering to help pay for Rite Aid (NYSE:RAD).
Sources and bond offerings aside, investors are not convinced. Showing the market's lack of confidence about the deal's prospects, there is still about a $2 spread between the current stock price and the $9 a share offer. Some are worried about FTC approval, especially after recent high profile mergers are being challenged in the health insurer area among others. Others worry that, though the deal may get approval, the divestment requirements would be too high for Walgreens to still find the deal desirable.
Amidst the speculation about the deal's chances, I wanted to take a step back and consider some of Walgreens' and its peer groups' corporate governance trends. These companies are widely covered, but we rarely hear about things from the executive level, other than a high-profile personnel move. For the comparison I used our free real-time monitoring platform and ran CVS (NYSE:CVS), Walgreens, and Rite Aid. The trends hosted on our platform help investors decide how well executive and shareholder interests are aligned and learn more about often-obscured board membership. Also, the Board Skills Matrix, our new feature, helps to signal board proficiencies and how those skills align with company strategy and a shifting marketplace.
Total Shareholder Return
Before diving into governance trends I like to take a top-level view of total shareholder return for perspective. Because I only ran the three major drugstore chains, I let each stand separately in the total shareholder returns chart instead of doing our usual peer set median. Each return listed is from the beginning of 2012. Below, you can follow the erratic ride of Rite Aid's returns since the Walgreen's offer, jumping up in October of 2015 after the deal was announced, to dropping rapidly as doubt about the deal's execution mounts here recently. On the deal announcement, Rite Aid went from 378% return (at close on October 7th) to above 500% later that month. On the other side of this variability, it went from 500% at market close June 21st to 440% on July 26th, just over a month later. Alternatively, Walgreens' and CVS's returns have pretty closely paralleled each other for years. CVS at market close on July 26th was at 142% return, while Walgreens was at 171%. These returns assume dividend reinvestment.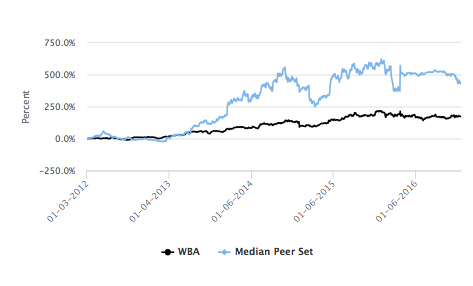 Exhibit 1: Total Shareholder Return (Median Peer Set represents Rite Aid)
Source: Enlight Research, LLC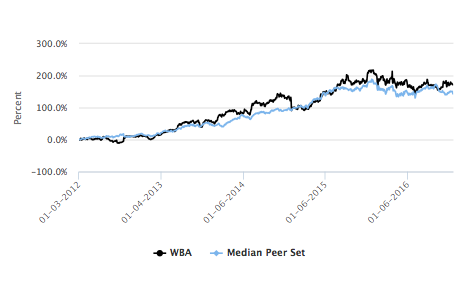 Exhibit 2: Total Shareholder Return (Median Peer Set represents CVS)
Source: Enlight Research, LLC
CEO Compensation
CVS and Rite Aid use an interesting mix for their CEO compensation packages. CVS, especially, relies less on long-term incentives than we typically like to see and both companies have substantial short-term incentives elements. How about Walgreens, you may ask? It is a bit of a story. CEO Stefano Pessina stepped in as acting CEO in January of last year due to the sudden retirement of his predecessor (and poignant lack of transparent succession preparation, regardless of suddenness, by the board). He was named to the position for the duration of the replacement search. Being the largest shareholder of the company he took no salary but the position came with an additional $7 million restricted equity grant in lieu of a salary. By July, he was named permanent CEO. This makes for a unique situation with a public company of this size (at least outside of software unicorns) having one person positioned as the CEO, a board director, and largest shareholder. Pessina acquired this equity position initially through the Walgreens merger with Alliance Boots, where he was the largest shareholder. When Pessina took over on January 1st, 2015 the total shareholder return was at 148%, so despite some turbulence the company is well up since the transition.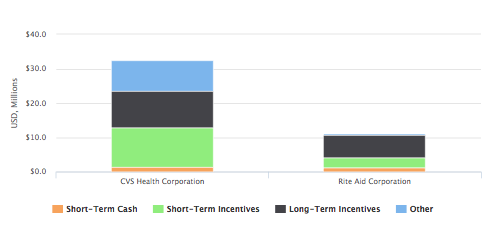 Exhibit 3: CEO Compensation
Source: Enlight Research, LLC
Of course CEO compensation tied to incentives is only a positive for shareholders if it is related to appropriate targets. A board can set a substantial incentive structure but negate it with easy to reach targets or limited downside. For Walgreens' shareholders this is certainly not an issue with the CEO's enormous equity position, despite other concerns that such a reality raises. The board's role to oversee management can be limited by non-independence of directors, but it is exceedingly rare for a non-independent dual-director and CEO to also own an equity stake remotely this large. It leaves open the possibility that with significant power to block challenges, the board could act as a rubberstamp for the controlling person, in this case Mr. Pessina. Despite the potential concerns, there is certainly something to be said for aligning personal wealth growth with wider shareholder interest for returns. Walgreens in 2016 Say-on-Pay garnered over 98% approval and has not dipped below 94% in recent years. Shareholders at the other two peers are not nearly as satisfied about executive compensation with CVS at just over 80% and Rite Aid at just over 52% in 2016 approval. Though these votes are nonbinding, some see dropping below 90% as a signal of shareholder discontent from a "significant" minority with below 70% as a signal of "grave concern" to directors.
Director Compensation
The board compensations of all three companies are largely a mix of directors' fees and long-term incentives. CVS uses a substantially higher long-term incentive structure, as well as higher total compensation, than the other two.

Exhibit 4: Director Compensation
Source: Enlight Research, LLC
What does this stock ownership look like in terms of the percent of common stock owned by the board of directors? Check it out below, along with the board common stock ownership in absolute terms. I like to see a large board equity position in the company to align commitment to the position and strategic decisions with shareholder returns. Walgreens, of course, more than meets that criterion and Mr. Pessina's equity stake dwarfs the peer set. Because the other columns are so small in relation I will just relate where they stand. CVS' directors' absolute position, that tiny sliver, is $84 million or .0836% of the common stock. Rite Aid's directors are at $30 million or .4124% of the common stock. Walgreens shows 13% but through other controlling interests that figure, just for Mr. Pessina, was reported as more like 20%. For context, just the 13% stake represents a value of nearly $11.5 billion.

Exhibit 5: Board Common Stock Ownership (Percentage)
Source: Enlight Research, LLC
Here is the board stock ownership in absolute terms, but remember the size differences.

Exhibit 6: Board Common Stock Ownership (Absolute)
Source: Enlight Research, LLC
Director Tenure
The median tenures among the peer set are pretty consistent in the 6-8 year range. Walgreens maintains a higher range of tenures, from 1.6 to 19.6 years, which I see as potentially helpful for retaining institutional knowledge. Also, though, I recognize the need for a dynamic board, refreshed with changing skills and experiences as the company grows and evolves in a shifting, competitive marketplace. The low medians across the peer set are solid indicators of board refreshment.

Exhibit 7: Board Tenure
Source: Enlight Research, LLC
Board Diversity

Exhibit 8: Board Diversity
Source: Enlight Research, LLC
The peer set is particularly gender diverse in the boardroom, with women representing between 22% and 30% of each company's board of directors. Women, according to the 20% by 2020 mid-2016 study, accounted for 17.9% of directors in the Fortune 1000. The goal of the 20% by 2020 campaign is to reach 20% women representation on the boards of the Fortune 1000. SEC Chair Mary Jo White recently reinforced her increasing focus on board diversity saying -
"Diversity on boards, and in organizations more generally, is very important to me and I have not shied away from expressing my strong views on the topic. As a former member of a public company board and its audit committee, I have seen first-hand what the research is telling us-boards with diverse members function better and are correlated with better company performance. This is precisely why investors have - and should have - an interest in diversity disclosure about board members and nominees."
Regardless of mixed performance or fairness arguments related to board diversity, shareholders at companies beyond potential thresholds are in more stable position should institutional investors, proxy advisors or regulators exert pressure to meet board diversity thresholds. Speaking of such pressures, here is a quick rundown of the increasing efforts from major stakeholders to push board diversity.
Board Skills Matrix
Our newest offering, now rolled out on our platform, is the Executive ID feature. Executive ID allows you and us to take a deeper dive into learning about the individuals that make up corporate boards of directors. Although activist and institutional investors have had the benefit of increasing their face-to-face interactions with corporate directors, it is extremely challenging as a retail investor to really analyze the directors who represent us in the boardroom. To mitigate this asymmetry, the feature includes board biographies, the Board Skills Matrix, and board equity positions. It is very rare for a company to disclose such a matrix - and when they do disclose it, it is often in response to an activist slate of nominees. With it, investors can determine if the board is staying relevant with the skills and experiences needed in a shifting competitive space. Below is the Board Skills Matrix for the peer set.
The boards in the peer set have a pretty even mix of areas of strength and weakness on our matrix. Fast Company recently reported cybersecurity as the "most critical skills gap" and it shows in this peer set as well. It might be worth gaining some experience and expertise in this area as costly data breaches become more and more pervasive.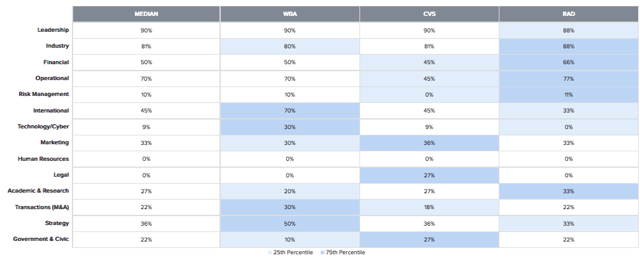 Exhibit 9: Board Skills Matrix
Source: Enlight Research, LLC
What Does This Mean?
Concerns about FTC approval and Walgreen's rejection of a deal with too many strings attached are fueling skepticism about the potential merger, but merger or not I find it valuable to take a step back and consider the people driving the businesses. The Board Skills Matrix and other analytics features allow investors to easily find this aggregated information all in one place. With it, investors can keep an eye on how executive incentives and actions, such as company equity ownership, align with shareholder's best interests.
To admit my ignorance, I had no idea about the dual-CEO and largest shareholder situation at Walgreens but enjoyed learning more about it after it was highlighted by the platform. I'm mixed about the benefits and drawbacks of the situation - it aligns incentives with shareholder return but also opens up the potential for governance abuses. Also, there is a question of how much alignment one can actually get with someone of billionaire wealth regardless of the company's fortunes. On the other hand, total shareholder return is significantly up since the transition. Beyond that debate, knowing where the board stands in terms of a skills matrix can help frame the qualifications behind important strategic decisions and potential problem areas.
Interested in seeing similar metrics done with another company and peer set? Drop us a comment, send us a private message, or check out our profile to access our free real-time monitoring platform.
Disclosure: I/we have no positions in any stocks mentioned, and no plans to initiate any positions within the next 72 hours.
I wrote this article myself, and it expresses my own opinions. I am not receiving compensation for it (other than from Seeking Alpha). I have no business relationship with any company whose stock is mentioned in this article.