One of my favorite investment themes is water. I pick themes as they cover a specific idea which I'm expecting to generate above average returns in the coming years. I believe water for a variety of reasons (water scarcity, large population, droughts, wasting water and more) is such an investment theme.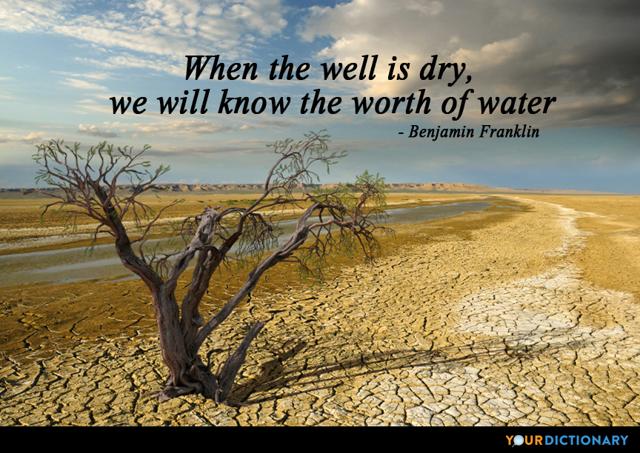 The issues concerning water are straightforward and coming at the world at an incredible pace. We are all aware of problems such as water scarcity which is becoming increasingly worrisome due to the growing population on earth. This problem goes hand in hand with wasting water. Either way, water is the circle of life and apparently a lot of people on this planet are lacking it. This builds an incredible investment theme going forward as it's unlikely that the water issues are being solved any time soon. We can live without an iPhone, but we can't without water.
So far I've written 10 specific water-related investment articles. The idea was to cover water utilities all over the world. The previous parts are the following: Part 10 Water Stocks in Britain, Part 9 How to Hedge A Water Portfolio (link), Part 8 ( Kurita Water Industries), Part 7 ( Suez Environment ( OTCPK:SZEVF)) Part 6 (Veolia( OTCPK:VEOEF)), Part 5 (American Water Works ( AWK)), Part 4 (Water ETFs), Part 3 (PowerShares Global Water Portfolio ETF (NYSEARCA: PIO)), Part 2 (First Trust ISE Water Index ETF ( FIW)) and Part 1 (PowerShares Water Resources Portfolio ETF ( PHO)).

American Water Works: Full Steam Ahead!
I've covered American Water Works (NYSE:AWK) before as part of the water-series I'm covering on Seeking Alpha. I concluded that AWK was going on full-steam ahead; appreciated by investors for the strategic path they have followed so far.
The stock has been doing extraordinary well in contrast to the stock market, especially last year: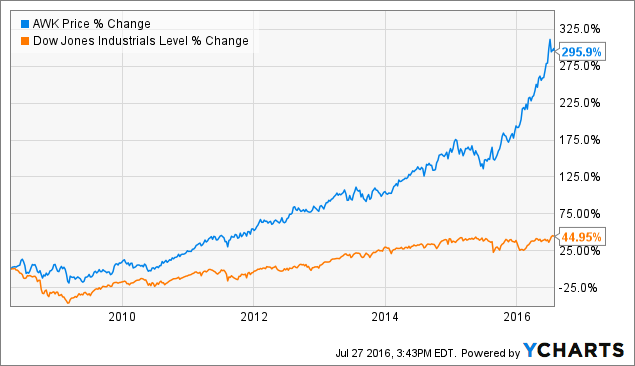 Nevertheless, the stock has increased nearly 40% year to date, and it is unlikely that this will continue in this similar fashion. No stock increases 40% per year, consistently.
This article will specifically look whether or not AWK deserves its incredible share price increase over the last 6 months, and whether or not it's overvalued or undervalued in comparison to its peers in the water utility industry. Especially, as I've covered many of its competitors before; are they waiting to grow similarly to American Water Works?
Looking at the graph over the last 12 months, the overall water industry has performed below average in comparison to the market and American Water Works: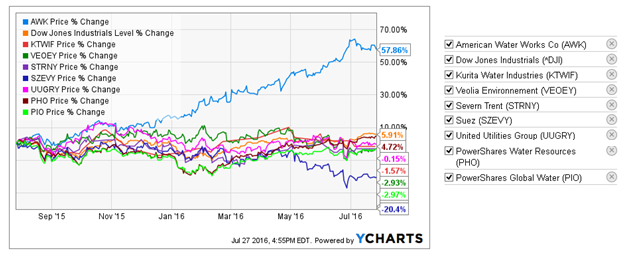 American Water Works: Can it be considered Blue Gold?
American Water Works provides water and wastewater services to millions of people in more than 40 states, as well as parts of Canada. It is the largest publicly traded water and wastewater utility company in the United States.
Based on their last results which were published a few months back, the performance was outstanding, and more importantly consistent: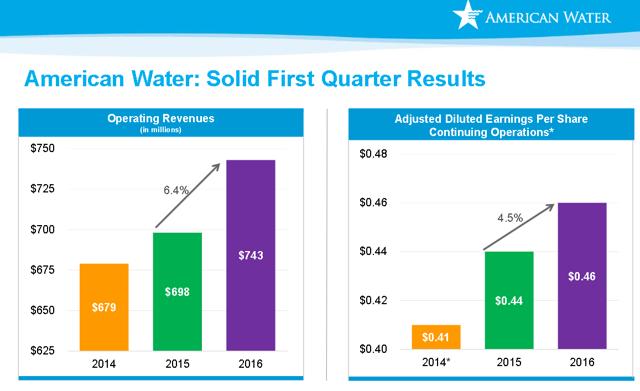 Source: Investor Presentation
These strong results allowed dividend to maintain a similar growth: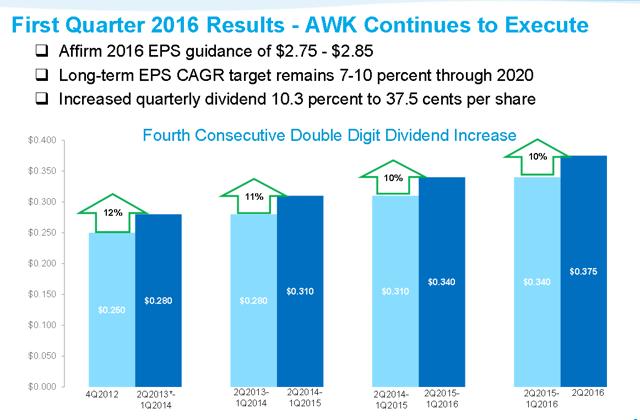 Source: Investor Presentation
This kind of consistent growth is also the overall and core business strategy for the firm in the coming years: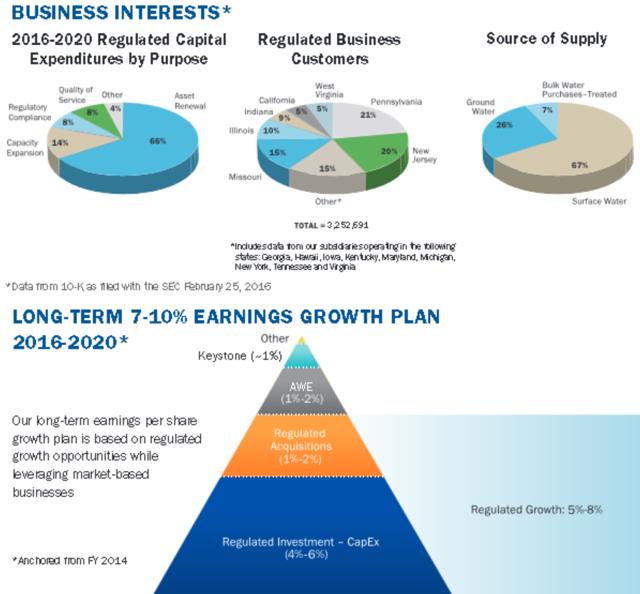 Source: factsheet American Water Works
This strategy means consistent growth through investment & acquisition; a very similar growth strategy like other water utilities I've covered before on Seeking Alpha. Acquisition and/or merger within the water industry seem logical, considering economies of scale account as much for water utilities as for other industries.
American Water Works: Analyst Recommendations
Analyst recommendations are not always favored among investors, but their recommendations have been researched in the world of academics, and there is ample evidence of a positive relationship between analyst recommendations and stock returns, for example in this academic article in the journal of Finance.
For this reason, it's worth having a look what analysts have to say about American Water Works. As can be seen underneath, analyst recommendations have shot through the roof aligned with a higher share price over the last year and a half: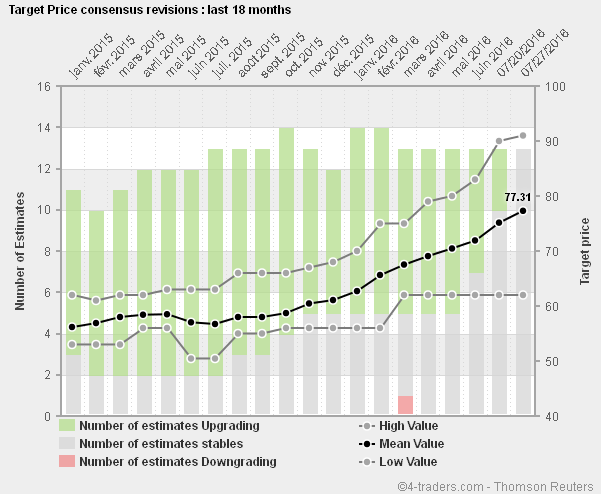 Nevertheless, EPS revision has been stagnating at best: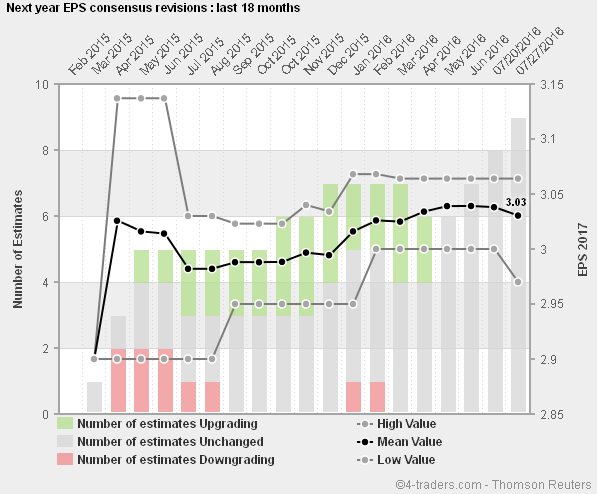 This seems contradictory, as analysts are increasing their price target but not increasing the expected EPS. So what about revenue?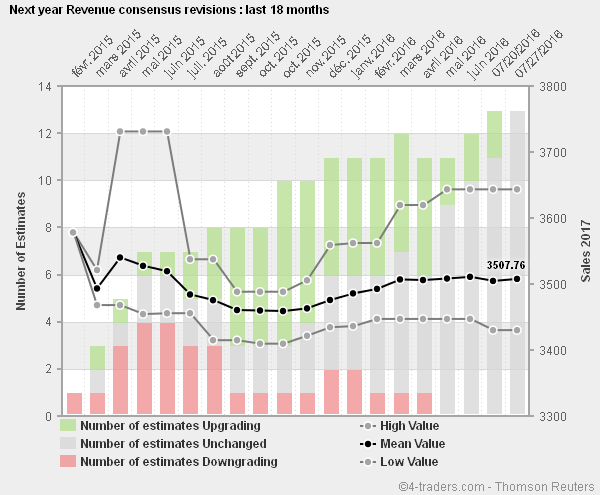 Clearly analysts are becoming more and more uncertain about the potential revenue growth as the high and low value is becoming increasingly divergent in the last months. This seems like a red flag.
Valuation - Irrational Exuberance & American Water Works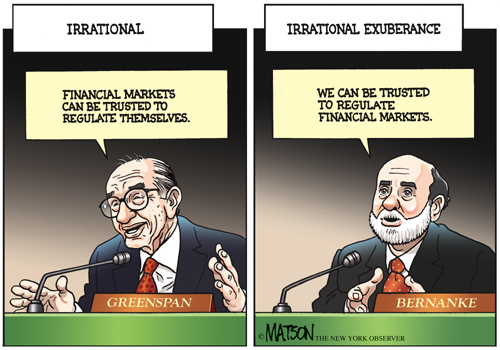 Irrational exuberance is never good unless when you realize why there is irrational exuberance. Knowing is half the battle, and this will allow the investor to anticipate and jump out before the stock reaches a certain cliff and is about to drop. I believe AWK has increased simply because its considered a much better water utility than its peers, yet shareholders have walked way too quickly which made the firm overvalued. So far the firm has been nearly up 40% yet I've read a variety of articles where certain downgrades of the stock are considered 'foolish' and' American Water Works is under a strong bear grip after down 3% in 4 weeks'. It's always hard to take that serious, as 3% down in a few weeks is purely random behavior while nearly 40% up in 6 months is absolutely impressive and statistically very unlikely to continue.
Nevertheless, I believe American Water Works is a case where the share price increased, earnings increased, yet its P/E went up, unequivocally meaning that price went up more than earnings. This creates a negative pricing discrepancy. Based on historical performance, AWK is overvalued, and based on academic research, which suggest lower P/E outperforms higher P/E in the long run, it's a gut feeling that AWK, at its current price, is simply a tad too expensive.
Stocks with high P/E have a lower probability to outperform stocks with lower P/E's over a longer period of time, as can be shown underneath: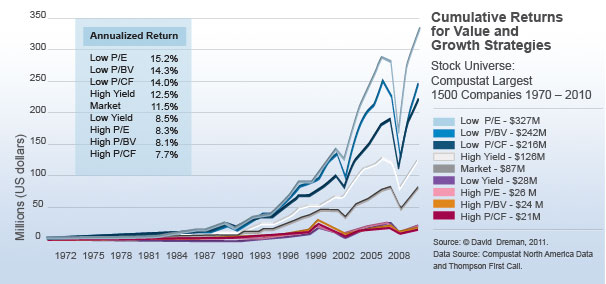 Source: Dreman.com
I am uncomfortable with such high P/E's, even though its American counterparts are very similar valued. California Water Service Group (NYSE:CWT), American States Water Company and Aqua America are trading at similar valuations: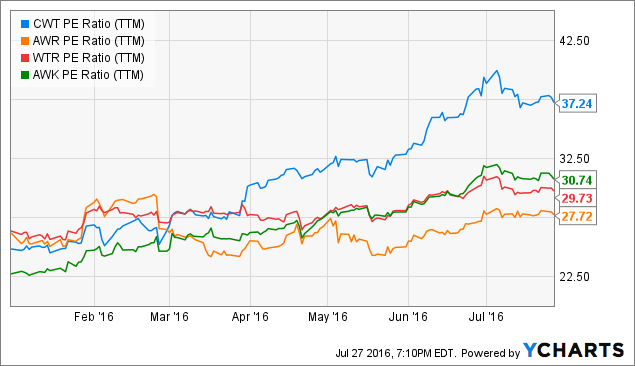 Nevertheless, American Water Works has the best performance: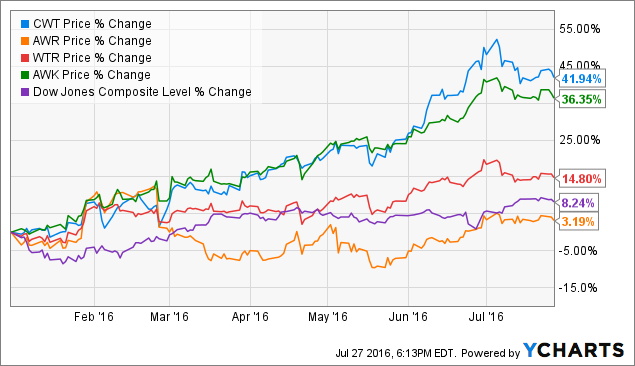 Moreover, if we compare this with the other water utility firms I've covered so far outside America, such as Veolia & Suez in France, United Utilities & Severn Trent in the United Kingdom, Kurita in Japan, a different picture emerges: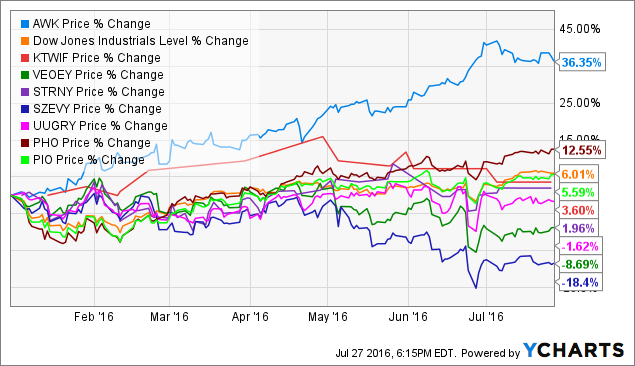 Why would the value of water be more highly regarded in America than in other countries? Especially as profitability of for example British Water utility firms is higher than the ones in America.
Earnings - Revenue - Profitability to Price ratio
Another point is earnings, revenue and profitability to price development. American Water Works share price performance has been increasing much higher than revenue, earnings and profitability: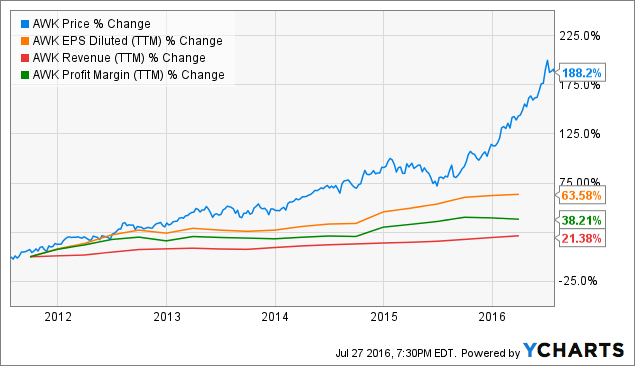 This process is equal to an everlasting growing P/E. Looking back at the expected corporate plans of American Water Works where they expect high single digit growth, this kind of share price will not hold up and is likely to come to an end at some point.
Nevertheless, we shouldn't be too pessimistic either, slowing revenue often means a much larger anticipated increase in boosting margins, as was the case with for example United Utilities, one of the British water utility firms I've covered in my last article: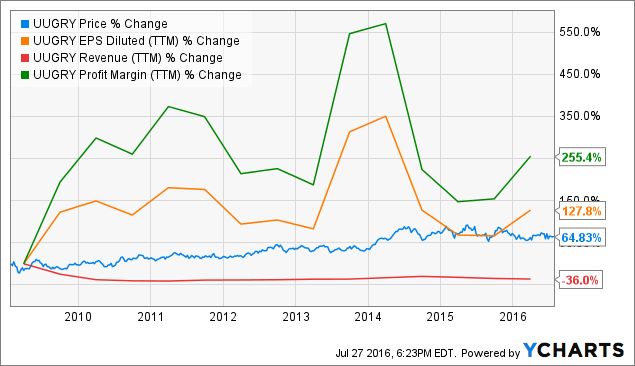 Conclusion
For anyone holding American Water Works, there is no immediate concern to sell. Nevertheless, it seems investors are taking a quicker pace with American Water Works than the actual business performance.
If American Water Works is priced so highly due to the given fact that it's a water utility, one could wonder why all the other water utility firms not share the same valuation. Either American Water Works is highly overvalued, or the rest of the firms are significantly undervalued. After the analysis in this article it's clear that American Water Works clearly is a top contender in the water utility industry by showing consistency, an investment characteristic which is appreciated by many investors. Unfortunately, investors dived in with both feet making irrational exuberance an interesting given. American Water Works will not continue to grow in share price if earnings, revenue and profitability can't keep up with shareholder expectation's.
Disclaimer: This article provides opinions and information, but does not contain recommendations or personal investment advice to any specific person for any particular purpose. Do your own research or obtain suitable personal a dvice. You are responsible for your own investment decisions. This information is not a recommendation or solicitation to buy or sell securities, nor am I a registered investment advisor.
Disclosure: I/we have no positions in any stocks mentioned, and no plans to initiate any positions within the next 72 hours.
I wrote this article myself, and it expresses my own opinions. I am not receiving compensation for it (other than from Seeking Alpha). I have no business relationship with any company whose stock is mentioned in this article.
Editor's Note: This article discusses one or more securities that do not trade on a major U.S. exchange. Please be aware of the risks associated with these stocks.