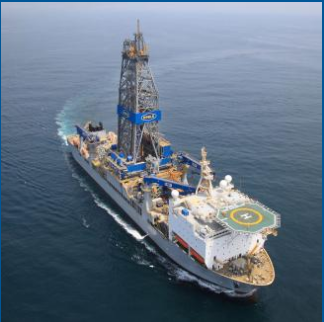 Noble Bob Douglas. Source: Company website
Noble Corp. (NYSE: NE) has just reported its second-quarter results. The uneventful fleet status report left Noble Corp. shares no chance but to slide alongside oil prices. The quarterly report is more interesting, although I doubt it will bring many buyers to the company's shares.
In offshore drilling, new contracts are much more important than earnings numbers, so I will start by saying that Noble Bob Douglas has been awarded a contract offshore Suriname. It's a one-well contract that starts right after the rig ends its current work for Anadarko (NYSE: APC) in February 2017. No further details on the contract were provided.
Atwood Oceanics (NYSE: ATW) has recently released its fleet status report, and the company also gained a one-well contract for a rig in 2017.
Perhaps we are seeing a new trend that will shape the industry in 2017. Oil producers are not ready to commit much funds to offshore in 2017, so they will try here and there with one-well programs. This is surely not a great development for those who expected any kind of a meaningful rebound, but it's certainly better than nothing.
Now, let's go back to Noble Corp.'s earnings.
The company reported net income of $1.33 per share, but this number was heavily affected by the cancellation agreement with Freeport-McMoRan (NYSE: FCX), as well as a few other minor changes. Excluding these items, Noble Corp. would have reported net income of $0.01 per share.
We are coming to a point where those who don't follow the industry closely will stop pointing to P/E numbers. The E component is disappearing as rigs roll off their previous contracts and new contracts don't show up.
At least Noble Corp. will not have to deal with yards anytime soon.
While the company's competitors are scratching their hands figuring how to delay their newbuilds to 2019 and beyond, Noble Corp. took delivery of Noble Lloyd Noble and finished its newbuild program.
Noble Corp. made the final payment of $409 million on July 15, and its cash position was reduced from $823 million to $414 million.
The company also revised its 2016 capital spending estimate from $800 million to $675 million, so it is tightening its belts after taking the final delivery.
Noble Corp. now does not have a major cash cushion, but retains access to $2.445 billion under the credit facility.
I see no near-term liquidity risks for the company, but there are also no positive catalysts that should reverse the downside in the shares.
Apart from the upside in oil prices, Noble Corp.'s main hope is that its relative underperformance will finally be noticed by investors willing to make a bet on the industry.
In my article on Ensco's (NYSE: ESV) results, I suggested that money from speculative drillers may flow into more stable drillers, but there's another opportunity.
Rowan Companies (NYSE: RDC) and Diamond Offshore Drilling (NYSE: DO) have long traded as if there was nothing wrong with the oil price, and investors who took profits in them might take a look at laggards like Noble Corp.
However, this is all speculation. The reality is that Noble Corp. has to come up with positive catalysts to inspire buying at current levels. If oil prices don't recover soon, the stock may re-test lows last seen at the beginning of this year.
Disclosure: I/we have no positions in any stocks mentioned, and no plans to initiate any positions within the next 72 hours.
I wrote this article myself, and it expresses my own opinions. I am not receiving compensation for it (other than from Seeking Alpha). I have no business relationship with any company whose stock is mentioned in this article.
Additional disclosure: I may trade any of the above mentioned stocks.