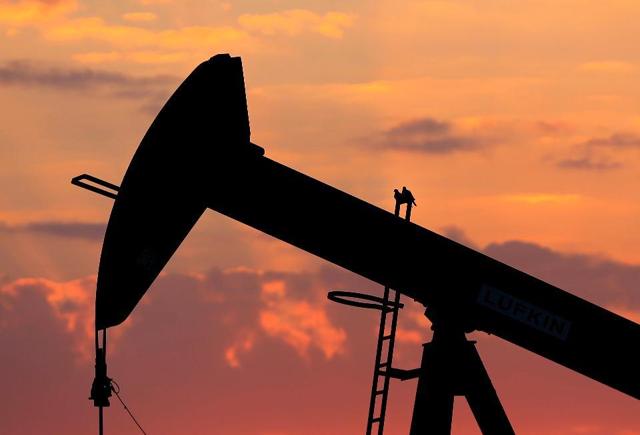 Weatherford International (NYSE:WFT) reported Q2 revenue of $1.4 billion and EPS of -$0.63; the company missed on revenue by about $18 million. I had the following takeaways on the quarter.
Weatherford Believes North America Has Bottomed. Really?
The popular narrative among oilfield services providers is that North America may have bottomed. With oil having touched $50 during the quarter, shale oil plays may be willing to increase drilling activity. In Weatherford's earnings release, management stated, "We believe North America activity levels have hit a bottom."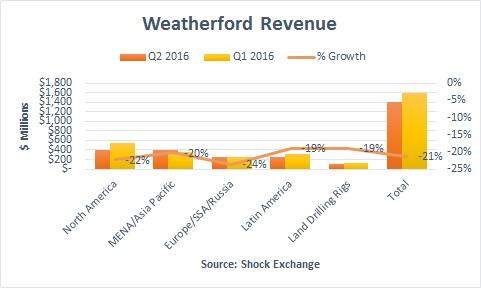 Total revenue fell 21% sequentially, while North America was off 22%. If North America has bottomed, then it could be a boon for the stock. North America represents 29% of total revenue and suffered negative EBITDA of $43 million. A rebound in the region could create scale, help Weatherford cut operating losses and have an outsized impact on earnings. As North America goes, so goes Weatherford.
Of note is that WTI crude oil nearly touched $42 on Wednesday, after the EIA reported a 1.7 million barrel rise in crude oil inventories. Shale oil plays have some of the highest breakeven costs in the industry. If oil prices continue to fall, North America land drillers might be forced to cut E&P in order to stem losses. That would be not bode well for Weatherford.
Increased Liquidity
During the quarter, the company raised net proceeds of $2.7 billion in debt.
The notes included (i) $1.265 billion in exchangeable (convertible) notes maturing in 2021; and (ii) $1.5 billion in senior debt, $750 million maturing in 2021 and $750 million maturing in 2023.
The company settled $1.9 billion face value of existing senior notes.
Weatherford replaced debt with near-term maturities for debt coming due in five to seven years. It all but eliminated potential cash outflows from principal payments due from 2017 to 2019.
The improved liquidity buys Weatherford time to benefit from an expected improvement in E&P and restructure the business so it can become cash flow-positive. A $630 million equity raise in Q1 helped shore up its balance sheet; WFT surged by double digits from Wall Street's bullishness. Whether its recent debt raise can create similar positive sentiment remains to be seen.
Takeaway
Weatherford continues to rightsize its cost structure. It ceased operations in three manufacturing and service facilities, and plans to close two more this year. Its planned 8,000 reduction in force is nearly complete, and management expects it to yield annual savings of $446 million.
That said, the company generated a meager $58 million in EBITDA this quarter, which pales in comparison to its $7 billion debt load. WFT could bounce over the next week, but investors should avoid the stock long term.
Disclosure: I am/we are short WFT.
I wrote this article myself, and it expresses my own opinions. I am not receiving compensation for it. I have no business relationship with any company whose stock is mentioned in this article.