Barrick Gold Q2 Earnings: 5 Things To Know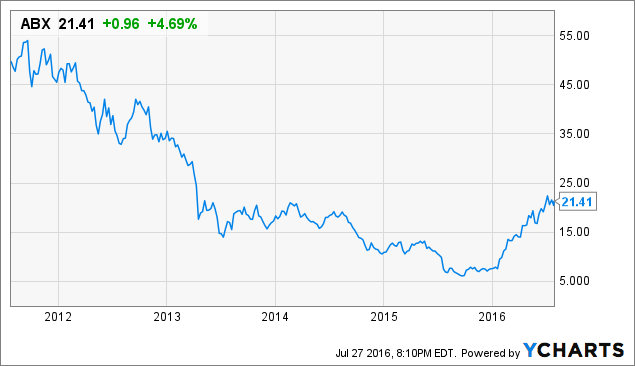 Barrick Gold (NYSE:ABX) has reported its second-quarter 2016 financial results, and I have to say, I am quite pleased with the progress Barrick Gold has made over the past few months. I thought this was a particularly strong quarter following up its strong first-quarter earnings.
While some of its success in Q2 had to do with higher gold prices, Barrick should be praised for reducing its cash costs and reporting strong production at its operating mines. It's starting to look like George Soros' $264 million bet on Barrick Gold is a real smart move by the billionaire investor.
Here are five things I think investors should focus on from the Q2 earnings report.
1. It was a really profitable quarter.
Don't be fooled by the company's "weak" net earnings of $138 million ($.12 per share). The more important figure is free cash flow, and this figure rose to $274 million in Q2, marking the fifth consecutive quarter of positive free cash flow.
It's a noticeable improvement from Q1 when Barrick reported $181 million in free cash flow. Second-quarter EBITDA was strong at $881 million, a big jump from Q1's $696 million. Free cash flow should only improve in Q3 as the price of gold has held steady above $1,300 for quite some time now.
The company reported an average realized gold price of $1,259 per ounce, up from $1,181 in Q1. So it looks like a rise of just $78 per gold ounce had a real positive effect on Barrick's free cash flow as expected. However, we should dig a bit deeper than that and give credit where credit is due.
2. All-in sustaining cost falls and guidance has been reduced yet again.
Yup, higher realized gold prices were combined with falling cash costs and higher gold output, with $782 AISC. Overall, its costs fell 13% year over year.
The strong results can be attributed to a few mines in particular. Cortez produced 248,000 ounces of gold at $558 AISC in Q2, and is now expected to produce 980,000-1,050,000 ounces of gold in 2016 at AISC of $520-$550 per ounce, compared to the previous guidance range of 900,000-1,000,000 ounces at all-in sustaining costs of $580-$640 per ounce.
Another strong performer was Turquoise Ridge: 79,000 ounces were produced in Q2 at $621 AISC. For 2016, Barrick's share of production at the mine is now expected to be in the range of 240,000-260,000 ounces of gold at $640-$700 AISC, compared to previous guidance of 200,000-220,000 ounces at $770-$850 AISC.
Other strong and steady performers included the Pueblo Viejo mine (150,000 ounces produced at $634 AISC) and the Lagunas Norte mine (124,000 ounces produced at $585 AISC).
Based on the strong start to the year, Barrick has reduced its AISC guidance for 2016 to $750-$790 per ounce, which is down slightly from $760-$810 per ounce at the end of the first quarter, and also below its original 2016 guidance of $775-$825.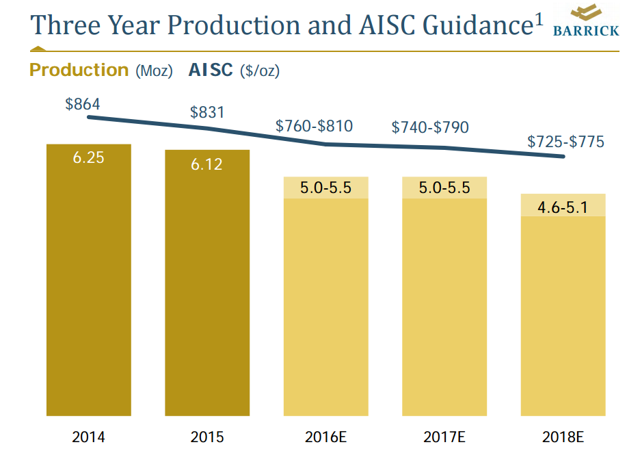 (Source: Barrick Presentation)
Meanwhile, Barrick says it has a goal to lower its all-in sustaining costs to $725-$775 an ounce by 2018 and below $700 by 2019, and this goal looks attainable given its strong results and continued focus on reducing costs.
3. Commercial production begins at the Jabal Sayid copper mine.
This milestone at the 50% joint-venture mine allows Barrick to increase its 2016 copper guidance to 380-430 million pounds, up from its original guidance of 370-410 million pounds.
For the full year, Barrick expects its AISC to average between $1.95-$2.25 per copper pound. This is a higher-cost asset for Barrick now, but costs should fall as production is ramped up to 100 million pounds per year by the second half of 2017. Barrick's share of the proven and probable copper reserves at this mine is 698.1 million pounds.
4. Net debt is declining at a fast pace.
Barrick ended Q2 with $8.82 billion in total debt and $2.44 billion in cash and equivalents. Therefore, its net debt now sits around $6.38 billion.
The company says it's on track to reduce its total net debt by $2 billion this year after cutting it by $3.1 billion in 2015. Nearly $1 billion in debt repayments have occurred since the start of the year, so another $1 billion in debt repayments remain.
Barrick's goal over the next few years is to reduce its total debt to below $5 billion from close to $9 billion currently. The company has less than $150 million in debt maturing before 2018, and $5 billion of its outstanding debt does not mature until after 2032, so the company's financial position has definitely improved.
I think Barrick's debt reduction goal is likely to happen based on the progress Barrick has made so far this year and last year, and for the next point below.
5. More non-core asset sales are coming.
The company announced that it will initiate a process to explore the sale of its 50% stake in the KCGM operation in Western Australia. This will really help it meet its debt reduction targets as this is a profitable operation (350,000 to 365,000 gold ounces estimated for 2016 at AISC between $670-$700 per ounce).
In addition, news has broken that Barrick will explore the sale of its 64% stake in Acacia Mining (OTCPK:ABGLF), which is a London-listed gold miner with three producing mines in Tanzania.
This is pretty significant news, because Barrick's stake in Acacia is currently worth about $1.9 billion based on Acacia's market capitalization. This is welcome news for shareholders in my opinion as Acacia is one of Barrick's highest-cost assets with all-in sustaining cost guidance of $950-$980 this year, and the sale would go a long way to reduce Barrick's net debt.
The bottom line this quarter is Barrick continues to execute. Shares are up close to 200% year to date, however, so I think investors should be patient and wait for a potential pullback before initiating a new position or adding to previous positions.
Disclosure: I/we have no positions in any stocks mentioned, and no plans to initiate any positions within the next 72 hours.
I wrote this article myself, and it expresses my own opinions. I am not receiving compensation for it (other than from Seeking Alpha). I have no business relationship with any company whose stock is mentioned in this article.