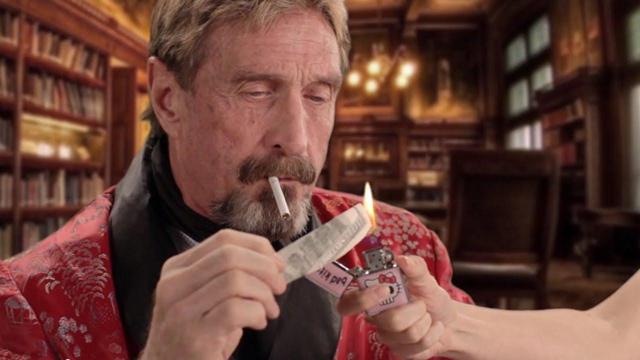 MGT Capital Investments Inc. (NYSEMKT: MGT) has had quite an eventful 2016. The stock began the year at just $0.30 but soon shot up to $5.50 after the company roped in internet pioneer John McAfee to steer it into a brighter future.
The frenzy seems to have calmed down a bit now as investors begin assessing the true potential of the Harrison-based cybersecurity company. The company has taken some steps such as bringing leaders from several fields on board and acquiring technologies to make MGT the only company developing targeted solutions for both the consumer and the enterprise markets. So, for the naysayers who are saying that the company does not have a plan are outright wrong. Getting together the required elements is a part of the business plan, ain't it?
There Is A Plan!!
There are plenty of analysts out there bashing the company unequivocally for its lack of cash flows and earnings. I am not long on MGT but, doesn't it seem far-fetched to ask the company to give its projections for the earnings one or two years from now? John McAfee is trying to assemble a team of highly experienced professionals to cater to a really broad market. It can be easily discovered by those who are tracking the company closely, and reading the SEC filings. Things like revenues, cash flows and profits are probably not on his mind, and they should neither be on the investors' (at least not for now, have some patience!). What the investors should instead focus on is whether the company is taking the right steps in the direction to carve its niche in the cybersecurity market. If you think that the steps being announced are practical and are being implemented, just stay the course! If not, nobody can stop you from leaving.
The Myth Of Price Targets
Price targets are easy to give at this point. You must be confused with what I just said. What I intend to convey is that there is no point even discussing the price targets at this juncture, because if you do so you are probably only looking at the ticker every day and hoping to sell your stake whenever there is green. This is clearly not investing, and anyone who is serious about making money in the stock market should leave this dangerous habit. At this point, none of the price targets matter, be it $1 or $2 or for the sake of it, even $5, when they will all be arbitrary numbers backed by nothing but emotions and personal bias.
To be honest, there is no good way to analyze how the returns will be. They may be exceptional in years to come, or you risk losing whatever you invest. It is truly a gamble which may pay off generously if the company continues on its path to create a proper structure to handle its operations.
No Way To Make Money By Trading!
When the stock crossed $5 in May, you could hear some voices calling for $8 per share. But, the stock crashed to $2.27 the same day it hit its two-year high of $5.58. So much for the euphoria!
After some time, the stock again went up again to $4.50 on July 7. Fast forward three weeks, and the stock is now at $2.94.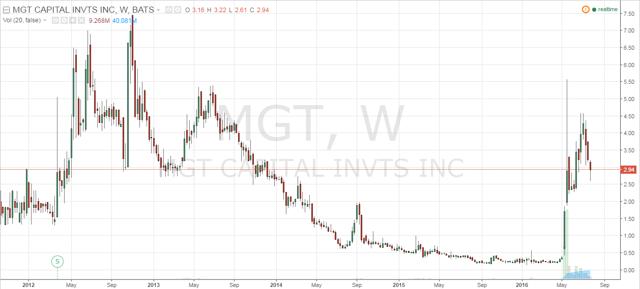 Source: TradingView
The point being: You clearly cannot make money trading such stocks. If you do so, you will burn hands most of the time. No amount of technical analysis can predict or help you ascertain the abrupt moves in such stocks which can be easily fiddled with. Volatility will continue to be a formidable impediment in the future as well. On a brighter note, it will work well enough to shake off the weaker hands.
At the current valuation, MGT has a market cap of $50.83 million. Investments in such tiny companies are always fraught with risk, and trading on day-to-day basis rarely helps.
Conclusion
It is never easier to invest in highly-volatile, micro-cap stocks as volatility reigns supreme in the initial days. Investors should also not be discouraged by the unsubstantiated price targets but focus more on the fundamentals of the company. No multibagger was born without its fair share of controversies. There will definitely be ups and downs, but if you can ride them out, you will most likely enjoy hefty returns.
This is what big fund houses do when they invest in an idea or a startup; they invest, watch the proceedings, and if all goes well, reap massive returns several years later. But tremendous fortitude is required for that. Ask yourself: Are you that strong? Can you stay with the business for a very long time? Would you be needing money in the near-term?
If you are conservative, invest only what you can afford to lose. There is no need to go aggressive, trying to make all the money in a single stroke. That happens only by a fluke (if it ever does)!
Until then, happy investing!
Disclosure: I/we have no positions in any stocks mentioned, and no plans to initiate any positions within the next 72 hours.
I wrote this article myself, and it expresses my own opinions. I am not receiving compensation for it (other than from Seeking Alpha). I have no business relationship with any company whose stock is mentioned in this article.
Additional disclosure: Thank you all for reading this! The advice dolled out in the article may not appeal to everybody, so I will welcome any and all criticisms and counterpoints in the comments section. However, if this analysis has helped you gain something, then please consider sharing it! I would love to see you Follow me for more updates!! Thanks, and have a nice day!