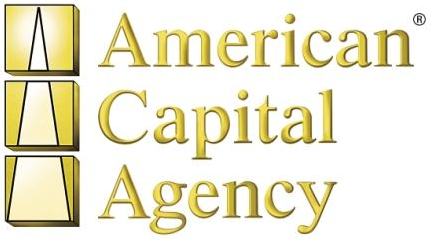 Mortgage REITs have rebounded strongly from their 52 week lows at the beginning of the year, and that includes Annaly Capital Management, Inc. (NYSE:NLY) and American Capital Agency Corp. (NASDAQ:AGNC). Annaly's shares have increased ~16 percent in price this year, but are up a whopping 32 percent from their 52 week low which was reached on January 20, 2016 ($8.25). American Capital Agency? Pretty much the same story: The mortgage REIT's shares have advanced ~12 percent YTD, not as much as Annaly's shares, but they have also strongly rebounded from a low of $15.69 (AGNC is up ~24 percent since).
Earlier this year I gave an explanation why I preferred to buy Annaly Capital Management over American Capital Agency (still do), and it had a lot to do with the mortgage REIT's continued slump in accounting book value in 2015. To sum up:
Mortgage REITs including American Capital Agency have a difficult standing in the market due to investors' distaste for high-yield income stocks and China and oil concerns weighing on U.S. stocks. American Capital Agency's fourth quarter wasn't the worst, but its net book value kept slipping, and that is a problem.
Read also: American Capital Agency: Stay Away
And: American Capital Agency: The Preferreds Are Now Yielding 7.6% - Have A Look.
One of the reasons why I stayed away from American Capital Agency was that the mortgage REIT's accounting book value, or ABV, continued to decline all throughout 2015, and in the 1st quarter of 2016, too. At the end of 2014, American Capital Agency said it had an accounting book value of $25.74/share which fell to $22.09/share at the end of the 1st quarter. In the 2nd quarter, American Capital Agency's accounting book value actually recovered a little, after a long stretch of losses, and hit $22.22/share.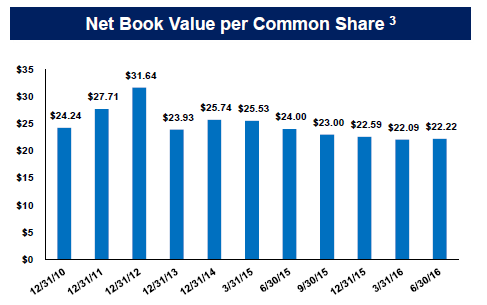 Source: American Capital Agency
American Capital Agency's 2nd quarter results were neither particularly great, nor particularly bad. The slight increase in accounting book value is a sign of hope, as is the company's 13.3% annualized economic return on equity, but the company's latest dividend cut isn't...and it explains the mortgage REIT's rather high discount to accounting book value.
Yesterday, American Capital Agency declared a new dividend rate of $0.18/share which will be paid on September 9, 2016 to shareholders of record as of August 31, 2016. The 10 percent dividend cut (American Capital used to pay a $0.20/share dividend every month) comes on the back of lower expected earnings moving forward.
High Discount To Accounting Book Value
Based on American Capital Agency's last reported accounting book value of $22.22/share, the mortgage REIT's shares are priced at a ~12 percent discount to ABV. I consider it unlikely that American Capital Agency's shares will trade up to accounting book value in light of yesterday's dividend cut.
Your Takeaway
American Capital Agency had a solid 2nd quarter in terms of economic returns, and its accounting book value edged up, too, which was good news. On the other hand, the mortgage REIT just cut its dividend, which will weigh on shares over the short haul. An investment in AGNC throws off an ~11 percent dividend based on a new monthly dividend payout of $0.18/share. I still prefer Annaly Capital Management over American Capital Agency at this point.
If you like to read more of my articles, and like to be kept up to date with the companies I cover, I kindly ask you that you scroll to the top of this page and click 'follow'. I am largely investing in dividend paying stocks, but also venture out occasionally and cover special situations that offer appealing reward-to-risk ratios and have potential for significant capital appreciation. Above all, my immediate investment goal is to achieve financial independence.
Disclosure: I am/we are long NLY.
I wrote this article myself, and it expresses my own opinions. I am not receiving compensation for it (other than from Seeking Alpha). I have no business relationship with any company whose stock is mentioned in this article.