Yields (TLT, IEF) are rising across maturities. Many investors believe higher yields would be detrimental to the stock market (SPY, QQQ, DIA) by making debt more expensive and increasing the required rate of return of all asset classes. The market isn't always right, but clearly this has not been the case.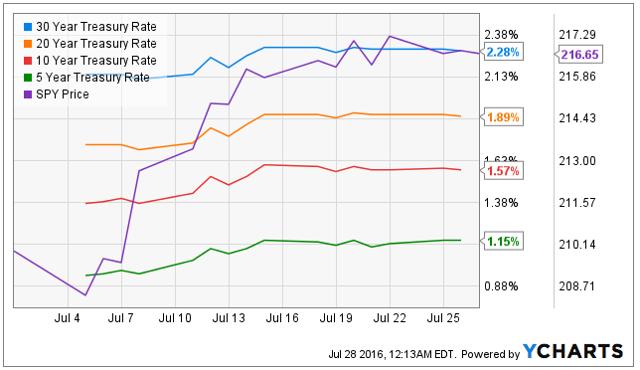 July isn't over yet, but we are currently looking at a return of 3% for the S&P 500. This contradicts the general sentiment that higher yields will be the bane of equities. Note that short-term yields have risen as well, so the argument that the Fed is propping up the market by holding off the rate hike is getting weaker. In a sense, the market is already doing the job for them by pushing yields higher. Yields are up, stocks are up. How do you explain that?
Despite this piece of "common sense," there is no evidence suggesting the Fed is somehow holding the market together by keeping rates low. In the past, the market has often panicked when the Fed threatened to hike. One adjustment later, the S&P 500 is now sitting at all-time highs. So based on experience alone, it would seem the rate hike in December actually helped the market. Of course, the Federal Funds rate is not a direct lever on the S&P 500 designed to inflate stock prices. In fact, it serves the exact opposite purpose: to suppress an overheating economy and to prevent a bubble. So I do find it quite fascinating that the market is averse to future rate hikes. Isn't a higher rate a signal that everything is going well?
Sometimes, things could be going too well. In an overheating economy, inflation often rises. In my previous article, I talked about how rapidly increasing inflation coupled with a tightening monetary policy may be the prelude to a crash. Corporations only saw the rosy short-term picture (higher inflation generally means more spending) and stretched their balance sheets. When the economy cooled, the leverage ate them alive. In those cases, higher rates exacerbated the problem, as they made refinancing more expensive. Of course, the Fed then lowered rates to correct the problem; though today, even that move is eschewed by investors, denouncing it as the cause of a "Fed-induced bubble."
Does the above sound familiar to you? Well, it shouldn't. There has been no rampant inflation after the Fed raised rates, and many companies today are most certainly not too keen on taking on more leverage (even though some should). Just ask Kinder Morgan's (NYSE:KMI) management team.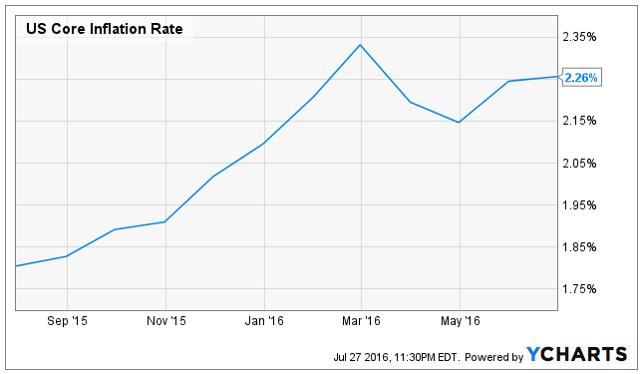 Note how inflation's acceleration flattened after December. Readers can compare the above chart to the first graph in my previous article. The difference is night and day.
Takeaway
The market isn't going crazy. Since the economy is doing fine (read "Don't Be A Contrarian"), rising yields do not pose a threat. Investors should not be nervous about future rate hikes, as rate hikes signal that the economy is doing well - a positive for stocks rather than a negative. Of course, should your economic outlook differ from that of the Fed, then rising interest rates could be seen as the stepping stone that will lead to the next crash, as debt becomes more expensive with no corresponding increase in equity returns. Personally, I have not found any definitive evidence of a deteriorating economy, but I welcome readers to share their ideas.
Click the "Follow" button beside my name on the top of the page to be updated with my latest insights. To learn more about the V20 Portfolio, whose goal is to compound capital at 20% over the long term, I encourage you to read the introduction to my investment process. Premium subscribers get full access to the V20 Portfolio.
Disclosure: I/we have no positions in any stocks mentioned, and no plans to initiate any positions within the next 72 hours.
I wrote this article myself, and it expresses my own opinions. I am not receiving compensation for it (other than from Seeking Alpha). I have no business relationship with any company whose stock is mentioned in this article.