Low oil prices have been the talk of the town for quite some time. They have become the source of agony for some companies (and whole countries too). However, every cloud has a silver lining and the auto industry might be a place to look for that. Since automobile sales have been slowing down, let's skip the automobile manufacturers and put some spotlight on producers of replacement parts.
As oil prices go lower, people go out and drive more which leads to increased wear and tear and consequently an increase in demand for replacement parts. This increased demand is being addressed my Motorcar Parts of America (NASDAQ:MPAA), a manufacturer and distributor of automotive parts in the aftermarket.
Along with low oil prices, a lot of other industry trends are also proving to be tailwinds for the company allowing it to grow its business organically, increase market share and launch new product lines.
Industry trends include:
1. Low Oil Prices
Low oil prices along with lower unemployment lead to an increase in average miles traveled. As more miles are traveled, there is increased wear and tear, which leads to increasing replacement rates of aftermarket automotive parts.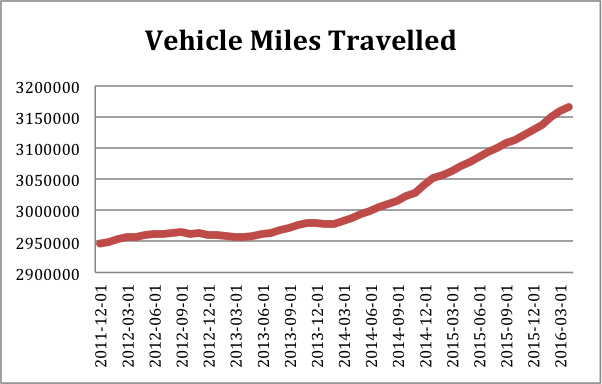 Source: FRED
Low gasoline prices also compel consumers to use a repair shop rather than service their vehicles on their own. This results in a shift from the Do-It-Yourself segment to the Do-It-For-Me segment, which has higher margins. Additionally, lower gas prices increase disposable income, freeing up more than $40 billion for deferred vehicle maintenance. These factors put the auto parts industry in an advantageous position.
Due to the drastic decline in global crude oil prices, industry revenue is expected to jump 3.2% in 2016-17.
2. Increasing Average Age Of Vehicles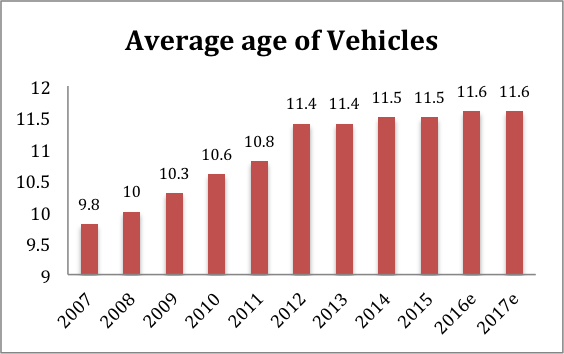 Source: IHS, CHLM estimates
The average age of vehicles in operation is growing continuously. The average age now exceeds 11.5 and in a recent earnings call, company management mentioned that it expects it to reach 12 years by the end of calendar 2016. Increasing age of vehicles leads to an increase in demand for replacement parts, which is expected to drive sales for MPAA.
Unlike other trends, this trend is not contingent on fuel prices and thus will surely impact top line growth.
3. Increasing Car Parc
Car parc refers to the number of cars and other vehicles in a region or market. As there is an increase in the number of cars in North America, there is also an increase in the need for replacement parts. Due to increased average age of vehicles, it is estimated that car parc will reach 276 million by 2020, which will drive top line growth for MPAA.
Source: IHS, CHLM estimates
These trends positively impact a number of companies in the industry but Motorcar Parts of America is a better company amongst its peers due to its strong organic growth, increasing market share, new product launches and healthy financials.
The company has been increasingly focusing on growing market share and launching new product lines. The company operates in three major product segments: rotating electrical products such as alternators and starters, wheel hub assemblies and bearings and brake master cylinders. There is continued strength among all product lines.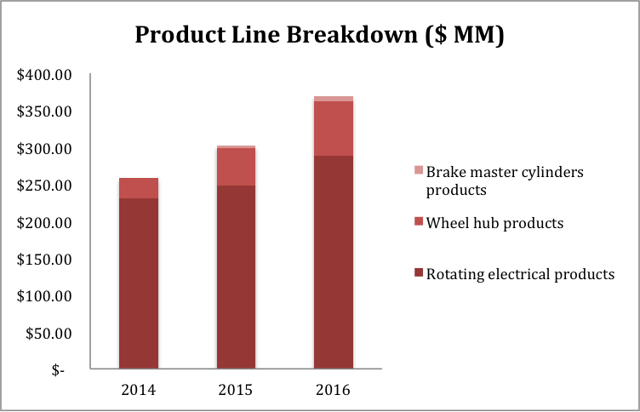 | | | | | |
| --- | --- | --- | --- | --- |
| | 2014 | 2015 | 2016 | 15-16 YOY growth |
| Rotating electrical products | $230.22M | $247.40M | $287.80M | 16% |
| Wheel hub products | $28.45M | $51.29M | $73.79M | 44% |
| Brake master cylinders products | - | $3.02M | $7.38M | 145% |
Source: Annual Report
The company launched its brake master cylinders product line in June 2015; sales are picking up rapidly since then. According to a recent earnings call, the company plans to launch a new product by the end of the current fiscal quarter ending September. These new product launches help the company address market demand as the company believes "the increasing complexity of cars and light trucks and the number of different makes and models of these vehicles have resulted in a significant increase in the number of different automotive parts required to service vehicles."
The company also has strong organic growth. Over the past three years, sales have grown at a 22% CAGR ('14-'16) and EBITDA has grown at a 23% CAGR ('14-'16).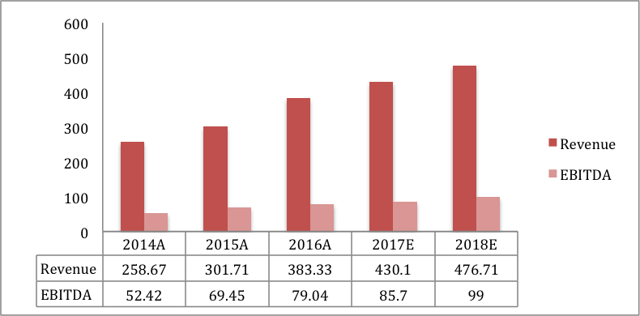 Source: MergentOnline
Revenue and EBITDA are expected to continue escalating. Estimates are from consensus estimates and in line with management's expectations. The estimates are conservative as management strives to achieve revenue growth of at least 20% on an annualized basis.
Top line growth is expected to come from new product launches and increased market penetration. In the recent earnings call, management remarked "To put our overall potential in perspective, industry sources estimate the market size of the USA and Canada for our current products to be approximately $3.8 billion at the consumer level. The remaining potential in these markets for hard parts is estimated to be $106 billion plus, which should provide us with a lot of opportunity to introduce new parts and grow our business organically with the growth of existing and new product lines and through appropriate acquisitions."
The company has also been stepping up in infrastructure to support this growth. The company recently launched a whole new marketing team and built a completely new innovation center. The company has also staffed up a new acquisitions team. Along with that, the company has enhanced distribution capabilities and IT capabilities. These measures indicate the company's commitment towards strong growth moving forward.
The company's margins are also expected to continue strengthening with the strengthening of the USD against the Mexican peso.
As the Mexican Peso gets weaker relative to the US Dollar, it leads to a reduction in costs for MPAA, which has a majority of operations in Mexico. The company's largest facility is located in Mexico and 78% of labour costs are incurred in Mexican peso. The company is also planning expansion projects in Mexico. Due to the weakening of the Mexican peso, the company can enjoy cheaper rent and labour costs. Furthermore, since MPAA sells its products only in North America, it is in no way adversely affected by the strength of the dollar.
Therefore, MPAA benefits heavily from the increasing strength of the US dollar v/s Mexican Peso.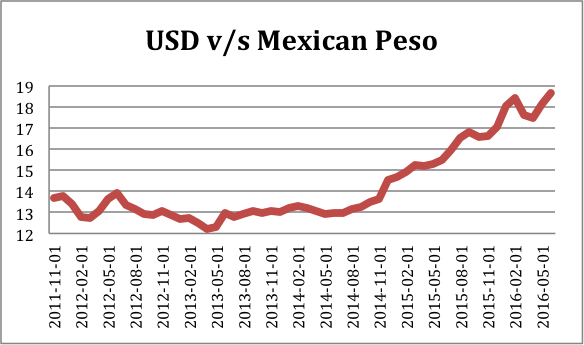 Source: FRED
Margins also continue to benefit with the company's declining debt as interest payments will go down.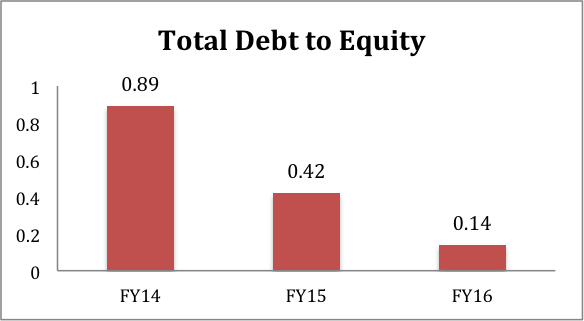 Source: Annual Report
These strong trends make Motorcar Parts of America a solid company. However, the company is subject to a number of risks and concerns as well. It is exposed to volatility in commodity prices such as copper and aluminum, which are used as raw materials. Another risk is that of consumer concentration. Sales to three of the largest customers represent 87% of MPAA's sales.
Sales to AutoZone (NYSE:AZO) alone represent 48% of sales. MPAA is also a part of a highly competitive industry and competition from Chinese players is a significant concern. The company also has a high P/E ratio of 47.87, higher than the industry average of 17.79. However, peer comparison seems to be unreliable since the company's closest competitors are private and a high P/E ratio could also be indicative of investor faith.
It must be noted that MPAA has no exposure to the UK and is therefore not affected by the Brexit. The company also has very little exposure to china, and is not affected by the slowing economy there. The company also has low debt and is therefore not exposed to interest rate risk.
Conclusion:
Due to strong industry trends, increasing market penetration, new product launches and healthy financials, the sentiment for MPAA is bullish. The company is currently trading at a discount and based on the forward P/E of 17x and an EPS estimate of 2.24, the company should be trading between $36 and $39.
Disclosure: I/we have no positions in any stocks mentioned, and no plans to initiate any positions within the next 72 hours.
I wrote this article myself, and it expresses my own opinions. I am not receiving compensation for it. I have no business relationship with any company whose stock is mentioned in this article.